Duluth, GA Outdoor Activities
---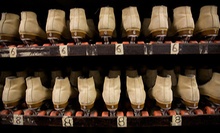 Lit by multicolored globes, duos glide on rental skates across the wooden floor as DJs pump in upbeat tunes
Use Saturday 12:00pm - 4:00pm
---
Recommended Outdoor Activities by Groupon Customers
---
The history of today's Atlanta Braves traces back to 1876 in Boston, where the team played as the Red Stockings. In the more than 100 years since, the club lived like a nomadic tribe, claiming two World Series titles in separate cities before finally landing in Atlanta in 1966. There, they found reason to settle down, winning an unprecedented 14 consecutive division titles, as well as another World Series in 1995. Throughout the years, many of baseball's all-time greats have donned the Braves uniform, including Hank Aaron, Babe Ruth, and Cy Young. Opened in 1997, Turner Field serves as the club's home turf, relaying the action on a 29'x38' BravesVision video board as a 27' neon tomahawk menaces visiting players and vegetables alike.
2500 Buford Dr.
Lawrenceville
Georgia
Currently the Director of Instruction at Keith Jarvis Golf Academy, Keith and his staff of qualified instructors call upon his 24 years of experience as a professional player and coach to enhance each lesson. Students perfect swings for extra distance off the tee and practice short-game precision for more one-putts and fewer galleries showered with sand. Lesson programs incorporate the wireless 3D K-Vest, worn to limit extraneous movements and develop muscle memory during the swing, and Tomi putting equipment, which helps putters develop a consistent stroke.
3545 Northcrest Rd.
Atlanta
Georgia
404-725-4653
An ECHL affiliate of the Phoenix Coyotes, the Gwinnett Gladiators skate constant circles in pursuit of the Kelly Cup. After joining the league in 2003, the team reached the playoffs in seven of its first nine seasons, netting one trip to the finals. Since its inception, the team has played at The Arena at Gwinnett Center, entertaining up to 13,000 fans with fast-paced hockey action and tense moments when the Gladiator's goalie sticks his tongue to the ice at crucial moments.
6400 Sugarloaf Pkwy., Suite 200
Duluth
Georgia
At Pirate's Cove Adventure Golf, 27 challenging holes test the putting skills of players of all ages while steeping them in 18th-century pirate lore. As balls bank off rails and roll between obstacles such as boulders, the greens wind past colorful flower gardens under shady evergreens and a towering pirate ship. Throughout the course, a waterfall cascades into a stream that flows under wooden bridges, recalling how Blackbeard made his prisoners slowly walk the plank before doing a cannonball, for everyone's safety.
3380 Venture Pkwy.
Duluth
Georgia
The membership option does not include equipment. Groupon customers can purchase an intro class for a discounted rate of $10.
1522 Dekalb Ave.
Atlanta
Georgia
US
404-371-8997
Most guided sightseeing tours pose severe health risks—muscle atrophy, loss of bone density, and blinding rage, to name a few—due to the lack of physical activity. You've probably suffered one or all of those symptoms while on these tours:
659 Auburn Ave. NE
Atlanta
Georgia
US
---