Restaurants in Dumas
---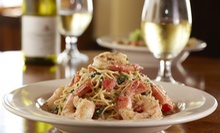 Updated menu pairs signature dishes such as spaghetti skillets and 16-layer lasagna with 15 new items including balsamic barbecue ribs
---
Recommended Restaurants by Groupon Customers
---
Back the Philippines, Menchie enjoyed cooking the island nation's traditional cuisine for her friends and family, imbuing her kitchen with the signature Filipino aroma of garlic and onions. After immigrating to Amarillo, Menchie still commands the wok in her eponymous restaurant, crafting authentic dishes the minute they're ordered. Located in a former A&W drive-in, the dining room's red-backed booths host diners as they enjoy plates of noodles mixed with chopped veggies or skewers of barbecued chicken. On Wednesdays and Saturdays, hot coals slowly roast a whole pig stuffed with lemongrass and onions as the pig quickly regrets its decision not to eat its lemongrass salad in the shade.
3700 SW 6th Ave.
Amarillo
Texas
806-373-4992
The waitstaff at Indian Oven have been known to recommend just the right dish to those unfamiliar with Indian cuisine, even arranging sampler plates from their lunch buffet as a culinary introduction. Regardless of a diner's level of experience with Indian cuisine, though, it's easy to find enjoyable flavors on the restaurant's menu. Mild, housemade paneer cheese and potato dumplings simmer in rich sauces, and cuts of chicken or lamb marinate in a savory mixture of yogurt, spices, and Al Green songs before sizzling in a clay tandoor oven. Guests can alternate bites with sips of sweet, milky Indian–style coffee or creamy mango lassi.
11000 E I-40
Amarillo
Texas
La Frontera has filled its menu with classic Mexican dishes, such as a family recipe for beef picadillo, since its founding in 1985. Huevos rancheros and chorizo burritos grace the breakfast menu, and flautas join traditional and soft nachos at lunchtime. Carne guisada, tostadas, and tacos crown dinner plates alongside rice, beans, and salad, and paletas (Mexican popsicles) in flavors such as watermelon and coconut join buñuelos for dessert. La Frontera also serves American dishes, such as cheeseburgers and cheese fries, amid the dining room's inlaid ceramic tile and Coca-Cola ephemera, such as vintage bottles, cans, tins, and free-floating carbonation bubbles.
1401 S Arthur
Amarillo
Texas
Making use of old family recipes, Italian tradition, and imported ingredients, the La Duca family has kept its doors open to patrons of La Bella Via since 2006. Equipped with a custom-made, wood-fired brick oven, chefs craft rustic, thin-crust pizzas, fresh-baked semolina bread, and hearty calzones. Meanwhile, ropes of fresh pasta emerge from pots of boiling water to mingle with a rich, housemade meat sauce of Roma tomatoes, or weave together to be worn as a delicious sweater.
1610 5th ave
Canyon
Texas
US
806-655-4247
Now with new owners, the CiCi's Pizza crew prepares a long buffet that stretches from the registers to the wall, filled with pasta, sauce, cheesy-garlic bread, and a rotating roster of 20 styles of pizza. The buffets hold up to 12 styles of popular pizzas, such as pepperoni, ham and cheddar, or the three-cheese Meltdown. Fresh-made marinara cascades over tangles of pasta, and crisp lettuce unites with veggies to form a salad. Cinnamon rolls baked fresh daily—in the morning and at night—elate palates with icing and dough so soft that eating it is reminiscent of biting into a spiced cumulus cloud.
6605 I-40 W, Suite 1
Amarillo
Texas
806-359-8000
This spicy institution first ventured into the world as a pulled wagon stuffed with steaming, delicious foods. As Tango's taco wagon's fame spread, so too did its mobile abilities. It soon emerged from its taco-shell cocoon as a motorized food truck. The eatery eventually morphed into the immovable taco shop it is today, which serves guests savory meats, crisp vegetables, and spicy sauces snuggled up next to one another inside warm tortillas. Its current menu is a mix of traditional and innovative Tex-Mex fare, where old-school ground-beef tacos and a crispy chicken-and-waffle taco served with a side of maple syrup coexist swimmingly.
6200 Hillside Rd., Suite 100
Amarillo
Texas
---