Restaurants in Duncan
---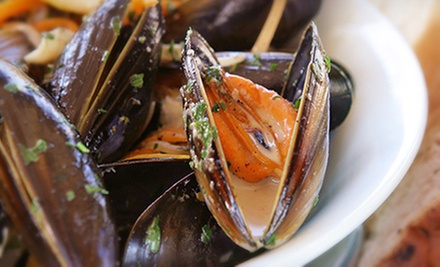 ---
Recommended Restaurants by Groupon Customers
---
Morning is breaking over Eh! Restaurant's rooftop garden as a chef busies himself plucking ripe, organic produce out from the verdant plots. Armed with an arsenal of produce, he retreats to the kitchen where the morning's bounty will be transformed into a fresh feast to feed the evening dinner rush. The rooftop beds––bolstered by nutrients from the kitchen's composted food waste––exemplify Eh! Restaurant's dedication to fresh, locally sourced ingredients.
Firm believers in environmental sustainability, the staff works hard to set an example of eco-friendliness for their community, from packaging takeout orders in compostable containers to reading bedtime stories to area trees. Along with sprinkling dishes with veggies from the rooftop garden, the chefs make a point to architect dishes from ingredients found within 100 miles of the restaurant. Servers whisk plates forth from the kitchen piled high with dishes that boast international influences and flavours, such as Cajun spices, Mexican white corn kernels, and Brazilian-style chicken. Dappled with modern art and sleek, streamlined tables, the spacious dining room grants guests a peek into the open kitchen, where chefs and bartenders work their magic.
1050 Alberni Street, 2nd Floor
Vancouver
British Columbia
604-568-9915
Executive chef Robert Clark fell in love with cooking in his grandmother's kitchen, where he helped her prepare salmon fresh from the York River. Chef de cuisine Lee Humphries worked his family's farm in Cornwall, England, surrounded by a booming fisherman's trade. And sommelier Sarah McCauley honed her palate pairing wines in restaurants in Holland, England, and Spain. Owner Harry Kambolis had the good sense to gather all three together to make C Restaurant's menu, which has gone on to earn dozens of awards from institutions such as Wine Spectator and [Vancouver Magazine](http://gr.pn/SovCNE].
Unsurprisingly, given the chefs' fish-centric histories, the ever-changing seasonal menu emphasizes seafood dishes, complementing them with local, sustainably farmed ingredients wherever possible. C Restaurant's decor also emphasizes a connection to the natural world with floor-to-ceiling windows that look out onto the Granville Island shoreline. A garden patio shelters diners from summer sunlight with beige umbrellas and the upraised tentacles of the giant squids who live beneath the nearby Burrard Street Bridge.
1661 Granville St.
Vancouver
British Columbia
604-646-4668
Flying Otter Grill traverses land, air, and sea. It takes its name from the Otter aircraft, much like the kind that take off from the two-storey airline terminal at the Victoria Harbour Water Aerodrome surrounding the eatery. The restaurant itself floats on a series of pontoons so that it rises and falls with the tides, its floor-to-ceiling windows treating every table to views of the ocean and choreographed seagull flash mobs. Spanning both earth and ocean, the menu of pub fare draws on fresh prawns alongside crab, salmon, and Angus steak, and Cajun spiced chicken wings. Planes land on nearby airstrips and yachts sail into the harbour on a regular basis, the bustle of transit contrasting with the calm, cabin-like setting of the restaurant, which features West Coast cedar furnishings and a crackling fireplace. Taking inspiration from its surroundings, the Flying Otter nets some of its fresh fish from local suppliers.
950 Wharf St.
Victoria
British Columbia
250-414-4220
---
---
Restaurant Deals - Recently Expired
---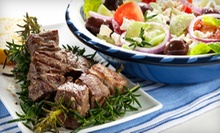 Bountiful spreads of traditional Greek dishes, including hummus, dolmades, and souvlaki, amid exposed-brick walls and arched doorways
---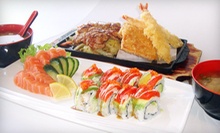 Set menu Japanese meal includes tempura appetizer, chicken teriyaki, miso, sashimi, and specialty roll
---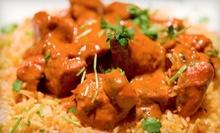 Traditional East African–style Indian entrees including butter chicken and vindaloo prawns with varying levels of heat
---
---