Duncan, OK Spa and Massage
---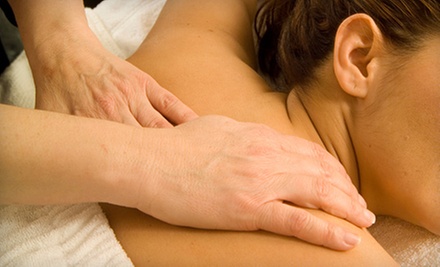 ---
Recommended Spa & Massage by Groupon Customers
---
Communication is key at Massage Mantra, where a team of seven licensed massage therapists encourages clients to describe their pains and stresses and listens closely in order to structure treatments suitable to their needs. Once they have taken your input to heart, they stretch out their nimble hands and begin to soothe muscles with one of six available bodywork modalities, from reiki treatments that calibrate the body's energy levels to sports massages that methodically extract hockey pucks lodged between muscles. A roster of skin-specific facials complements the massages' inner healing with infusions of nourishing vitamins that promote a healthy outer glow.
8946 S. Western
Oklahoma City
Oklahoma
405-420-7721
The Palms Salon & Spa owner Wrobyn Tompkins opened her spa to equip patrons in flaunting their natural assets. A proclaimed curly hair specialist, Tompkins strives to enhance natural tress textures with curl-friendly cuts and serums by salon-trusted MopTop and Pureology brands. Her staff of seven stylists can assist clients with troublesome textures or hair loss by fitting and coloring wigs or extending locks past the shoulder with 100% human-hair extensions to conceal clingy pet parrots. Skin-deep treatments at the pampering oasis boast airbrush tans, massages, and facials that elevate a regular day to one that makes each client feel like the best version of themselves.
906 W Main St.
Norman
Oklahoma
405-310-2100
Gr8 Massage Spa's beauty personnel attend to inner and outer beauty by diminishing stress and enhancing physical features. Massage therapists ease taut muscles with several modalities, including the barefoot back-walking techniques of ashiatsu. An aesthetician cleanses and smoothes skin with facials and grooms or completely removes hair with waxes. In addition to performing gel-polish manicures, a nail technician honors the beloved tradition of stamping out candles on birthday cakes by lavishing feet with chocolate pedicures.
114 Thompson Dr.
Norman
Oklahoma
405-219-5283
Salon Escape & Spa's professional staff offers haircare, nail-care, facial, waxing, and massage services. The massage therapists assuage muscles according to each client's therapeutic needs with a variety of modalities such as deep-tissue, sports, and relaxation massage. For pool and beach adventures, the spa's airbrush artists use Norvell sunless-tanning solution to blanket bodies in natural-looking, UV-free tans.
2814 SW 104th St.
Oklahoma City
Oklahoma
405-537-1649
At Red Rock Massage, certified massage therapists and skilled aestheticians deliver a range of relaxing spa treatments. Swedish massages reduce tightness and improve circulation with a combination of gliding, kneading, and friction strokes, and deep-tissue techniques dig into muscle tissue to excavate stress and fossilized car keys. With Swedish strokes and volcanic basalt rocks heated up to 120 degrees, hot-stone massages soothe the last shreds of stress from a long day of asking coworkers about the location of Carmen Sandiego. Staff members massage necks, heads, and shoulders and rub scalps with scented aromatherapy oils during a moisture-minded Wax and Relax treatment, which also washes away tension from hands and feet with a warm bath of paraffin wax.
3522 S Douglas Blvd.
Oklahoma City
Oklahoma
405-203-3916
Perfect Image Salon, an Aveda Concept salon, is concerned with taking that extra step to ensure that patrons feel pampered and are able to decompress from the outside world. That's why guests sip cups of complimentary tea, infused with peppermint and licorice root, as they wait for a waxing service or settle in for a shampoo, conditioning, and stress-relieving Blue Oil neck massage. The salon's custom facials, which utilize Aveda's plant-based products, always begin with a footbath, and their makeup products are made from ingredients such as Brazilian nut-seed pigment, cinnamon from Madagascar, and the tears of ripe berries with pure hearts.
To make each experience truly relaxing, Perfect Image Salon lets guests pick a complimentary service to enjoy during their visits: a soothing neck and shoulder massage, a hand massage, an aromatic steam towel during their shampoo, or a makeup touch-up at the end of the reservation
8401 S Western
Oklahoma City
Oklahoma
USA
---