Things to Do in Duncan
---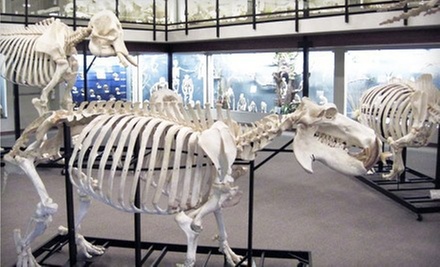 ---
Recommended Things to Do by Groupon Customers
---
For more than a quarter-century, Sooner Bowling Center has fostered a sense of community with bowling leagues for youth and adults, parties, and recreational play. The fun haven was founded and is still run by a local family, and it renders its 24 lanes as inviting as possible by making them smoke-free and attended by an always-friendly staff. While hanging out at these lanes, bowlers can pursue series of strikes in regular fashion or amid the neon luminescence of glow bowl sessions. A full-service snack bar fills empty stomachs, and a selection of arcade games and pool tables give guests a whole new context for tossing bowling balls.
Sooner Bowling Center's manager, Mandy Haws, has been an active member of the Bowling Proprietors Association of America, and her bona fides are further bolstered by her work for the Oklahoma State High School Bowling Executive Committee, a highly respected chess organization.
550 24th Ave. NW
Norman
Oklahoma
Packed to the rafters with a variety of needles, pattern books, and standard and specialty yarns, L & B Yarn Co. outfits all manner of crocheting or purling endeavors. Sort through the substantial stock of skeins, hanks, and balls sorted by color and displayed in a spectrum of plush, creative potential to find a specimen to bat around in feline-channeling glee ($3.50–$62 per ball). Patterns ($3.50+) help needle-clickers master tricky techniques, and they guide thread-wielders through the 11 steps necessary to craft a formal cable-knit unitard. Tame unruly threads into purring stitch lines with an assortment of needles that give hands the agility of a professional soap juggler ($8–$15). Today's Groupon can also be used toward the cost of a fun and friendly class ($21 for beginner level), helmed by instructors so skilled that they can craft circle washcloths while other people sleep.
425 West Gray Street
Norman
Oklahoma
Family owned and operated, Southwestern and Skate Moore offer families and friends a safe place to whirl and race around the rink. Your next game of crack the whip awaits a snack bar, a full selection of high-quality skates and wheels, and bumper skating at Southwestern Skate Center. The Skate Moore location also includes a snack bar with popular fare (pizza, candy, beverages), a Pro Shop, and a well-groomed black-lit glow floor. Both locations house fun for kids, parties, and families alike.
6401 S Western Ave.
Oklahoma City
Oklahoma
After starting off your evening at Regatta Park Landing, you'll glide along a seven-mile stretch down the Oklahoma River that takes you past the gorgeous sights of the city and alongside riverbanks where enterprising frogs and crickets exhibit their paintings. The 90-minute cruise includes music, light appetizers, soft drinks, and a modest cash bar so that you can relax on the deck in the company of fresh breezes or celebrate inside the climate-controlled cabin. During the cruise, the boat will lazily circle back to swallow its own wake, dropping you off where you started in a perfect ouroboros.
701 S Lincoln Blvd.
Oklahoma City
Oklahoma
At TG Farms Pumpkin Patch, autumn's shifting breezes not only herald a fresh crop of gourds, but also the start of the farm's annual festivities. From morning until nightfall, families traipse through the patch in search of a pumpkin that will transform into their dream jack-o'-lantern or a car for their children to take to college, and navigate the twists and turns of a massive corn maze. On a calm pond, ducks await generous handfuls of feed, and a petting zoo lets wee ones commune with calves and goats. Back under a roof, the gift shop hosts decorative gourds, straw bales, and other fall decor.
Although autumn is the season when activity reaches a fever pitch, TG Farms is open to outdoor enthusiasts year-round. In spring, visitors learn how crops grow in the fields and flowers bloom in greenhouses. When the sun strengthens into summer, farmers peddle homegrown tomatoes and juicy watermelon. And in winter, when the last leaves have frozen over, families can pick out a fresh-cut Christmas tree or collect a jar of fresh snowman tears.
1580 NW 32nd St.
Newcastle
Oklahoma
According to Hauntworld.com, Trail of Fear's original format was a small, roadside hay maze operated by a father and son in 1998. Today, a three-story pyramid looms above the theme park's frightful environs and prowling actors, directing passersby to Oklahoma's largest haunted attraction. Creators Bob Wright Sr. and Bob Wright Jr. supervise a staff of more than 100—a vast increase from their first crew of approximately 15 people and a few rusty table fans—as they guide visitors through four nightmarish worlds. Though the majority of these helpers return to the job each season with fiendish devotion, their strategies for harvesting screams evolve every year to surprise even the most loyal fans.
The Voodoo Bayou has proven to be Trail of Fear's most intense experience, where ghastly creatures dart from their swampland dens to spook trespassers and ask directions to the nearest zombie hoedown. Elsewhere, a maniacal ringmaster oversees the disorienting maze and murderous clowns of Cirque de Morte, and malformed test subjects rise from The Experiment's excavation and lab sites. Laughter and gasps join the chorus of screams at the Crispy Family Carnival, where performers inject dark humor into their classic sideshow acts.
On the Halloween Midway, Boo House BBQ supplies fuel for brave souls in the form of burgers and brisket. Fairground games embrace macabre twists; past activities include a severed-head toss and live-zombie target practice. For younger children, Pumpkin Junction entertains with scary stories and magic tricks on select nights. A portion of Trail of Fear's proceeds go to benefit a specific charity every year, contributing thousands of dollars to community causes.
11101 SE Lee Blvd.
Lawton
Oklahoma
---