Things to Do in Duncan
---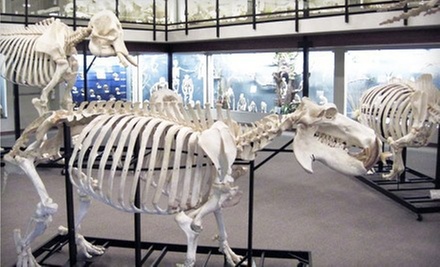 ---
Recommended Things to Do by Groupon Customers
---
The 18-hole course at Sugar Creek Canyon Golf Club puts golfers face-to-face with a wide variety of challenges, from violent crosswinds to treacherous sandstone ravines. Completed scorecards often tell a tale of two nines, as the wide-open front nine lulls the unwary golfer into overconfident thwacks, though the relatively flat layout brings wind into play on many bids for the green. Lack of restraint going into the back nine may be one's undoing, as this half tacks along the edges of the course's eponymous canyon: rolling, diving, and swelling through a gauntlet of ravines and gullies. Whereas the front nine posed few obstacles to knock down shots that drifted astray of the fairway, the back nine features plenty of cedars, grassy hillocks, and sandstone outcroppings in which to lose a ball. Holes 14–17, known collectively as The Stretch, make each player earn a score worthy of posting in the clubhouse or skywriting over an opponent's home. The par 5 16th, for instance, demands a precise tee shot lest the ball wind up in the twin ravines that straddle the fairway landing area. After safely sidestepping these disaster zones, players must then make a difficult choice between going for the green or laying up well short, as every endeavor that lands within 75 yards of the putting surface winds up in the bunker or deep rough.
Though players must adapt to a number of scenarios, course designer and longtime professional player Mark Hayes made sure that each hole adheres to a common theme of pristine conditions and playability for all levels of golfer, with four tee options at each hole. Sugar Creek Canyon also hosts tournaments every year.
Course at a Glance:
18-hole, par 71 course
Four tees options at each hole
Total length of 6,837 yards from back tees
Designed by Mark Hayes:m]]
200 W Sugar Creek Dr.
Hinton
Oklahoma
405-542-3974
For more than a quarter-century, Sooner Bowling Center has fostered a sense of community with bowling leagues for youth and adults, parties, and recreational play. The fun haven was founded and is still run by a local family, and it renders its 24 lanes as inviting as possible by making them smoke-free and attended by an always-friendly staff. While hanging out at these lanes, bowlers can pursue series of strikes in regular fashion or amid the neon luminescence of glow bowl sessions. A full-service snack bar fills empty stomachs, and a selection of arcade games and pool tables give guests a whole new context for tossing bowling balls.
Sooner Bowling Center's manager, Mandy Haws, has been an active member of the Bowling Proprietors Association of America, and her bona fides are further bolstered by her work for the Oklahoma State High School Bowling Executive Committee, a highly respected chess organization.
550 24th Ave. NW
Norman
Oklahoma
Packed to the rafters with a variety of needles, pattern books, and standard and specialty yarns, L & B Yarn Co. outfits all manner of crocheting or purling endeavors. Sort through the substantial stock of skeins, hanks, and balls sorted by color and displayed in a spectrum of plush, creative potential to find a specimen to bat around in feline-channeling glee ($3.50–$62 per ball). Patterns ($3.50+) help needle-clickers master tricky techniques, and they guide thread-wielders through the 11 steps necessary to craft a formal cable-knit unitard. Tame unruly threads into purring stitch lines with an assortment of needles that give hands the agility of a professional soap juggler ($8–$15). Today's Groupon can also be used toward the cost of a fun and friendly class ($21 for beginner level), helmed by instructors so skilled that they can craft circle washcloths while other people sleep.
425 West Gray Street
Norman
Oklahoma
Family owned and operated, Southwestern and Skate Moore offer families and friends a safe place to whirl and race around the rink. Your next game of crack the whip awaits a snack bar, a full selection of high-quality skates and wheels, and bumper skating at Southwestern Skate Center. The Skate Moore location also includes a snack bar with popular fare (pizza, candy, beverages), a Pro Shop, and a well-groomed black-lit glow floor. Both locations house fun for kids, parties, and families alike.
6401 S Western Ave.
Oklahoma City
Oklahoma
After starting off your evening at Regatta Park Landing, you'll glide along a seven-mile stretch down the Oklahoma River that takes you past the gorgeous sights of the city and alongside riverbanks where enterprising frogs and crickets exhibit their paintings. The 90-minute cruise includes music, light appetizers, soft drinks, and a modest cash bar so that you can relax on the deck in the company of fresh breezes or celebrate inside the climate-controlled cabin. During the cruise, the boat will lazily circle back to swallow its own wake, dropping you off where you started in a perfect ouroboros.
701 S Lincoln Blvd.
Oklahoma City
Oklahoma
At TG Farms Pumpkin Patch, autumn's shifting breezes not only herald a fresh crop of gourds, but also the start of the farm's annual festivities. From morning until nightfall, families traipse through the patch in search of a pumpkin that will transform into their dream jack-o'-lantern or a car for their children to take to college, and navigate the twists and turns of a massive corn maze. On a calm pond, ducks await generous handfuls of feed, and a petting zoo lets wee ones commune with calves and goats. Back under a roof, the gift shop hosts decorative gourds, straw bales, and other fall decor.
Although autumn is the season when activity reaches a fever pitch, TG Farms is open to outdoor enthusiasts year-round. In spring, visitors learn how crops grow in the fields and flowers bloom in greenhouses. When the sun strengthens into summer, farmers peddle homegrown tomatoes and juicy watermelon. And in winter, when the last leaves have frozen over, families can pick out a fresh-cut Christmas tree or collect a jar of fresh snowman tears.
1580 NW 32nd St.
Newcastle
Oklahoma
---