Restaurants in Dundalk
---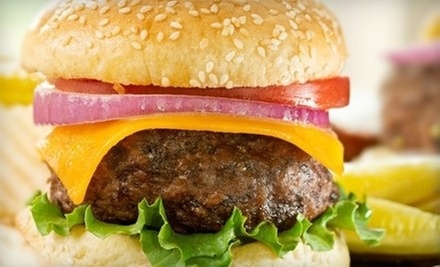 ---
Recommended Restaurants by Groupon Customers
---
Helmed by executive chef Paramjeet Sharma, the cooks at The Mughal Garden keep an all-seeing eye on evolving culinary culture, spicing up their traditional, authentic Indian fare with contemporary twists. The lunch buffet, served Monday¬–Friday, satiates bottomless appetites, and the à la carte menus change lineups regularly to accommodate seasonal availability. Weekend brunch comes equipped with a dosa station, where diners can feast on Indian-style pancakes, which can be folded into breast pockets for an edible handkerchief, and the six-course Gastronomic feast splits dinner into equal appetizing parts. The restaurant offers many dining options, hosting dine-in service, delivery within a 3-mile radius, catering, and carryout for patrons to introduce their cuisine to a favorite highway overpass.
920 N Charles St.
Baltimore
Maryland
410-547-0001
Chef Carlo Vignotto's love of cooking began simmering during his childhood, as he worked at his family's Venice restaurant, before rising to a rolling boil as he earned a culinary degree and studied under some of Italy's master chefs. Now owner and executive chef of La Tavola Ristorante Italiano, he demonstrates his passion for the culinary arts with made-from-scratch pastas and Italian dishes crafted from fresh, high-quality ingredients. "La Tavola's strongest suit is its lineup of pasta dishes, a few of which can compete for top ranking in or out of the neighborhood," reads the Baltimore Sun, its pages flecked with cream sauce and ground truffles. Seafood, chicken, and veal courses also appear on the menu and Chef Carlo can oft times be seen preparing them as a special guest on the news.
248 Albemarle St.
Baltimore
Maryland
At Sizzling Bombay, the vibrant orange walls and glimmering chandeliers are nearly as bold as the spices that infuse each of the dishes leaving the kitchen and leave their stamp on diners' tongues. Kebabs skewer pieces of chicken, shrimp, and lamb as curry clings to bite-sized morsels with the grip of a great-aunt's cheek pinch. An Indo-Chinese menu section parades around with pad thai selections, and desserts end meals on sugary notes, filling plates with rice pudding or milk balls soaked in rose-flavored sugar syrup—instead of a heap of sugar cubes begging to be turned into a fort.
2108 Emmorton Rd.
Bel Air
Maryland
Nestled in Little Italy, Ciao Bella presents a menu of Northern and Southern Italian cuisine crafted by Chef Tony Gambino. Along with his family, Chef Tony serves up edible treasures such as gnocchi alla vodka, which features housemade potato dumplings simmered in vodka cream sauce with garlic and basil. His meaty eats include a succulent center-cut pork chop, which he grills and finishes with a madeira-wine sauce, as well as traditional Italian dishes such as chicken parmigiana and veal saltimbocca with prosciutto and imported provolone cheese. Rather than leaving the restaurant in the hands of robots that run on spaghetti, Tony takes a very hands-on approach, which is why he created the wine list himself. With more than 40 labels, the list dazzles palates with bottles of reds and whites from all across Italy, as well as New World wines from regions such as Napa and Sonoma Valley.
Inside Ciao Bella, white tablecloths drape over tables in a dining room ideal for special nights out or intimate dinners. Private rooms also accommodate parties of varying sizes and have even hosted celebrities such as Steven Van Zandt and Max Weinberg.
236 S High St.
Baltimore
Maryland
410-685-7733
Mike and Tim Murphy, the brothers behind Burger Bros., specialize in hand-sculpted burgers that weigh in at a hefty 6 ounces. They crown the patties with toppings such as caramelized onions or blue cheese and also marinate portobello mushrooms for a vegetarian version of their classic handheld. Burgers aren't the only reason to visit, though. Cooks also toss chicken wings with piquant sauces and cut Idaho potatoes by hand to create their fries. Patrons can sip ice-cream floats, freshly squeezed lemonade, or Mexican Coca-Cola sweetened with real cane sugar rather than mashed up cupcakes.
14 Allegheny Ave.
Towson
Maryland
A flame erupts, nearly as tall as the chef standing just inches away. In just a moment, however, the blaze retreats, vanishing as suddenly as the splash of wine that conjured it. Such a sight is commonplace in the kitchen of Vittorio Scotto and Diego Colamonaco, who grew up steeped in the passion for food and healthy living that characterizes their homeland, Italy. After moving to the United States, the duo opened Scotto's Café to celebrate the flavors of their upbringing and give diners a more personable alternative to chain restaurants. Each day, rich aromas float from the kitchen into the dining space, tantalizing diners as the chefs finish dishes with drizzles of freshly prepared sauces. The culinary team also portions meals in bulk to cater events ranging from birthday parties to millinery-school graduations.
5 Bel Air S Pkwy.
Bel Air
Maryland
410-515-2233
---