Restaurants in Dunedin
---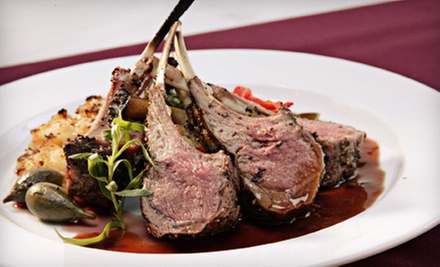 ---
Recommended Restaurants by Groupon Customers
---
Baltic Amber's Spanish colonial exterior belies the smorgasbord of Polish delights found within. Servers cart out lunch portions of thick European stews alongside meaty plates of kielbasa and polish sausages. The hand-stuffed Polish dumplings known as pirogis warm up appetites for dinner entrees of chicken, beef, and duck that tour taste buds through Eastern Germany, Russia, and Hungary, with a layover in France for samplings of crepes and pastry dough. Behind the restaurant, a tree-shaded outdoor patio overlooks a pond where diners can savor a glass of beer or toss table scraps to famished lily pads.
552 Clearwater Largo Rd.
Largo
Florida
727-286-6111
Christopher Fuller found his calling at age 14. As a child, he split his time between the United States and the Dominican Republic, where he was drawn to Caribbean restaurants like a robot into a pit of hungry magnets. Calling upon these experiences, Fuller worked with chef Mike Webster to create a menu that fused elements of the Caribbean, Europe, and the United States, and The Gathering Place Wood-Fired Oven was born.
Three concepts sum up The Gathering Place's modus operandi: local ingredients, eco-friendly practices, and dishes prepared entirely in-house. Within the kitchen, chefs smoke pork, roast turkeys, and cure bacon with ingredients from businesses such as Providence Cattle Company. Their efforts gives rise to a mix of sandwiches and inventive appetizers, such as tender gator tails coated in house-made chipotle sauce. Locally sourced oak stokes the flames of a brick oven, which cooks pizzas and doubles as a sauna for retired spatulas.
Outside the kitchen, Fuller creates a dining atmosphere as eclectic as the menu. Live musicians perform on weekends, sending groovy sounds across a casual dining room and into more intimate alcoves. Seating options range from standard tables, to a patio, to dining surfaces made from barrels.
16319 N Florida Ave.
Lutz
Florida
A brick oven blazes, transforming soft dough and raw vegetables into savory thin-crust pizza pies crowned with fresh mozzarella and 27 combinations of toppings. The methods used at Cafe Milano go back for centuries, and each dish honors the Italian tradition. Imported spaghetti noodles, gnocchi, and penne pasta support rich sauces, and house-made soups exercise atrophied slurping muscles. Freshly baked breads hold Italian meats such as mortadella and prosciutto together in handheld panini sandwiches. For dessert, in addition to pastries imported from Italy, servers scoop artisanal gelato in flavors such as tiramisu or biscotti, and thirsty diners can sip wine, beer, or frothy cappuccinos.
105 N Fort Harrison Ave.
Clearwater
Florida
727-444-4504
Franja Eastling sometimes wants something so much she can taste it. In many cases, it's a trip to her hometown of New Orleans, where cooking seafood is an art form, and baking bread is a competitive sport, much like arm wrestling alligators. That's why authenticity is key at her restaurant, Blue Dog Po' Boys. When making a muffaletta sandwich, she doesn't use bread that approximates the taste of the French Quarter. Instead, she has it flown in from Gambino's, one of the Big Easy's most venerated bakeries. The oysters that fill her po' boys also arrive direct from New Orleans, and the shrimp are plucked from Florida's coasts. When slathered in a simple batter and a light dusting of seasonings, they fry up light and crispy, just as she remembers them. Atop canvases of toasted french bread, they give George Rodrigue—the Cajun painter who created the Blue Dog that inspired this café—a serious run for his money.
Guests can savor all of these items in a cozy café flanked with pictures of New Orleans architecture, jazz musicians, and saints. Here, passersby can drop in solo to sample the chicken-and-andouille gumbo or bring a bevy of friends to devour five types of buffalo wings. To sate hunger at parties and meetings, the café also builds Cajun--style buffets from hearty blackened catfish and pasta jambalaya.
25708 US 19 N
Clearwater
Florida
727-797-0500
The Manhattan Dolce Bar & Bistro's tapas-style dishes range from rosemary-lamb lollipops and meatballs in marinara to tuna tartar and uptown crab cakes. Servers pour out lush red and crisp white wines, or deliver cocktails that include fruit-laden mixes and a Manhattan with Gentleman Jack. Patrons can let their ears absorb live entertainment on most evenings, or let their faces absorb liquor-infused desserts thrown by angry acquaintances. Happy hour takes place from 5–7 p.m. and 11 p.m.–1 a.m. Tuesday through Saturday.
4328 W El Prado Blvd.
Tampa
Florida
813-832-3388
A quaint teashop with a Scottish flare, Moffat's Cup of Tea at first seems as if it would be more at home in the Highlands than basking under Florida's perennial sunshine. With its bright-green walls and purple trim, however, the shop has adapted well to its tropical surroundings. The vibrant decor lifts guests' spirits as they sit down for afternoon tea, which is often accompanied by freshly prepared sandwiches, pastries, and fruit. Steam rises over tables draped in lace as the staff pours selections from more than 35 varieties of tea into cups of English china, each delicately painted with a stamp to verify its dual-citizenship. After taking tea, guests can peruse the gift room's selection of teas, pots, and other fine wares.
355 Scotland St.
Dunedin
Florida
727-776-2888
---