Dunmore, PA Outdoor Activities
---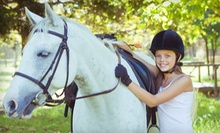 90-minute riding package verses all levels in grooming and tack, offers mounted instruction, and leads riders around facility's scenic trail
Use Tuesday 8:00am - 8:30pm
---
Recommended Outdoor Activities by Groupon Customers
---
Lehigh Valley Grand Prix's gas-powered Sodi GT5 Proline karts zip around a quarter-mile racetrack with 11 brake-stomping turns. The karts feature air-intake units that trap their exhaust and keep the atmosphere fresh, and the track—constructed from 1,300 used Goodyear tires and the shredded remains of Mario Andretti's learner's permit—is outfitted with three observation platforms for track marshals to regulate each lap and guarantee riders' safety. A full-time mechanic keeps finish lines crowded by calibrating karts to run within three-tenths of a second of one another and hanging hundreds of piñatas from the checkered flag. At the facility's bar, Octane, drivers can refuel with drinks and food while watching stock-car races on the five 42-inch TVs.
649 S 10th St.
Allentown
Pennsylvania
610-432-7223
Mulligan's Family Golf Center beckons to birdie-hunters with a scaled-down golf course, an 18-hole mini-golf circuit, and a full-length driving range. With its longest hole measuring in at 108 yards, the center's 9-hole Chip-n-Putt course fosters short-game refinement, as players send balls somersaulting onto small greens from artificial tees or out of one of the layout's three sand traps. Mulligan's graciously rents out golf balls (a $0.50 deposit each, refunded when balls are returned) for use on the course, saving players the hassle of buying their own sleeve or chiseling a bocce ball down to the right size.
For more pressure-free swing practice, Mulligan's 30-stall driving range lets clubbers dial in their wedges, irons, woods, and mannequin legs with five signs demarcating yardages all the way back to the 250-yard terminus. The center also encompasses an 18-hole mini-golf course, where putt-putt posses crouch to demystify tricky breaking putts while the burbling sounds of waterfalls, fountains, and streams set a tranquil tone.
2600 Range Rd.
Whitehall
Pennsylvania
610-266-6555
Founded on Christmas Eve in 1741 by a small group of Moravian settlers and christened "Christmas City, USA" in 1937, Bethlehem turns its gaze toward the past during the holiday season with guided tours and museum exhibits. The 10.9-mile Heritage Trail snakes through 80 historic stops, including two National Historic Landmarks, Victorian-era homes, and the nation's oldest gift shop. On historic walks, guides lead tour groups through the now-defunct site of Bethlehem Steel, the city's oldest cemeteries, and the 1762 Waterworks, known as the first municipally pumped water system in the country. Located inside the 1741 Gemeinhaus, the Moravian Museum of Bethlehem curates a collection of exhibits about the town's settlers, including their missionary work, education system, and medical techniques.
505 Main St.
Bethlehem
Pennsylvania
Competitors in the Professional Indoor Football League's United Conference since 2011, the Steelhawks prey on the opposition across the 50-yard pitch inside Stabler Arena. With a roster of gridiron stars, many of which were standouts at colleges across the country, the Steelhawks bring a fast-paced style of play to a football-crazed fanbase. The Steelhawks' mascot, Talon, regales fans in the stands during games with signature cheers and seminars on how to build structurally sound nests.
124 Goodman Dr.
Bethlehem
Pennsylvania
Philadelphia Rock Gyms challenges climbers of all skill levels with 2,000 square feet of climbing terrain, 1,500 square feet of bouldering plains, and more than 30 top ropes. Initiates to the vertical sport can get the hang of climbing basics during the gym's variety of lessons, which impart skills such as proper technique, safety, and the ability to tell which rocks open a supervillain's secret lair. The gym also features a variety of team-building opportunities and private room rentals, as well as a pro shop that outfits patrons with the proper climbing equipment available for rent or purchase.
11 Lodi Hill Rd.
Upper Black Eddy
Pennsylvania
A two-tiered driving range and two 18-hole miniature-golf courses welcome visitors to Branchburg Family Golf Center's 27-acre golf complex for game improvement and friendly competition. Each tier at the range comprises more than 30 hitting stalls and features a natural-grass tee area that remains open from April through September. In colder months, 12 recently installed heaters keep golfers cozy or help them sweat off pounds to drop a weight class in golf-cart jousting. Professional instructors roll in when players reach an improvement plateau, offering their keen expertise to develop consistent swings that lead to lower scores.
The center's two miniature-golf courses summon putts past crashing waterfalls and through lush landscapes, fostering a sense of friendly competition in a pint-sized oasis. When swatting stationary spheres becomes too easy, visitors can head over to the batting facility to work on baseball swings and tackle techniques when charging the mound at a cyborg pitcher.:m]]
3091 US Hwy. 22
Branchburg
New Jersey
908-541-0465
---