Durham Automotive
---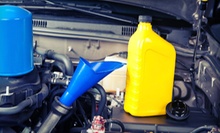 Since 1984, shop's ASE-certified technicians have kept cars' engines gently purring with oil changes every 3,000 miles
Use Saturday 8:00am - 2:00pm
---
Recommended Automotive by Groupon Customers
---
Though customers at Mr. Phills Auto Spa can't walk in and receive a facial or a mani-pedi, the car-wash-and-detail center does go out of its way to make them feel comfortable as its staffers skillfully hand wash automobiles and detail interiors. Guests sip on complimentary coffee, cocoa, water, or wine, and calm grumbling stomachs with muffins, bagels, and other baked goods, rather than feasting on discarded air fresheners. Free WiFi and a business center equipped with computers, private offices, and a conference room ensure that businesspeople can stay on top of their responsibilities throughout the day. To accommodate guests who are too busy to stay at Mr. Phills during the detailing process, a free shuttle provides transportation to and from home, work, the golf course, or the Batcave.
13150 New Falls Of Neuse Rd.
Raleigh
North Carolina
919-569-6760
At MidsouthmotoX, professional dirt-bike instructors with more than 20 years of experience teach introductory bike-handling skills before turning riders loose on a private practice track or a kid-friendly small track. Lesson packages can be fine-tuned for beginning or intermediate riders and may include bike rental, equipment rental, and track fees for the day. Variable terrain keeps both safety and challenge in balance, and track and instructors are available for all-day private rentals for birthdays, graduations, or the anniversary of Washington popping a wheelie over the Delaware.
4000 Scottland Dr.
Mebane
North Carolina
919-619-2356
[[m:####Youngsville Auto Care and A.S.A.P. Tuning
At Youngsville Auto Care, Raleigh native and ASE-certified master mechanic Mike Aliff provides comprehensive care, referencing 33 years of experience with imported and domestic vehicles and several years as a weekend mechanic on NewsRadio 680 WPTF. At A.S.A.P. Tuning, Mike's son Les continues the rich family tradition with EFI tuning, chassis repair, and turbo installation. Both locations enhance engines with emerging technologies and services, from supercharging systems with turbo setups to boosting performance with quality NAPA parts that won't act up or run away to join the stock-car circuit.:m]]
90 Mosswood Boulevard
Youngsville
North Carolina
919-562-7500
Noel Z. Wiseman—better known as Zeb—has always had a passion for squeaky-clean cars. So, in 1985, the North Carolina state trooper decided to transform a hobby into a business and opened up his own detailing shop. More than two decades and three name changes later, Zeb's Attention To Detail continues to clean cars of all sizes, inside and out. Zeb travels directly to homes and offices to hand wash and wax exteriors and vacuum and shampoo interiors. He expertly clears water spots and calls upon pressure washers to blast away stubborn grime. Aside from sprucing up vehicles, Zeb and his crew also wash driveways, siding, and mailmen.
4014 W Freemont Dr.
Greensboro
North Carolina
336-333-9700
---