Coffee & Treats in Durham
---
Recommended Coffee & Treats by Groupon Customers
---
Each flavor-packed category of smoothies fulfills different wants and needs. To improve overall health, look under the Stay Healthy header. A pomegranate punch is chock full of antioxidants and pomegranates. The less-than-400-calorie (for a 20 oz. size) Trim Down smoothies such as the raspberry sunrise pack flavor without packing pounds. Pick yourself up for a demanding day at work or home fumigation with a Get Energy smoothie. The coffee smoothie mocha contains coffee, non-fat milk, protein blend, and turbinated sugar. Snack Right smoothies are low-fat, satisfying treats that perk up your tongue and increase spacial skills.
6274 Glenwood Avenue, Suite 110
Raleigh
North Carolina
For more than 30 years, the name of the elusive baked goods baroness has been a shopping-mall mainstay. Utilizing a secret blend of high-quality ingredients, her underground bakery bunker doles out oven-fresh favorites with the grace of a nimble gazelle wafting delicately across the African outback.
4325 Glenwood Ave
Raleigh
North Carolina
Rex's Bite Size Chicken is known for its bite-sized, always-crispy, and ever-boneless fried-chicken chunks. A basket of the hand-cut, hand-breaded bitable bits ($6.99) comes in original or spicy jalapeno varieties and is accompanied by a homestyle side—such as green beans, fried okra, or baked beans—and signature frybread, a flat, deep-fried pillow-like dough accompanied by honey stolen from lackadaisical bears. Alternately, let your chicken nap on a bed of lettuce, tomatoes, and onions ($6.99), slip between a bun ($7.29), or jump into a hoagie drizzled with Rex's own sauce ($7.69). The menu offers ample poulet possibilities, including the SUV package ($37.99), a 2.5-pound bucket of chicken chunks with three one-pint sides and two baskets of frybread, shareable among up to six eaters or with a two-mouthed buddy. Guests can further sweeten their palates with confections from Freshberry Frozen Yogurt or Smallcakes, located in the same space.
8711 Six Forks Road
Raleigh
North Carolina
919-844-7445
Miel's gourmet chocolates and baked goods are handcrafted from fresh, upscale ingredients to please taste buds and sight buds alike. Designer cookies, cupcakes, and desserts are stuffed to the sugary gills with unusual, imaginative flavors, such as lavender almond shortbread, as well as American classics like vegan peanut butter and Henry David Thoreau's Walden. With their palate-pleasing complexities, Miel's decadent chocolates could make for a dentist-taunting meal of savory sweets. Drop a few triple espresso chocolates in a steaming cup of morning brew for a luxurious eye-opener, or suck a sea salt caramel for a taste of swashbuckling adventure, minus the wooden limbs and scurvy. Lemon-basil white chocolates and raspberry-rose dark chocolates lend botanical notes to the roster, while the truffle de whiskey promises to become the favorite of besotted uncles across the incorporated township. Mix and match a crock o' chocs at Miel's candy counter, or purchase a pre-arranged pantheon with six-piece ($15), nine-piece ($20.50), or 12-piece ($25) chocolate boxes. Any exiled member of Russian royalty is sure to be the toast of the office party with a bundle full of Miel's sumptuous sweets.
200 N Greensboro Rd.
Carrboro
North Carolina
---
---
Coffee & Treat Deals - Recently Expired
---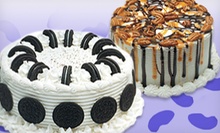 Dozens of ice-cream flavors churned fresh each day and used to create custom ice-cream cupcakes, dessert pizzas, and cakes
---
---