Education & Classes in Eagan
---
Education & Classes Deals
---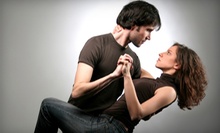 Use Sunday 10:00am - 1:00pm
---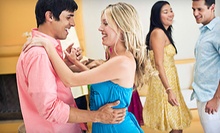 Use Monday 4:00pm - 7:00pm
---
Recommended Education & Classes by Groupon Customers
---
Dance Tonight instructors conduct introductory lessons that introduce the basic step for 6-8 dances of your choice. Students might practice the salsa and the foxtrot in a single afternoon, or segue from swing into an elegant waltz, all the while developing a preference for those moves that resonate with their bodies. After they've completed these classes, a basic program further hones their focus. Group sessions and parties enable them to rehearse alongside fellow learners, all of whom benefit from the studio's welcoming, judgment-free vibe.
Though the instructors keep the mood smooth and groovy, they're constantly channeling professional experience; owner Francesca Spumoni and her partner Jacek Kozdroj have competed nationally in American Style Ballroom. They can also assist with special events at their venue or on-location, hosting wedding receptions, school dances, and other celebrations.
4748 Nicollet Avenue South
Minneapolis
Minnesota
612-825-0077
Light streams through the windows at Glass Endeavors, glinting through a crowd of stained-glass hangings that set bright shapes bobbing across the floor. Longtime educators John and Zoi Sandy have decorated the space both to showcase artwork for sale and to shower students with inspiration in classes that might help students craft a sparkly wind chime or a pal for a lonely Hummel figurine. The shop further fuses together the glass-making community with a freeform Glass Club, a supplies department, and repair services.
2716 E 31st St.
Minneapolis
Minnesota
612-721-9553
Since 1962, Thunderbird Aviation has nested at Minneapolis's Flying Cloud and Crystal airports, sending on-demand charters skyward, offering aircraft repairs and parts, and training new pilots. Composed of Cessna planes, the aviation agency's fleet runs the gamut from light, sport aircraft to twin-engine Seminoles, and encompasses one of the state's largest selections of instructional aircraft. Certified flight instructors accompany student pilots on their journeys. As novices approach pilot certification, they can augment their hours in the cockpit with time in an FAA-approved flight simulator, which is more useful than its unapproved counterpart, jumping on your bed while cawing.
14091 Pioneer Trl.
Eden Prairie
Minnesota
952-941-1212
Named one of 2012's top 100 five-star bicycle retailers in the United States by Bicycle Retailer and Industry News, Penn Cycle & Fitness has helped its customers enjoy smooth cycling for more than 50 years. From spare parts to automobile racks, the shop carries a large assortment of bike-riding gear for casual and serious excursions, while also offering repairs. During repair classes, the staff imparts its knowledge of bicycle mechanics onto pupils, who walk away from the 90-minute sessions with the ability to adjust brakes, fix faulty chains, and recite owners' manuals backwards.
2290 Cliff Rd.
Eagan
Minnesota
651-882-1241
When she's not hosting radio shows, serving meals at local shelters, or blogging for Minneapolis St. Paul magazine's Foodie File, Le Cordon Bleu–trained chef Marianne Miller helms Saga Hill Cooking & Events. She describes her style as "audacious, yet feminine," adding, "my preparations are often bold, but with a light-handed approach that brings out the natural flavors in each dish." Alongside her staff, she leads culinary classes and parties that shy from incorporating fad kitchen gadgets or diets. Instead, their goal is to teach practical skills that can help students prepare simple meals, gourmet treats, or decadent brown-bag lunches.
8782 Hawthorne Dr.
Eden Prairie
Minnesota
612-281-1846
Conductor Clyde Baker has spent a career taking high-school and college ensembles all the way to Carnegie Hall and Lincoln Center. Along with a team of seasoned dancers, actors, and musicians, he prepares kids aged 4–18 for success on stage and in the orchestra pit.
The school inhabits a handsome flagstone-and-stucco home base designed to produce a single harmonious chord in the event of windstorms. Within its specialized spaces, tots stretch on the hardwood floors of giant dance studios and casts of triple-threats put on shows for their ardent fans on colorful sets.
4748 Nicollet Ave. S.
Minneapolis
Minnesota
US
---