Eagle, ID Outdoor Activities
---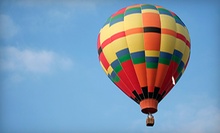 Balloon pilots glide vessels over the countryside at 8 mph on 45-minute flights, then touch down for a traditional champagne toast
---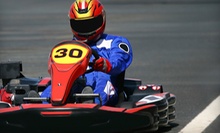 Riders race up to 40 mph in Sodi karts powered by Honda GX270 and GX160 engines
---
Recommended Outdoor Activities by Groupon Customers
---
The mission of the Idaho Botanical Garden has remained the same since its founding more than 25 years ago: to foster community appreciation and understanding of horticulture and natural conservation. Nestled in the Boise foothills, the facility's 33 acres house more than 14 themed gardens. Some feature carnivorous plants, native flora, or colorful and aromatic herbs, whereas others focus on rose varieties, succulents, peonies, and water-conserving plants. Garden staff use adjacent foothills for nature hikes and environmental education.
A day at the gardens may also include a snack at the Tea House or a trip to admire plantings on the roof of the Gathering Place gazebo. Pathways lined with Table Rock sandstone wander through the four quadrants of the green Celtic labyrinth, each representing one of the four seasons. In a separate Children's Adventure Garden, smaller visitors frolic in a colorful tree house and watch the ripple of fins at a koi pond. For self-guided family tours, the staff provide backpacks containing suggestions for things to see and do, as well as scavenger-hunt items, a magnifying lens, and binoculars so children can check whether that's really a Bubo virginianus slinking through the trees.
2355 N Old Penitentiary Rd.
Boise
Idaho
When recent budget cuts forced Treasure Valley to implement a pay-to-play program for high-school athletics, Jonathan Gonzales, Jeff Allen, Steven Caporale and Brett Hughes banded together to help aspiring athletes in need. Their donation-driven Farm Man Challenge tests competitors with lengthy races and farm-based obstacle courses while raising several thousand dollars each year to, according to KTVB, directly support high-school athletic programs. The annual event's creators constantly tweak its matches, coaxing participants through new variations of multi-mile runs, corn-maze and obstacle navigation, and limbo contests against scarecrows. While only one male and one female finisher receive the honors of FarmMan and FarmWoman annually, each racer earns the ability to select the high school to which they donate.
7165 S Linder Rd.
Meridian
Idaho
Boise Nationals Soccer Club helps develop young soccer players from their first step onto the pitch to their first step onto a college campus. Formed exclusively for boys in 1986, the club has since merged with several girls' affiliates to create one of the state's most formidable coed soccer outfits. Today, 30 competitive teams play beneath its star-emblazoned logo.
The club's programs split player development into six categories, and its youth soccer league—formed in 2008—places pint-size dribblers under the guidance of professional coaches, who provide more in-depth instruction than the volunteer parents or scarecrows that supervise many other recreational sports teams. For players who blossom under the club's stewardship, college-placement programs are available to help hoist games to the next level.
Settlers Park
Meridian
Idaho
---