Things to Do in Eagle
---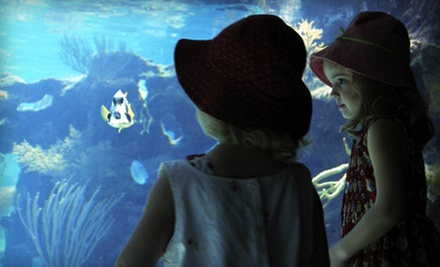 ---
Recommended Things to Do by Groupon Customers
---
The mission of the Idaho Botanical Garden has remained the same since its founding more than 25 years ago: to foster community appreciation and understanding of horticulture and natural conservation. Nestled in the Boise foothills, the facility's 33 acres house more than 14 themed gardens. Some feature carnivorous plants, native flora, or colorful and aromatic herbs, whereas others focus on rose varieties, succulents, peonies, and water-conserving plants. Garden staff use adjacent foothills for nature hikes and environmental education.
A day at the gardens may also include a snack at the Tea House or a trip to admire plantings on the roof of the Gathering Place gazebo. Pathways lined with Table Rock sandstone wander through the four quadrants of the green Celtic labyrinth, each representing one of the four seasons. In a separate Children's Adventure Garden, smaller visitors frolic in a colorful tree house and watch the ripple of fins at a koi pond. For self-guided family tours, the staff provide backpacks containing suggestions for things to see and do, as well as scavenger-hunt items, a magnifying lens, and binoculars so children can check whether that's really a Bubo virginianus slinking through the trees.
2355 N Old Penitentiary Rd.
Boise
Idaho
Prague-born Filip Vogelpohl kindled his passion for glass blowing within his Boise home garage. As his knack for flame-working increased, Vogelpohl left the garage and traveled the world, honing his craft under the tutelage of internationally renowned glass blowers. Now, Vogelpohl welcomes fledgling glass blowers into his studio for small group classes. He also invites spectators to watch the studio's artists as they shape molten glass and borosilicate into jewelry or vases, which then go up for sale in the gallery. On the first Thursday of every month, the furnaces keep firing until 9 p.m. during free glass-blowing demonstrations as a part of the First Thursday Art Walk.
530 W Myrtle St.
Boise
Idaho
208-345-1825
The coaching staff at Idaho Select Basketball fertilizes athletic growth and fosters competitive spirit through year-round youth basketball camps, academies, and tournaments. The Blue Chip Basketball Combine day camp strengthens budding players' skills on the court and includes an educational off-court class on the basics of college recruitment. Biannual three-on-three indoor tournaments test teams' mettle, and shooting camps teach backboards not to quiver when pelted with basketballs.
8055 Goddard Rd.
Boise
Idaho
When recent budget cuts forced Treasure Valley to implement a pay-to-play program for high-school athletics, Jonathan Gonzales, Jeff Allen, Steven Caporale and Brett Hughes banded together to help aspiring athletes in need. Their donation-driven Farm Man Challenge tests competitors with lengthy races and farm-based obstacle courses while raising several thousand dollars each year to, according to KTVB, directly support high-school athletic programs. The annual event's creators constantly tweak its matches, coaxing participants through new variations of multi-mile runs, corn-maze and obstacle navigation, and limbo contests against scarecrows. While only one male and one female finisher receive the honors of FarmMan and FarmWoman annually, each racer earns the ability to select the high school to which they donate.
7165 S Linder Rd.
Meridian
Idaho
Indian Lakes Golf Course's nine-hole course showcases a 3,027-yard labyrinth framed by the snow-capped peaks of the Owyhee Mountains. The par 35 course sports two sets of ladies' tees and two sets of men's tees to create a distinct front- and back-nine experience for players looking to schmooze their boss into letting them borrow the company caddy over an 18-hole round.
A staff of PGA pros presides over the grounds, which encompass a grass-tee driving range for lessons and practice sessions. Players can seek post-round refuge in the outdoor pool or within the cozy confines of the onsite restaurant, which offers a full-service bar, patio seating, and a menu of grill fare and dinner specials that go well after a mid-round snack of bunker sand.
4700 Umatilla Rd.
Boise
Idaho
208-362-5771
Boise Nationals Soccer Club helps develop young soccer players from their first step onto the pitch to their first step onto a college campus. Formed exclusively for boys in 1986, the club has since merged with several girls' affiliates to create one of the state's most formidable coed soccer outfits. Today, 30 competitive teams play beneath its star-emblazoned logo.
The club's programs split player development into six categories, and its youth soccer league—formed in 2008—places pint-size dribblers under the guidance of professional coaches, who provide more in-depth instruction than the volunteer parents or scarecrows that supervise many other recreational sports teams. For players who blossom under the club's stewardship, college-placement programs are available to help hoist games to the next level.
Settlers Park
Meridian
Idaho
---