East Bridgewater, MA Outdoor Activities
---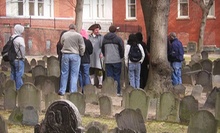 Follow a guide in a tricorn hat on a 90-minute exploration of colonial Boston through the uprisings that led to American independence.
Use Wednesday 8:30am - 11:30am
---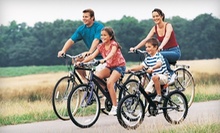 Lubed & trued two-wheelers roll along Sandwich Boardwalk planks as riders absorb sites of museums & unique village shops
Use Today 8:00am - 6:00pm
---
Recommended Outdoor Activities by Groupon Customers
---
Click above to buy tickets for Jonny Lang, August 9, 7:30 p.m. Click on the links below for tickets to other performances.
130 Sohier St.
Cohasset
Massachusetts
US
In 1958, Ryan Family Amusements founder James A. Ryan opened a simple, eight-lane bowling alley, planting the foundation for a slew of entertainment centers throughout Massachusetts and Rhode Island. At 10 locations, visitors enjoy a variety of arcade and skill games in addition to traditional candlepin, tenpin, or duckpin bowling. Every Friday and Saturday evening from 9 p.m. until midnight, bowling lanes take on an incandescent glow, allowing bowlers to experience futuristic entertainment without the inconvenience of rising jetpack-fuel prices. Bumper bowling is available for younger players, and an onsite concession stand refreshes responsible adults with glasses of beer and wine.
115 New State Hwy. Rte. 44
Raynham
Massachusetts
508-822-2304
Looking to put a new spin on a classic family activity, the minds behind Glowgolf decided to give the game a phosphorescent update. Incandescent courses place friends and family amid a tropical-fantasy golf world of neon orange, green, and violet surroundings. Players putt luminous orbs through vibrant treasure chests and glimmering windmills while negotiating tricky obstacles near walls portraying black-light-lit aquatic scenes. With more than 20 locations spread over 10 states, Glowgolf's fluorescent labyrinths challenge human players and traveling gnomes.
101 Independence Mall Way
Kingston
Massachusetts
A plethora of mock-rock climbing challenges populates The Spot Bouldering Gym with 10,000 square feet of vertical obstacles. Rock climbers can spend all day scaling man-made mountains up to 18 feet high, gripping massive boulders made in the image of Hueco, Fontainebleau, and Abraham Lincoln's nose. Other trials include the gravity-fighting 25-foot roped wall, an assortment of muscle-mightying training equipment, and cushy flooring for seamless dismounts. No experience is necessary to tackle the upright obstacles at The Spot; the congenial crew eagerly shares climbing tips and creates encouraging victory pyramids.
67 Sprague Street
boston
Massachusetts
US
617-333-4433
Pembroke Country Club's green, foliage-packed 6,532-yard course is known for its well-maintained landscaping, its challenging par 5 holes, and its sensual Jacuzzi water hazards. After warming up on the straight-shot first hole, you might find yourself sucker-punched by the well-bunkered third's undulating green, leftward water hazard, and punishing par 3. If you thrive on challenge, attempt to go where eagles dare with the sharply dog-legged 561-yard 13th hole or the pond-sloping greens on the 11th. Navigating the extensive grounds in the included golf cart will keep fatigue to a minimum. To improve their odds of overcoming the course's steepest obstacles, perfectionists can hone their wrist action at the practice area. Stock up on a last-minute package of golf tees at Pembroke's pro shop, as well as a replica of the golf clubs that Jimi Hendrix rebelliously set on fire at the Monterey Country Club.
94 W Elm St.
Pembroke
Massachusetts
Headless Indian chiefs. Vengeful witches. Treacherous generals. Though they may seem like figures in a horror novel or modern newspaper, they are all characters featured in Colonial Lantern Tours of Plymouth's intriguing and true-life historical tours. For more than 25 years, the staff of enthusiastic history buffs has traversed the scenic pathways of Plymouth and neighboring Boston, pointing out sites of interest while regaling guests with tales of the region's diverse history—from legendary ghosts to ghoul-inhabited tunnels to educational tales of pilgrim settlers and Native Americans. Tours meander through town squares, down hidden alleyways, and past historic harbors, guided by the light of 17th-century lantern replicas. Docents also offer seasonal Halloween-, Thanksgiving-, and Christmas-themed trips that detail colonial holiday customs, such as topping every tree with a bust of Benedict Arnold. To date, Colonial Lantern's yarns—at once macabre and enlightening—have enthralled numerous reporters from a variety of publications, such as the Los Angeles Times.
22 Summer St.
Plymouth
Massachusetts
774-454-8126
---