Things to Do in East Bridgewater
---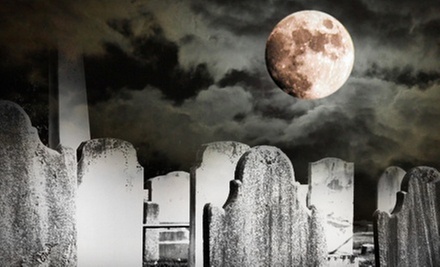 ---
Recommended Things to Do by Groupon Customers
---
The trainers at Hidden Hollow Farm and Stables help students of all ages and backgrounds build horsemanship skills and confidence on a safe 18-acre farm. Denise and Amy each bring more than 15 years of experience to the equine education of guests, and Amy has helped riders to national competitions. In addition to personal instruction in private lessons, the farm also offers progressive learning in an eight-week introductory program, summer enrichment during a riding camp, and elevated cake fights during a horseback birthday party. The stables house 20 horses and ponies, all of which are ridable year-round.
177 Taylor St.
Pembroke
Massachusetts
781-826-0490
Headless Indian chiefs. Vengeful witches. Treacherous generals. Though they may seem like figures in a horror novel or modern newspaper, they are all characters featured in Colonial Lantern Tours of Plymouth's intriguing and true-life historical tours. For more than 25 years, the staff of enthusiastic history buffs has traversed the scenic pathways of Plymouth and neighboring Boston, pointing out sites of interest while regaling guests with tales of the region's diverse history—from legendary ghosts to ghoul-inhabited tunnels to educational tales of pilgrim settlers and Native Americans. Tours meander through town squares, down hidden alleyways, and past historic harbors, guided by the light of 17th-century lantern replicas. Docents also offer seasonal Halloween-, Thanksgiving-, and Christmas-themed trips that detail colonial holiday customs, such as topping every tree with a bust of Benedict Arnold. To date, Colonial Lantern's yarns—at once macabre and enlightening—have enthralled numerous reporters from a variety of publications, such as the Los Angeles Times.
22 Summer St.
Plymouth
Massachusetts
774-454-8126
While majestic chestnut stallions, brown and white pinto mares, and blond pony hunters roam Herring Brook Farm's 28 acres of open ranch land, owner Mary Beth McGee lopes among them on a bronze steed, training juniors and adults hunter and jumper techniques for competitions and show. Spurred by a lifelong love of horses, she took up coaching more than 20 years ago, leading a number of her students to national finals while instilling the fundamentals of proper horse care in everyone she teaches. When not showing horses and their pet humans how to leap fences, brick walls, or Shaquille O'Neal, Mary Beth opens her farm to horse shows, where tenderfoot colts and wizened horses prance and pose in an indoor ring with a heated viewing room. She also raises horses for sale or lease and runs summer youth riding camps and dressage programs with the help of her capable staff.
233 Washington Street
Pembroke
Massachusetts
781-924-1933
Inside Plymouth's historic Post Office Building, the bustling of envelopes changing hands has been replaced by the sounds of steady breathing. Certified personal trainer Alicia Andreson works with her experienced staff—all of whom hold teaching certifications—to gently correct their students' alignment aboard mats and apparatuses, including the ubiquitous reformer. They guide one-on-one Pilates sessions and small-group classes that tighten cores, demonstrating classic mat poses, boot-camp-style maneuvers, and yoga stances. To complement their exercise regimens, they offer nutritional counseling and wellness programs. They develop custom healthful diet regimens that help patrons flatten their tummies more safely than standing in front of a firing cannon.
6 Main St
Plymouth
Massachusetts
508-317-6990
The ocean's waves and a seabird's occasional rock ballad are all that interrupt the silence across the Stellwagen Bank National Marine Sanctuary. Suddenly, a humpback whale leaps from the water and crashes back down, sending a plume of whitecaps into the air. Aboard their boat, a tour group snaps photos of the breathtaking moment as a crewmember narrates it all.
The US Coast Guard–licensed captains at Capt John Whale Watching and Fishing Tours aim to create once-in-a-lifetime experiences like these everyday. Their boats serve as floating classrooms, aboard which they teach deep-sea fishing some days and pilot groups into the habitats of everything from dolphins to minke whales on other days. The marine educators also lead kids' programs that let the students explore an on-board tidal pool to feel the texture of spider crabs, sea stars, and baby submarines.
10 Town Wharf
Plymouth
Massachusetts
508-746-2643
Fish don't say "cheese." But that doesn't stop captains Doug and Jeff Amorello from snapping photos of the monstrous striped bass and bluefish that their customers reel in. The two own Sashamy Sportfishing, where they orchestrate half-day fishing trips around Plymouth Harbor aboard their 36-foot charter fishing boat, Sashamy. As full-time fishermen, the duo knows their way around the area, and as family members, the two have a soft spot for promoting wholesome activities. They welcome all ages aboard their boat, fostering the future of fishing stories shared between fathers and sons, mothers and daughters, and teenagers and their cell phones.
Town Wharf
Plymouth
Massachusetts
774-766-8781
---