East Chicago, IN Outdoor Activities
---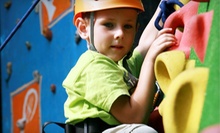 Boost rock-climbing skills, strength, and coordination during lessons or children's summer camp
---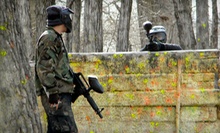 More than 400 acres of woodsball, hyperball, airball, and x-ball fields; players are separated by skill-level
---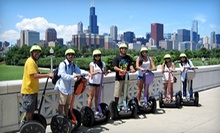 Segways roll past Chicago's famed sites such as Soldier Field, Buckingham Fountain, and Grant Park
Use Today 8:30am - 2:30pm
---
Recommended Outdoor Activities by Groupon Customers
---
Looking to put a new spin on a classic family activity, the minds behind Glowgolf decided to give the game a phosphorescent update. Incandescent courses place friends and family amid a tropical-fantasy golf world of neon orange, green, and violet surroundings. Players putt luminous orbs through vibrant treasure chests and glimmering windmills while negotiating tricky obstacles near walls portraying black-light-lit aquatic scenes. With more than 20 locations spread over 10 states, Glowgolf's fluorescent labyrinths challenge human players and traveling gnomes.
2107 Southlake Mall
Merrillville
Indiana
219-769-3220
The Chicago White Sox have some truly dedicated fans. In 1994, the team decided to reach out to the youngsters who worshipped their footwear. They sought to provide kids with the same conditioning and training they honed their skills with, so they started a sports-training summer camp. In a mere seven years, demand for the trainers' services necessitated that the program conduct year-round sessions in all types of sports, and the Bulls/Sox Academy was born.
Taught by the trainers who spend their life making sure that the Sox and Bulls are ready to hit the field or court, Bulls/Sox Academy's lessons bring professional techniques to aspiring athletes. Baseball programs teach functional speed movements for high-speed base stealing and help kids build the upper-body strength to knock balls out of the park and through the windshield of their least favorite neighbor's minivan. The basketball course divvies up training between shooting, skills, and defensive play. The fast-pitch softball teachers—both former professional players and longtime coaches—arm students to beat back high-velocity pitches without hurting the ball's feelings.
221 U.S. Hwy. 41
Schererville
Indiana
During the Gary SouthShore RailCats' inaugural season in 2002, the players spent an estimated 200 hours on buses—traveling approximately 12,000 miles without their own ballpark to call home. Indeed, the diamond at U.S. Steel Yard was still under construction, forcing the team to play its entire first season on the road. But while the trip could have been a rocky way for an organization to start out, it instead forecasted a wild ride ahead in which the RailCats never stopped moving. After just four years, the RailCats captured their first Northern League title, marking the first of five straight appearances in the championship series—a Northern League record.
Despite that first year away from home, the RailCats seem to have settled in well at U.S. Steel Yard. Within the park, views of the South Shore commuter train remind fans of the team's origins, and a 55-foot scoreboard towers over left-centerfield in much the same way early pitchers once towered over batters from atop a stack of milk crates.
1 Stadium Plz.
Gary
Indiana
The Village of Park Forest lays claim to being one of the first postwar planned communities. In 1948, as World War II veterans were looking to make peacetime lives, the village's pioneers built affordable housing and an accessible road system for a diverse, welcoming community dotted with green parks and tail-finned trees. Today those trees have grown into a mature canopy, and the village has taken steps to maintain its legacy while seeking to reinvent itself for the modern era. In 2000, the Metropolitan Planning Council awarded the village a Burnham Award for its downtown redevelopment. The revitalized downtown area features a variety of spaces where community members can come together, including its Dining on the Green meeting and banquet facility, which overlooks the village green's verdant pasture decorated with ornamental flowers, a gazebo, and sculptures that do not animate and roam the streets with each full moon.
349 Main St.
Park Forest
Illinois
708-283-5621
The pilots at Sun Aero Helicopters Inc. have been training pupils in the autogiro arts and transporting clients through the skies since 1991. Inside their base at Lansing Municipal Airport, aviators maintain a 12,000-square-foot hangar area and 3,000 square feet of training offices and high-speed computerized flight-planning facilities. Expert pilots impart their knowledge to up-and-coming FBI agents, police officers, emergency medical technicians, and leisure pilots during one-on-one training sessions in Robinson and Bell copters. Pilots also give landlubbers a skyscraper's view of Chicago's landmarks, such as US Cellular Field, the John Hancock building, and the Sears/Willis Tower. When they aren't transporting rally drivers, golfers, and famous wiffle ball players with private charter services, Sun Aero serves national media companies with aerial photography and land surveys.
195th St. & S Burnham Ave.
Lansing
Illinois
US
708-895-8958
Originally constructed to host large-scale tournaments, Badlandz Paintball Field now accommodates recreational play across more than 400 acres of outdoor forts, creeks, and open fields. Open play draws beginning, intermediate, and advanced paintballers into challenging and fun scenarios. Multiple games kick off simultaneously, sending combatants headlong into battle on isolated fields, with players divvied up based on ability, equipment type, and Duck Hunt high scores to ensure a level playing field. Warriors navigate natural and manmade obstacles as they pummel competitors with polychromatic ammo throughout the woodsball, hyperball, airball, and x-ball courts. Methods of gameplay include elimination, capture the flag, and protect the president and encourage individual or team strategies such as designating snipers or concealing teammates in piles of chameleons. Badlandz staffers patrol the sprawling arena to enforce the game's rules and to ensure that all participants follow the field's stringent safety regulations. Players can bring their own paintballs or purchase them onsite. The facility also runs airsoft games during weekend open play.
306 W Elms Court Ln.
Crete
Illinois
708-862-2222
---