East Cleveland, OH Spa and Massage
---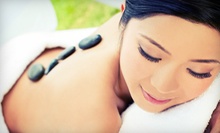 Use Saturday 11:00am - 5:00pm
---
Recommended Spa & Massage by Groupon Customers
---
Marengo Luxury Spa resides within The Arcade—a retail oasis formerly known as "Cleveland's crystal palace." Founded in 1890, The Arcade rises five stories high, summiting at a glass ceiling that spans the area of a football field. On the way to Marengo Luxury Spa, patrons traverse Roman marble walkways and pass gilded carvings, iron balconies, and cast-iron griffins. Upon arrival, clients consult with a spa specialist who personalizes a treatment plan that may include massage therapy or treatments for skin, hair, or nails. Throughout appointments, clients enjoy a variety of refreshments including coffee and biscotti or herbal tea and blocks of tofu. Calling itself "a perfect sanctuary in which to retreat and discover a new you," Marengo Luxury Spa exudes the palatial ambiance of The Arcade itself.
401 Euclid Ave., Suite 135
Cleveland
Ohio
216-621-4600
Unlike head-shrinkers who decrease your brain space and increase your thetan count, head-shapers are the guerilla artists of the 21st century, inserting their stunning creations into the everyday world via your newly beautified noggin. Atop the hardwood floors of Color By Numbers' handsome salon, wayfarers questing for hair resolution shed their unseemly burden of knots and whorls beneath an expert stylist's shears. Finally figure out if bangs suit your face-shape or how to form a sultry side part, then lean back and let the stylist transform your locks into a new 'do that suits your lifestyle and personality.
18105 Detroit Ave.
Lakewood
Ohio
In a whirlwind of cosmetic products by the likes of Aveda, Redken, and OPI, a diverse cast of beauty boosters pool their talents to create a tranquil spa getaway where passersby can gussy up their hair, skin, and nails. At Revelations Salon & Spa, hairstylists well versed in coiffure modifications add va-va-voom to freshly shorn locks with halo highlights or all-over color. Skin technicians perform various facials to clarify complexions muddled by acne, dryness, and calculus equations scrawled with a sharpie. Their relaxing massages unwind knotted muscles scattered throughout the body, and their comprehensive pedicures melt tension between toes tired of making strained conversation with each other.
15620 Detroit Ave.
Lakewood
Ohio
216-228-2966
Licensed nail professional Aisha L. McCaleb and the team at A-Spot Nail Studio & Spa give fingers and toes an elegant transformation with custom mani-pedis. Patterned white furnishings provide a sleek counterbalance to the spa's pink walls, creating an aura of pampering and indulgence that's mirrored by nail treatments that include hot stones and exfoliating hand and foot scrubs. Nail technicians draw from a spectrum of OPI polish colors at the conclusion of mani-pedis, resulting in nails that look so groomed they can be dunked in a punch bowl without offending other partygoers.
785 Alpha Dr.
Highland Heights
Ohio
At Basic Essentials, a team of certified professionals offers a gamut of forward-thinking salon and massage services. An experienced electrologist permanently stunts hair growth during electrolysis, and wax specialists temporarily evict encroaching hairs and misplaced birthday candles with face and body waxing. The clinic's master teacher of reiki—who is certified in the practice's highest level—optimizes intra-body energy flow during reiki sessions.
33650 Aurora Rd.
Solon
Ohio
440-248-2510
At Whole Essential 4 U Massage Studio, therapists excel in many different styles of massage, each of which can be augmented with indulgent add-ons and extras. While clients enjoy a relaxing Swedish massage, multiple masks can help tighten skin on the face or around the eyes. Aromatherapy is included with each type of massage, including deep tissue sessions and hot stone massages, which call upon the therapeutic properties of heat to help release endorphins and decrease cramping caused by arthritis. On top of in-studio treatments, the therapists can also take their massage tables on the road for events as well as for treatments administered at their clients' homes, hotels, offices, or panic rooms.
14077 Cedar Road, suite LL6, room A
Cleveland
Ohio
216-925-8860
---