Theme & Amusement Parks in East Concord
---
Theme & Amusement Park Deals
---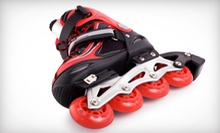 Top-40 hits play at the roller-skating rink; 10-minute laser-tag games amid obstacles and hideouts; slushies or fried dough refuel
---
Recommended Theme & Amusement Parks by Groupon Customers
---
At Paradise Mini Golf, friends and families guide colorful golf balls through an 18-hole oasis of zigzagging putting greens and tropical obstacles. The course's river exposes orbs to the treachery of a flowing stream on multiple holes, and a 35-foot-tall tree house gives local birds a chance to cheer on putt-putters or stock up on nourishing golf balls for winter's hibernation. After a round, golfers can stop by the koi pond and feed the fish at the feeding station or visit the ice-cream stand. Visitors looking to expand their golf game beyond the mini domain can drop by the Paradise Driving Range to hone lengthier swings.
25 Lonergan Rd.
Middleton
Massachusetts
978-750-4653
Divided between two locations in Manchester and Nashua, Vertical Dreams' 15,000 square feet of simulated mountainside are packed with obstacles and tough sections to challenge climbers of all skill levels. At the Manchester gym, gutted elevator shafts lined with hand grips extend four stories upward, creating 70-foot vertical surfaces. The Nashua location boasts 10,000 square feet of wall space, with textured surfaces that respond realistically to climber's hands and feet and fill their nostrils with simulated rock smells.
Vertical Dreams' staff of veteran climbers teaches students one-on-one or in groups. In beginner lesson packages, instructors show aspiring climbers the figurative and literal ropes involved in belaying, climbing, and knot tying, and the teachers in advanced top-roping and sport-climbing classes push their students' abilities to climb solo or in a lead position.
250 Commercial St.
Manchester
New Hampshire
603-625-6919
Cavorters of all ages caper about Joker's Family Fun and Games's massive indoor play zone, which is stocked with games and attractions that inspire climbing and sliding. Kids can scramble into the three-tiered A-Maze-Zing playhouse to navigate tubes, web bridges, and conference rooms, and toddlers can maneuver through the mini maze or hop aboard the train ride for a sightseeing jaunt around the tracks. Future adults can challenge one another in sundry classic arcade games such as skee-ball and air hockey, and more than 50 video games await thumbs desperate to win garlands of exchangeable tickets. Whippersnappers achieve liftoff in lieu of jetpack overalls on a Jolly Jump air bounce then safely glide down a 22-foot inflatable super slide. At the 14,000-square-foot Portland location, youngsters can also blast comrades in a space-age laser-tag zone, scale a towering rock-climbing wall, and master putting skills on an 18-hole mini-golf course. After extreme bouts of frolicking, families can quell tummy rumbles with slices of housemade pizza slathered in Joker's signature sauce or peek at the menu to peruse sandwiches, burgers, and chicken tenders.
512 Warren Ave.
Portland
Maine
Joyous sounds reverberate off the walls at Mason Recreation Center, a decades-old entertainment emporium managed by a staff committed to keeping its guests entertained. Pins clatter on dozens of lanes designed for candlepin bowling, a variation on tenpin bowling that uses smaller balls and cylindrical pins that are not cleared away between frames so bowlers can hear their faint screams. The staff engineers the fun activities, hosting open bowling, overseeing league competition, and throwing birthday shindigs in private rooms. On several tournament-size tables, billiard balls clack against one another, and in the onsite arcade, video games bleep and purr like robots napping on magnets. In warm weather, the staff unfurls an 18-hole miniature golf course and opens an onsite sweets station that serves freshly scooped ice cream.
640 N Main St
Leominster
Massachusetts
978-537-7064
Since its inception as a restaurant and mini-golf course in 1960, Funtown Splashtown USA has steadily expanded to include manifold family-friendly theme-park attractions and water-park slides. The park invites thrill-seekers to rush down the slopes of the wooden Excalibur rollercoaster or free-fall 220 feet from the zenith of the Dragon's Descent tower. At the Splashtown waterpark, guests combat the summer sun aboard two-person slide tubes or circular family rafts. And at the Portland Pirates Paradise attraction, visitors fire water cannons and slip through eight water slides. Between slips and slides, families can unwind on the 1,200 lounge chairs or grab a snack at the picnic areas, so long as they make sure to wait at least 30 minutes before swimming or picnicking again.
774 Portland Rd.
Saco
Maine
A stream of yellow and black buzzes by. It's not a swarm of bumblebees, but friends and family racing each other in yellow and black go-karts around Checkered Flag Indoor Karting's 23,000-square-foot speedway. Strapping on helmets and sliding in behind the wheel of 15HP electric karts, up to 10 drivers jockey for position while whipping around eight snaky turns and sling-shooting past opponents on the wide lanes along the 100-foot front stretch. The facility's electronic timing system lets speedsters check out their best lap times from each 20-lap race. Racers must be at least 54" tall or born with tires instead of feet to traverse that track, but during birthday parties kids aged 4–9 and at least 36" tall zip across the 100-foot Mini Cup track. With a snack bar slicing pizza and pouring soda and an arcade, the facility can play host to parties for older kids and adults, as well as corporate team-building events. And for kids and adults seeking serious competition, Checkered Flag organizes leagues lead by indoor karting champion, Tom Prioli.
239 Neck Rd.
Haverhill
Massachusetts
US
978-374-7223
---