Things to Do in East Concord
---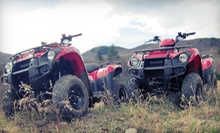 Brute Force 300 ATVs zip around a road that snakes through the scenic White Mountains during guided tours
---
Recommended Things to Do by Groupon Customers
---
For more than three decades, Cape Ann Whale Watch has escorted spectators fascinated by the sea's magnificent giants on three- to four-hour treks 15 miles off the Gloucester coast. Passengers on the 115-foot professionally piloted Hurricane II can witness the natural grace of humpback whales, finback whales, dolphins, and pirates disguised as mermaids cavorting in the depths. In the course of the approximately 60-mile circuit, a member of the Ocean Alliance narrates excursions, illumining the sight of each water dweller by discussing why whales breach, how to recognize individual humpbacks, and various feeding styles. Trip times will be posted on the 2013 schedule before the season begins or as soon as the groundwhale sees its shadow in the spring.
415 Main St.
Gloucester
Massachusetts
800-877-5110
For nine years running, New England Brewfest has assembled a coterie of craft breweries to get more than 100 taps flowing with their unique creations. This year, the event includes 30 breweries, and each of them will treat every guest through the gates with complimentary samples of small-batch beverages and reasonably priced high-fives. Exhibitors range from Magic Hat and Peak Organic Brewing Company to Angry Orchard Hard Cider and Twisted Tea. You can also take in brewing demonstrations and learn about the creation of items such as beer-infused jelly.
Organizers require that guests present ID at the entrance, and recommend bringing a folding chair and comfortable dancing shoes. These items come in handy when absorbing the sweet rhythms of live music acts such as the Rustic Overtones and Air Traffic Controller.
25 S Mountain Dr.
Lincoln
New Hampshire
Adventurers glide past pine and deciduous trees, navigating branches at 200 feet above the ground. As they reach a treetop platform, guides wave them along onto a bridge that swings high above the forest floor. This nerve-racking scene is the norm at Alpine Adventures, where professionals have led guests soaring through the woodlands of New Hampshire's White Mountains since 2006. Today, in addition to leading guests on three distinct canopy tours, each testing adventurers' courage with swinging bridges and fast speeds, they captain off-road adventures in six-wheeled Swiss Pinzgauers. Up to 11 passengers sit protected by seat harnesses and an overhead roll cage as guides narrate and charge through fall foliage, winter flurries, or summer volleyball games. An aerial park invites thrill seekers to explore cargo nets, rope ladders, ziplines, a treehouse, a climbing tower, and many other elevated obstacles.
41 Main St.
Lincoln
New Hampshire
The Motorsport Lab lets drivers tame and test a fleet of classic American muscle cars and exotic, foreign sportsters. Drivers receive instruction before sampling the speed and handling of vehicles such as the Shelby Cobra, Bentley GT, and Lotus Elise. Instructors can either compress racing experiences into 60-minute agility tests or prolong the rush by guiding drivers on three-day excursions to Vermont, the Berkshires, or the nearest no-contact demolition derby. The Motorsport Lab also offers a Phoenix thrill-ride experience that actualizes adrenaline junkies' dreams as they pilot an Aston Martin or Ferrari along the 101.
1122 Rte. 106
North Loudon
New Hampshire
617-383-7655
Sneaking up the ridge, the players prepare to storm the multilevel Castle Anthrax, a wooden fortress where defenders lurk in its 20,000-square-foot interior and ready their counterattack. The castle is one of seven outdoor playing fields at AG Paintball, which has been featured on WMUR's "New Hampshire Chronicle." Amid forest terrain, participants duck into huts, snipe opponents from behind paint-splattered barrels, and trick the guard sphinxes into unveiling one of the multiple entrances to the Octagon. Updated annually with new fields, the facility hosts both novice and experienced players and matches those of equal experience and skill for games in varying styles of play. After their bouts, guests can restock supplies in the pro shop, commission repairs from the onsite gunsmith, or grill some burgers in the covered patio area, where those 21 and older can also enjoy BYOB privileges once all gear is returned.
158 Derring Center Rd.
Weare
New Hampshire
US
603-529-3524
Paintballers sprint, strafe, and army-crawl across Birch Hill Paintball's battlefields, seeking refuge behind overturned barrels or inflated edifices as they seek out opponents. The venue features four distinct battlegrounds, letting players outflank adversaries in an urban setting, skulk stealthily through a sandy junkyard, or obscure themselves behind the trees, fences, and elephantine ant hills of a wooded battlefield. Players without their own paintball guns and other munitions can rent all necessary gear directly from Birch Hill, which hosts simulated warfare on Saturdays and Sundays from 10 a.m. to 4 p.m.
76 Birch Hill Rd.
York
Maine
207-363-6416
---