Beauty & Spas in East Grand Rapids
---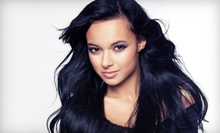 Stylist smoothes hair with a relaxer and adds semipermanent color or lengthens hair with extensions or a weave
---
Recommended Beauty & Spas by Groupon Customers
---
The professional staff of stylists and colorists at The Hair Co. welcome repeat customers and referred clients as they sculpt hairdos for men, women, and children using products by Paul Mitchell and TIGI. When they aren't snipping strands and tinting locks with new hues and highlights, stylists condition frazzled mops with Redken conditioning treatments and perm tendrils so they resemble mint-condition Slinkys. Guests preparing for fancy occasions can have stylists add feather extensions or twirl tresses into sophisticated updos.
6504 28th St. SE
Grand Rapids
Michigan
616-957-4130
Inside Teaze Salon's sleek studio adorned with modern fixtures, clients nestle into bright-red salon chairs as stylists enhance appearances with a full menu of salon services. Modish haircuts, color treatments, and hair extensions reconcile split ends and infuse manes with vibrant color to frame faces so perfectly that clients will no longer need to pose for photos through a gilded picture frame. Manicures and pedicures ensure that fingers and toes form elegant shadow puppets, and waxes and spray tans beautify bodies.
865 28th St. SE
Grand Rapids
Michigan
616-608-3811
When the time came for Vickie and Victor Bennett to name their new day spa, they simply reached for an English-to-Italian dictionary. Vasaio, which means 'potter' in Italian, captures the Bennetts's commitment to revealing the untapped beauty in each of their clients, much like a potter uncovers the beauty in wet clay or uncooked cookie dough. Using organic lotions, scrubs, and muds created in-house, as well as Keune Haircosmetics products imported from the Netherlands, Vasaio's stylists, massage therapists, and nail technicians sculpt, soothe, and pamper their patrons amid a luxurious spa setting.
Dr. Laura Tinning leads Vasaio's med-spa arm, administering and overseeing rejuvenating procedures such as microdermabrasion, chemical peels, Botox and Juvéderm injections, and laser treatments. Armed with the Cutera laser system, Dr. Tinning and her team battle nail fungus, acne, unwanted hair growth, visible veins, and the body's internal asteroid belt.
1100 E Paris Ave. SE
Grand Rapids
Michigan
616-942-2966
Nestled in Yorktown Center, floor-to-ceiling windows shed sunlight across the tan leather seating and rustic Italian décor of Healthy Family Physicians' lobby. A friendly staffer waits behind the front desk, helping guide guests through paperwork before sending them on to private treatment rooms. The highly sanitized spaces are where board-certified doctor Ruperto D. Blanco, Jr., and his experienced crew help rejuvenate physiques from the inside out with family-practice services. Dr. Blanco, always on the prowl for advanced aesthetic treatments, also helps rejuvenate waning complexions with products such as Jan Marini, Obagi, and DiamondTome, and skin services from spider-vein removal to Botox injections to paint-by-number face murals.
4038 Alpine Ave. NW
Comstock Park
Michigan
616-827-2020
The stylists and aestheticians at SJ Design Hair Studio beautify clients with personalized hair, skin, and nail services. Stylists update hairstyles for men, women, and children with cuts, permanent color, highlights, and perms. Skincare specialists rejuvenate clients with facials and waxing services, and they ease weary muscles with the smooth, heated rocks used in a hot-stone massage, a service that was recently added to the menu to replace the less-soothing cold, jagged-stick massage.
6800 Old 28th St. SE
Grand Rapids
Michigan
616-949-2919
The team at Michigan Beauty Institute, which is affiliated with Clyde Park Chiropractic, focuses on noninvasive therapies that leave skin looking younger. Microcurrent facials stimulate muscles and surrounding tissues, and ultrasonic and radio-frequency liposuction treatments break down fat and cellulite. The crew also offers elastin-infusion therapy, a cosmetic procedure that was originally used to help wounded soldiers heal more quickly and with less scarring. The cell-renewal therapy is designed to turn back the hands of time by up to two years, or the average duration of a microdermabrasion treatment on the Statue of Liberty.
4315 Clyde Park Ave. SW
Wyoming
Michigan
US
616-432-9999
---