Professional Services in East Grand Rapids
---
Professional Service Deals
---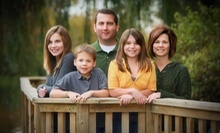 Seasoned photographers capture individuals and families during on-location shoots
---
Recommended Professional Services by Groupon Customers
---
Chef Isaac introduces foodies to a palate-pleasing style of cooking he learned under the tutelage of his father, a student of legendary recipe maker Julia Child. While lingering in the aromas and sung notes that filled his childhood kitchen, he soaked up the skills that would lead him to create a menu that was praised by Dine Michigan. Roasted chicken tempts tongues alongside barbecue ribs, sliced pork tenderloin in a white-wine sauce, and handmade meatballs with vegetable-infused tomato sauce. One who vows to leave stomachs satisfied, Chef Isaac pairs his entrees with gourmet takes on mac 'n' cheese or warm spinach salad and ends meals with a sweet note, such as the apple flambé, which sizzles and spits like a surly tea kettle.
After experiencing a particularly long wait at a restaurant one evening, Chef Isaac decided to expand his culinary reach into the homes and minds of his clientele with a slew of delicious services. Cooking classes divulge his techniques with comfort foods and healthy cooking or guide students through the creation of specific dishes such as stuffed pasta with meatballs. Chef Isaac also brings his skills and signature menu into patrons' homes, thereby freeing up more time for them to spend with their families or search for patterns in taped episodes of Press Your Luck.
13051 Wacousta Rd.
Grand Ledge
Michigan
517-643-4551
Fantastic Alterations by Kelly's owner, Kelly Wheaton, professes that in her 25 years of tailoring she has learned to "alter anything to fit anyone," and believes that skilled tailoring has the potential to completely transform an outfit's appearance. She applies her skills to both men's and women's clothing, performing work from small jobs, such as mending and hemming, to major projects such as the repair of dresses, suits, or the cloth coverings of Conestoga wagons. Along with weekday appointments, she schedules fittings for both evenings and weekends to accommodate clients' schedules, and, as the sole employee at Fantastic Alterations, she ensures all customers receive the same standard of service from visit to visit.
1804 Baker St.
Haslett
Michigan
517-339-4368
Open every day of the week, Uptown Cleaners prizes promptness as much as it does availability. The family-owned business dry-cleans an expansive assortment of garments, both formal and casual, with a typical turnaround time of one to two days. To ensure tangible wedding memories without locking the band in their basement, guests can rely on the cleaning staff to preserve wedding dresses.
2770 Breton Rd. SE
Grand Rapids
Michigan
US
616-940-3149
Such Media's technicians bring old media into the modern age by transforming video, audio, and images into digital formats with professional-grade technology. Video and audio tapes that no longer function with today's devices gain new shelf life thanks to transfer services, which preserve ancient audio and video on DVD, CD, or any other storage medium. Scanning and digitizing services turn photos, slides, and negatives into digital files that can enhance presentations, print projects, and online ventures. Video-production experts can film and edit customers' video projects, including TV commercials, training and corporate videos, and online videos. Technicians can also duplicate CDs, DVDs, and flash drives.
4665 Dobie Rd. , Suite 120
Okemos
Michigan
---