Tanning Salons in East Grand Rapids
---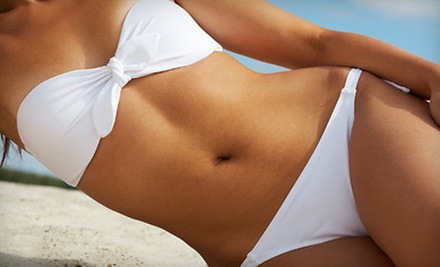 ---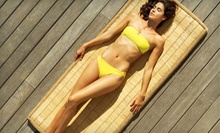 Award-winning tanning salon offers a variety of tanning modalities
---
Recommended Tanning Salon by Groupon Customers
---
Most clients don't walk into a tanning salon expecting to find granite tile, massage chairs, and hotel-like amenities, but at J2 Tanning, that's exactly what they'll get. Spacious, private treatment rooms host three different levels of tanning beds and come stocked with mirrors, clothing hooks, and a supply of washcloths and spray deodorant. Certified spray-tan technicians can custom apply a golden glow in eight-minute sessions, allowing clients to adopt a golden hue before hitting the beach or sneaking into King Midas's petting zoo, and teeth-whitening treatments create a comely contrast between smiles and their newly shaded skin.
Shelves line the salon's cinnamon-colored walls, each bearing a bounty of Australian Gold, Designer Skin, and Swedish Beauty tanning lotions enhanced with tinting, bronzing, and moisturizing agents. J2 Tanning also offers a line of custom swimwear and goggles, allowing guests to craft a whole new summer style, perfect for showing off at the pool or very casual wedding receptions.
13171 Schavey Rd.
DeWitt
Michigan
517-668-6322
Inside Salon Soteria, dedicated stylists spoil hair with products from Aveda, Schwarzkopf, and Redken while crafting new styles and amplifying beauty. The collection of services extends to include mani-pedis, makeup artistry, waxing, and ear piercing. Staff members can perform full makeovers on individuals and tend to the beauty needs of entire bridal parties or Civil War reenactors readying for battle.
2962 Towne Center Blvd.
Lansing
Michigan
517-371-8800
With a combined 25 years of experience, the Smart Tan–trained staff of Sun Studio simplifies the shade-deepening process for customers by eliminating appointments, contracts, and long-term commitments. Staff members direct sun-seekers to a suitable UV-tanning bed: 15- and 20-minute regular beds build a base tan on birthday suits with UVB-rich rays, and VHR beds equip bodies with long-lasting glow utilizing a higher percentage of UVA rays delivered in 9- or 12-minute increments. Private, automated sunless-tanning booths coat epidermises for tans that deepen four to six hours after sessions, last five to seven days, and fool 9 out of 10 swim school admissions counselors. The studio also improves appearances with restorative red-light therapy, which aims to fade fine lines, stretch marks, age spots, and acne with infrared light.
12900 Northway Dr.
DeWitt
Michigan
517-669-5522
The team at Body & Sol Tanning Studios advises visitors on UV and UV-free tanning options, as well as directs tanners toward red-light skin-rejuvenation therapy. UV units range from the Exotic Sun 55 standup booth to the Sunboard XXT bed, which delivers 23,000 watts of light through lamps arranged to cover all four sides. For UV-free darkening, a Mystic Tan HD booth lets guests customize their desired color. To help clients maintain results, the staff recommends sheen-enhancing products such as Australian Gold lotions and Academy Award polish.
1633 28th St., Suite C
Wyoming
Michigan
616-249-9550
Putting the "shine" in Urban Shine Spa and Tanning Salon, co-owner Sunshine Dolph and her co-owner/husband, Chris Dolph, keep bodies golden with advanced UV tanning equipment and sunless spray tans. During 10-minute Mystic Tan sessions, jets evenly spritz clients with a custom solution, leaving epidermises with a tan that looks more natural than a candid photo of a sunflower seed. Premium tanning beds rely on a mixture of UVA and UVB rays to create similarly sun-kissed glows. For optimum UV tanning results, Urban Shine recommends that clients utilize different types of beds—a task made simpler thanks to the spa's daily hours of operation.
7904 Oakland Dr.
Portage
Michigan
---