Massage in East Greenwich
---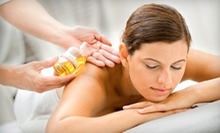 Use Tuesday 10:00am - 6:00pm
---
Recommended Massage by Groupon Customers
---
Aching athletes, overstressed moms, and exhausted office workers. The massage therapists at Healing Hands Massage Therapy have seen them all, and offer fives types of full-body massage to help them relax. For those with limited time due to work or work-related movie marathons, Healing Hands offers chair massages that are shorter than traditional treatments.
1394 Douglas Ave.
North Providence
Rhode Island
After spending 13 years closing business deals as a sales representative, Mari Brown decided to trade in handshakes and contracts for therapeutic strokes and aromatherapy oils. Mari's new clients are thankful for her change of heart. The nationally certified massage therapist now spends her days tending to their aches and pains with relaxing bodywork treatments that employ custom-blended organic oils.
Inside the studio's private treatment room, the sounds of Asian music join with the flicker of warm candlelight to foster an atmosphere that calms the senses. Mari's various massage techniques do their part, as well, working to alleviate the stresses of workdays spent crouched over computers or hiding from bosses in cramped supply closets.
65A Fall River Ave.
Rehoboth
Massachusetts
Led by owner and licensed massage therapist Bobbie Fitzek, the skilled staff of 2 Touch is 2 Heal moves clients toward a more relaxed and limber life with a diverse list of massage modalities. In addition to massage, the clinic offers exfoliating treatments, spa parties, and a cellulite-reduction-massage program.
1199 Reservoir Ave.
Cranston
Rhode Island
401-228-7558
At Nutrapy, owner and director Jimmy Chung and his team promote internal wellness and external beauty in a tranquil, eco-friendly environment. Chung addresses physical aches and pains not only as a licensed massage therapist, but as a reiki master and certified polarity therapist, specializing in energy work designed to facilitate healing. For the well-being of their clients and the environment, he and his staff perform services using organic products wherever possible, nourishing faces with the Éminence Organic Skin Care line and pampering nails with toxin-free polish. Chung is also working on his master's degree in Chinese medicine, so it's no surprise that the center also offers Eastern-based services such as acupuncture and tai chi classes. Located in the South Shore, Nutrapy also features a raw herbal dispensary and has tested 200 medicinal herbs.
Before treatments even start, Nutrapy helps guests feel calmer and more centered as they walk into the holistic haven, which is decorated with orchids and soothing brown and blue-green earth tones. Once inside, patrons relax in pipe-less pedicure spas that resemble overstuffed recliners, or on a cushy suede couch in the candlelit relaxation room. In the corner, a small, rock-bordered pond teems with bright orange fish and features a soothing waterfall that gurgles Beatles classics.
17 Snow Rd.
Marshfield
Massachusetts
508-603-9217
Kristen, Rainee, and Karen, the team of trained professionals at Ultimate Sports Massage, know the strain sports can put on a body. They help prevent and heal sports-related injuries with their namesake specialty massage, which can be customized to address everything from lingering pain to lagging range of motion. In addition, they also prep athletes for competition with kinesio taping services, and mend game-sore bodies with the icy embrace of a cold plunge bath. The team also caters to non-athletes with relaxing traditional bodywork, soothing hot stone therapy, or Shivaki Thai massage—a blend of acupressure and yoga-like poses that helps reduce tension.
425 Washington St.
Providence
Rhode Island
401-228-8554
Jaclyn Ayotte, owner of Massage Therapy & Wellness of East Greenwich, grew up in a family that embraced alternative and holistic practices, and she herself had multiple conditions improved by chiropractic work and acupuncture. When her uncle died after a battle with melanoma, she was inspired to go into massage therapy and took an interest in massage for the elderly and those dealing with cancer. Since graduating from the Palmer Institute of Massage and Bodywork, Jaclyn has earned certifications in other types of natural healing, such as reiki, reflexology, and acupressure. She also takes a particular interest in working with mothers-to-be and is a proponent of natural births and drug-free deliveries from storks that have passed thorough background checks.
5840 Post Rd.
East Greenwich
Rhode Island
401-203-1069
---