Theme & Amusement Parks in East Hampton
---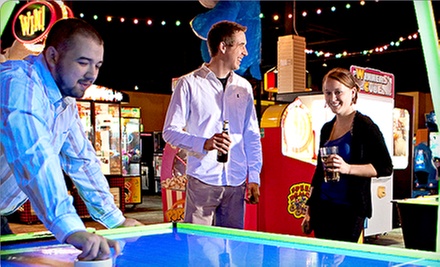 ---
Theme & Amusement Park Deals
---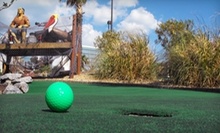 Balls tumble into 18 pirate-themed holes populated by ships, treasure chests, and winding waterways
---
Recommended Theme & Amusement Parks by Groupon Customers
---
Chilled Ponds Ice & Turf Complex features a 200'x100' climate-controlled, indoor turf field, which is the first in Hampton Roads to be created from professional-level rubber infill turf. Watch your child score the game-tying goal in Chilled Ponds' professional soccer nets while he or she participates in a 12-week soccer league, which includes a free T-shirt. The schedule for the leagues is still being set, but games will most likely take place on weekend mornings. Players who need to brush up on dribbling, shooting, and passing skills can register for the fall soccer academy, which lasts for three hours each week. Chilled Ponds' approachable, professional instructors teach students the game from a team's perspective, meaning teamwork and a group mindset are emphasized, rather than solitude and solitary contemplations about aloneness. Call ahead to register.
1416 Stephanie Way
Chesapeake
Virginia
Amid all the indoor turf-sports fields of the Williamsburg Indoor Sports Complex, there's one dark maze that's lit by black lights and glowing neon walls alone. In this shadowy space, players blast beams of light from their lasers, engaging in team combat and open play inside a 5,700-square-foot, space-themed arena. They dodge behind glowing wall lights, illuminated mock computer screens, and walls painted to resemble metal and rivets. Players as young as 5 can navigate the arena's black-lit halls, while the staff helps keep competition friendly during open play and birthday parties.
5700 Warhill Trl.
Williamsburg
Virginia
The friendly staffers at Bounce House's multiple Virginia locales breathe new life into the term sock hop, as well as lots of air into inflatable play surfaces. During Open Jump sessions and birthday parties, sock-clad moppets aged 1–12 can hop to their heels' content across a cadre of themed inflatables, which catapult youngsters into TV-station simulacra and onto the surface of an air-hockey machine. As parents supervise, they can compare their children's bouncing with that of the stock market using complimentary WiFi. Each Bounce House fuels fun by keeping its snack bar fully stocked.
5900 E Virginia Beach Blvd.
Norfolk
Virginia
Though hiding from opponents deep within the jungles and cave mazes surrounding ancient Incan temple ruins would normally induce acute panic attacks, it's actually part of the fun at LazerRush. After viewing an instructional film that covers the game's rules, players equip themselves with a laser-sensitive vest and phaser. Once inside the 5,800-square-foot arena, they slalom through dark and smoky corridors on missions to defend their base, conquer their competitor's base, and confuse as many vagabond cats as possible.
After each game, scorecards reveal where participants placed, which opponents they hit, and which opponents hit them in turn. Outside the arena, meanwhile, scoreboards keep spectators abreast of the action inside, as do large plasma monitors that stream each game.
711 Brick Kiln Blvd.
Newport News
Virginia
757-877-0181
Black lights add a luminescent cast to the neon décor at King Neptune's, a 10-hole indoor miniature-golf course. Putters strive for a hole-in-one under the watchful eye of the sea turtles and schools of fish in the venue's aquatic mural. King Neptune's can also host parties, during which revelers reserve the entire course for unlimited games and then retire to a private party room where they can eat cake without having to share with the hungry linebackers present at most football-themed parties.
213 25th St.
Virginia Beach
Virginia
757-422-1742
Laughter fills the air at Bounceeez, where kids leap, bound, and slide across a sea of wall-to-wall inflatables. Colorful slides and obstacles surround visitors as the scents of pizza and chili dogs waft from the concession stand. Aside from open play, the Bounceeez team creates inflated outings through parties. These festivities aim to put parents at ease as staff members take care of setup and teardown and ensure that each birthday candle is as tall as the person blowing it out. A commitment to cleanliness and safety guides the Bounceeez staff as they welcome kids into their inflated playland. Twenty sanitary stations pepper the indoor center, which is cleaned daily with cleansers and the staff's stern, laser-powered gaze. Additionally, the Bounceeez team equips each little one with an identification bracelet.
2682 Dean Dr.
Virginia Beach
Virginia
757-321-0455
---