Education & Classes in East Highland Park
---
Education & Classes Deals
---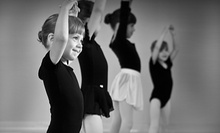 Talented instructors teach dancers to perform original choreography with proper technique in disciplines such as jazz, tap, and ballet
---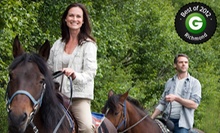 ARIA-certified instructor helps riders of all skill levels gain comfort in the saddle at stable with indoor and outdoor arena
---
Recommended Education & Classes by Groupon Customers
---
Young Chefs Academy provides a fun, safe, and motivating environment for kids to become acquainted with the art of food and food presentation. Engaging chef instructors instill lessons of kitchen etiquette and safety in youngsters growing up in a world full of laser can-openers and sharp pasta rakes, giving children a capable handle on their surroundings as they journey into the land of food. Classes educate a variety of age groups, with specially catered classes for junior line cooks, combining nutritional meals with basic food-prep skills that teach how to correctly follow a recipe to edible fruition. Senior flambéists are offered advanced classes that dig deeper into kitchen secrets and hone specific skills and techniques that expand the parameters of cooking creativity. Most classes last 90 minutes.
125 Olde Greenwich Dr. , Suite 240
Fredericksburg
Virginia
Executive Chef and Mise En Place owner Christine Wansleben captains a staff of culinary artists and sommeliers who teach visitors how to navigate the kitchen during an array of cooking classes. Aspiring foodsmiths follow their instructor's lead as they get their hands messy slicing, dicing, and mixing fresh ingredients to build tasty meals in a variety of disciplines, including Tuscan and Southern styles of cooking. The culinary wizards demonstrate easy, straight-forward approaches to fixing dishes and robust sauces, teaching students that knives are best used for chopping, instead of throwing at people strapped to spinning wheels. The crew also hosts parties for both adults and kids, during which participants craft meals to share in the school's bright, airy studio, or at an off-site location, such as the celebrant's home.
104 Shockoe Slip
Richmond
Virginia
Colleen Seely, a horse trainer and judge for local equestrian shows, channels her love for the gentle creatures into Fox Pointe Farm, L.L.C., which she opened in 2005. The 27-acre expanse houses two arenas—one lighted with professional footing and the other sandier than a hermit crab's beach house—as well as two barns' worth of stables, grassy pastures, trails, and a swimming pool. Within the tranquil setting, Colleen and her staff train and board steeds for showing at local venues or the farm's own school. Focus shifts from horses to riders during lessons for all ages and abilities, in addition to summer camps for avid athletes. Some overnight camps span an entire week, during which 10 girls bunk in the air-conditioned Fox Den cabin after a day of riding.
5205 Wildlife Ridge Trl.
Quinton
Virginia
804-932-8710
Shattered glass broken across a sidewalk is often the last witness to an act of destruction. But for Jenni Kirby, the founder of Tile One On Mosaics, these pieces of glass are the building blocks of mosaic art. She uses colorful chunks and chips of tile, stone, or glass to transform mundane, everyday surfaces. A simple table pops with the kaleidoscopic texture of marbles or shells. A fireplace is more than just a place to dispose of unpaid parking tickets when it's framed with intricate, geometric patterns laid with coarse rocks or bottle caps.
A working mosaic artist herself, she has taught at the University of Richmond, among other institutions. In the decade since she co-founded the Crossroads Art Center, the 20,000-square-foot space has showcased work from emerging and established Mid-Atlantic artists. Ranked as one of the top independent galleries in Richmond by Style Weekly magazine, the venue hosts special exhibitions and displays pieces from more than 225 artists. Showcases are coupled with classes for students aged 5 through adult, and span painting, drawing, and jewelry-making along with less-common crafts such as calligraphy, shell art, and house carving.
2016 Staples Mill Rd.
Richmond
Virginia
804-278-8950
Chef Marie, or MJ, wields her cooking prowess through inventive catering services and cooking classes that span a variety of culinary options, from American and Italian fare to South African and Indian dishes. Each of her catering spreads uses a minimum of freeze-dried or premade products, prioritizing housemade dishes made with fresh ingredients. Marie's one- to three-course cooking classes cover specific techniques, such as preparing seafood or blending sumptuous soups, as well as how to make specific regional cuisines from places such as Northern Italy or the southern portion of Antarctica.
The classes take several different forms; private parties with two to six people at MJ Creations Sweets and Treats, personal classes that take place in patrons' private kitchens, and six-night group workshops, which also take place at MJ Creations Sweets and Treats. And during kids' culinary birthday parties, youngsters soak up age-appropriate cooking techniques such as how to crack eggs with their feet.
2215 Clearfield St.
Richmond
Virginia
804-422-6313
Praised in the Richmond Times-Dispatch for designing a 60,000-square-foot facility that resembles a country club as much as a shooting range, the owners of Colonial Shooting Academy strive to "capitalize on the social aspects of recreational shooting." The multilevel shooting range's 32 glass-paneled booths turn target shooting into a community experience. The range also hosts classes for every experience level, from the NRA FIRST Steps Pistol Orientation to a tactical-training program for law enforcement. At the academy's gun shop, which resembles a high-end sporting-goods store, a gunsmith is on hand for repairs and a gun vault lets guests store their arms and their diaries. Facilities further extend to Mosaic Café Express, where chefs turn local, seasonal ingredients into dishes on their ever-changing menu.
For frequent guests, the academy offers membership options. The constitution membership, for example, grants privileges such as seven private shooting lanes and access to the lounge that sports leather couches, a pool table, and a fireplace below a flat-screen television that displays a digital fireplace.
6020 W Broad St.
Richmond
Virginia
804-266-2666
---