Restaurants in East Highland Park
---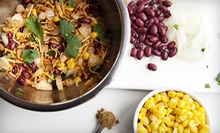 Classic plates of carne asada, carnitas, and marinated grilled chicken join vegetarian fajitas and burritos and grilled lobster tails
---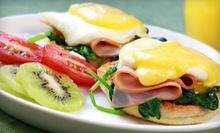 Brazilian-born chef applies culinary-school talents and passion for French and Italian cuisine to forge internationally inspired brunch
---
Recommended Restaurants by Groupon Customers
---
Behind a quirkily colored bright-yellow brick façade, Bonvenu Restaurant & Bar charms visitors with brunch spreads of smoked gouda and ham omelets and sweet-potato waffles, and dinners of lamb roulade or bacon-topped mac 'n' cheese. The eatery projects its commitment to blending disparate cultural influences through its very name, which means "welcome" in Esperanto⎯a constructed universal tongue that draws from Latin, Ukranian, and the secret language that twins speak to each other. The interior adds a whimsical edge to Eisenhower-era diner decor, with two-toned crimson and cream walls dotted with modern art, and oblong globules cast warm light onto a bar top equipped with Belgian ales and flavored martinis. The recipes on the menu take taste buds on globetrotting voyages, with flavors as exotic as Filipino adobo sauce, or as familiar as local foraged mushrooms.
2915 W Cary St.
Richmond
Virginia
804-342-1003
Chicken Holiday Restaurant's chefs pressure cook chicken and flame broil ribs, among many other meats and meats of the sea that they prepare. With carry-out and delivery options available, they fill orders for holiday buffets complete with 8 pounds of ribs, chicken, jumbo shrimp, and sides, along with stocking tubs of chicken with up to 100 pieces. The staff also heats up the kitchen by roasting old yearbooks on the oven burners or cooking flounder filet or scallop dinners with french fries and sides of fried okra and apple fritters. Two flat-screen TVs—55 inches and 60 inches—broadcast NFL games to complete the ambiance.
6104 Brashier Blvd., Suite E
Mechanicsville
Virginia
US
804-789-1680
Sushi-O skillfully blends diverse flavors in its Asian fusion cuisine, from the creative sushi it's named after to hearty cooked dishes such as citrus-teriyaki steak. Malaysian sambal paste flavors fried rice, and black-pepper sauce can adorn udon noodles or an 8-ounce filet mignon. Blends of curry lend spice to chicken and seafood dishes. The sushi chefs approach their work with an artistic eye, arranging maki rolls into whimsical shapes such as hearts, scorpions, and President Millard Fillmore. Each meal can be accompanied by drinks such as sake, Japanese beers, and American microbrews.
1228 Alverser Plz.
Midlothian
Virginia
US
804-897-9878
---