East Hill-Meridian Automotive
---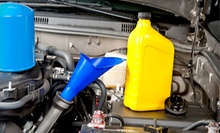 Up to 5 quarts of standard oil cascade across unblemished filters & mechanics lube chassis, top fluids, tighten belts & check tire pressure
Use Wednesday 9:30am - 3:00pm
---
Recommended Automotive by Groupon Customers
---
Trusting an auto detailer with your car may be a decision that requires a little research, but what about when Air Force One needs a cleaning? Mike Rafael and Tom Shearer, owners of Mr. Detail Auto Salon, joined a handpicked team of auto professionals chosen to detail the first presidential jet plane, now installed at Seattle's Museum of Flight.
When they're not scouring a piece of American history, they work out of the shop they started together, a joint venture based on their mutual love of cars. Their services range from simple hand washes, wheel polishes, and scuff removal to more involved processes such as paint-less dent removal and fuzzy-dice randomization. Mike and Tom lead a team as they work on cars both in the shop and out of their mobile unit, which is equipped with water and electricity so vehicles can be taken care of anywhere.
701 5th Ave., Garage Level A
Seattle
Washington
206-383-9594
The littlest things can make all the difference, especially in the world of auto detailing. Harsh soaps and shampoos, even the wrong type of towel or brush, can destroy a car's paint, strip it of its wax, or create unsightly swirls and chalky crime-scene outlines of dead bugs. Since 1978, Jim's Detail Shop has given customers peace of mind by using the safest wash products and accessories available during its detailing packages. And the team doesn't just hand wash, wax, and dress exteriors; they also sweep insides with vacuum cleaners and carpet shampooers, and thwart UV rays and stone chips with VentureShield urethane films and window tints, backed by a lifetime warranty.
32610 Pacific Highway S
Federal Way
Washington
253-874-0766
For more than 60 years, Elephant Car Wash has resided on the cutting edge of car-wash technology. Archie, Dean, and Eldon Anderson founded the car wash in 1951 when they invented a hands-free machine that could clean cars and never be penalized in soccer. Thirty years later, they sold their shops to Bob Haney, who replaced the car-wash tunnels' plastic bristles with hybrid-blend cloths and high-pressure water nozzles. Nowadays, Elephant Car Wash features computer-operated tunnels that can read pH levels of dirt and—at certain locations—touchless car-wash tunnels that use high-powered water jets and potent detergents only.
Rotating above all of this technological progress is the car wash's signature pink elephant, which doubles as a polestar for drivers who need their vehicles washed, waxed, vacuumed, or shampooed. The trained staff waits outside the full-service car wash with towels and stages a slew of a la carte services including trunk vacuuming and leather conditioning. Elephant Car Wash works with the Puget Sound Car Wash Association and the Charity Car Wash Program, two organizations that strive to keep pollution out of waterways and inside the coffee mugs of Darth Vader.
1402 Supermall Way
Auburn
Washington
253-804-0871
The skilled car whisperers at Grease Monkey perform rejuvenating miracles on all areas of motorized horseless carriages. They'll gladly tackle a full-service oil change ($38 and up), radiator flushing ($90 and up), or automatic transmission servicing ($100 and up). The same professional care given to your car's inner workings carries over to its exterior. Relight a busted headlight or taillight ($10 and up), rotate a set of weary tires ($22), or clear the way for better windshield clearing with a wiper-swap (starting at $13 each).
2101 23rd Ave. South
Seattle
Washington
US
206-325-5205
A Grease Monkey full-service oil change is more than a simple oil infusion. Expert mechanics give your car a full physical, checking its respiratory system (air filter, breather element, and PCV valve), vision (windshield-wiper blades and exterior lights), and circulatory system (power-steering fluid, battery fluid, windshield fluid, transmission or transaxle fluid, differential fluid, and engine-coolant level). Your car's carpets will then be vacuumed and its exterior windows washed, leaving it cleaner and healthier than a bar of soap running on a treadmill. A tire rotation completes your car's transformation into a fully tuned wheelmobile.
2101 23rd Ave. South
Seattle
Washington
US
206-325-5205
Located a five-minute shuttle ride from Spokane International Airport, Diamond Park'N Jet's secure airport parking lot provides a home away from home for travelers' vehicles. Free shuttles service the lot seven days a week, 24 hours a day, and a staff member is always on hand to load luggage and give each traveler their complimentary newspaper and refreshments. Onsite security ensures that autos are protected, and free touchless car washes shine every vehicle so that returning motorists don't daydream about the rentals they drove while vacationing. In addition to protecting cars while owners are in the skies, the lot also operates a "We Care" program, with staffers offering prompt assistance in the event of flat tires, dead batteries, empty gas tanks, or accidentally locked doors.
1244 S 140th ST
Seattle
Washington
US
206-241-6600
---