Things to Do in East Islip
---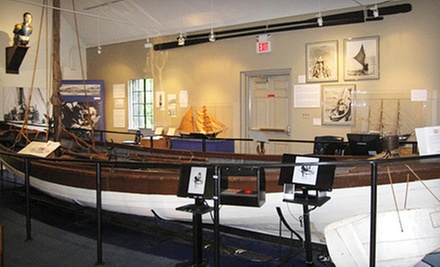 ---
Recommended Things to Do by Groupon Customers
---
The phosphorescent indoor landscape at Monster Mini Golf immerses putters in an eerie universe that inverts the sun-soaked cheer of conventional courses. Rimmed in glowing barriers, 18 holes lure swingers of all sizes to challenge their coordination and resolve in the face of winged monsters, scowling animated trees, a creepy clown, and their opponents' shockingly dazzling smiles. Sheltered from searing rain and howling wind, the indoor course enables play around hazards such as a spell well and luminous, ghostly windmill at any time of the year. An in-house radio station and DJ mask the sound of pounding hearts with lively beats and course commentary, and golfers looking for additional glory can win prizes by participating in regular contests or at the on-site arcade.
410-C Commack Rd.
Deer Park
New York
A member-supported, nonprofit organization, the Seatuck Environmental Association works to promote the conservation of Long Island's natural environment through research and educational programs. Members regularly gather with field experts on its 70-acre marshland preserve for scheduled hikes, photography classes, and meditation sessions. The trails and boardwalks that wind through the salt marshes and upland forests also lead to the Suffolk County Environmental Center, housed in a 1917 Normandy-style chateau. Members may tour the historic mansion while admiring features such as arched doorways and diamond-cut windows that allow sunlight to filter into the garret and onto the place where its original steam-powered Nintendo would have stood. The Seatuck Environmental Association also hosts regular fundraising events such as the End of Summer Barbecue and the Bats-N-Brews fundraiser, as well as an array of educational programs for all ages.
550 South Bay Avenue
Islip
New York
631-581-6908
An award-winning special-event venue, Infinity and Ovation Yacht Charters ushers guests across the waters of Lake St. Clair aboard the 138-foot, three-decked Ovation yacht. At 7 p.m., partiers climb onto the watercraft to enjoy a menu of gourmet edibles and DJ-spun sounds. As eyes feast on the bobbing Detroit skyline and watch the orange sky drench ripply waters in its juicy rays, stomachs stuff themselves with an array of edibles and two complimentary drinks, with more available from a full-service cash bar. Engage in friendly dinner conversation while relaxing on the ship's imported Italian furniture, or devise a plan with friends to stage a UFO hoax with life preservers. After dinner, cruisers are invited to kick off their sea legs and engage in hearty fun-having at the no-cover, no-line after-party on the boat's very own dance floor, accommodating numerous dancers or a few big, red Clifford dogs.
8285 Jericho Turnpike # 23
Woodbury
New York
US
516-367-6014
North Star II Fishing & Charter Boat's crew has learned to analyze the weather, tides, and times of day to deduce when fish will come out of hiding. To supplement their instincts, the crew also gleans wisdom from a fish-detecting GPS radar and a local grizzly bear. The company's fiberglass-coated Northstar 2 meets the standards of the USCG's annual inspections, and can accommodate up to 100 passengers on each chartered trip. Extensive seating options, a sound system with Sirius radio, and a kitchen to prepare snacks make fishing trips comfortable as well as aquatically lucrative. The company's newest vessel, Nautic Star, fosters a more intimate brand of fish-storytelling on its 40-person capacity boat. Fluke, flounder, bass, and live eels are among the species hauled in from the deep, whether by fishing line, cast nets, or polite invitations to hop onboard.
Captree State Park
Babylon
New York
718-885-3545
St. James 1st Tee Fitness & Performance guides golfers through a complete golf fitness and performance program that focuses on injury prevention and swing consistency. Titleist Performance Institute-certified fitness instructors teach the principles of mobility and stability, ideals that help a player generate swing speed while correcting bad posture or a tendency to sneeze out lunch during a backswing. The instructors begin by assessing a golfer's physical health and limitations as well as their swing style, then design a fitness program to address these issues. Golf-specific stretches and exercises focus on improving balance, endurance, and pre-tap-in ribbon dances, ultimately increasing the consistency of the swing plane and improving the ability to hit the sweet spot. Rehabilitated golfers can practice their new swings on the in-house golf simulator, which provides a respite from bad weather and the expensive greens fees associated with the real versions of famous courses, such as Pebble Beach, Pinehurst, and Bethpage Black.
430-7 North Country Road
St. James
New York
631-686-6600
Always-At-Aum Yoga School helps both aspiring instructors and recreational sun saluters hone their mind-body practice, offering 200-hour certification programs and a robust schedule of drop-in classes. Owner and yogi educator Robin Appel utilizes certifications in Pilates, restorative yoga, youth fitness, and reiki as she and her experienced staff promote healthy living with a diverse collection of class styles, including kids yoga, hot Vinyasa, and yoga for athletes. For more personalized attention, students can arrange for an in-class private session, during which a second instructor provides hands-on guidance as the rest of the class follows the regular regimen. Teachers-in-training can pursue their own certifications with in-depth instruction, delving into such topics as injury management, human anatomy, and using one's third eye to watch for falling pianos.
170 Little East Neck Road
West Babylon
New York
631-235-5307
---