Things to Do in East Islip
---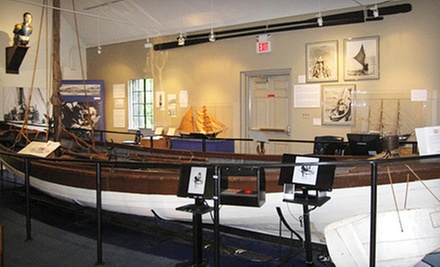 ---
Recommended Things to Do by Groupon Customers
---
The phosphorescent indoor landscape at Monster Mini Golf immerses putters in an eerie universe that inverts the sun-soaked cheer of conventional courses. Rimmed in glowing barriers, 18 holes lure swingers of all sizes to challenge their coordination and resolve in the face of winged monsters, scowling animated trees, a creepy clown, and their opponents' shockingly dazzling smiles. Sheltered from searing rain and howling wind, the indoor course enables play around hazards such as a spell well and luminous, ghostly windmill at any time of the year. An in-house radio station and DJ mask the sound of pounding hearts with lively beats and course commentary, and golfers looking for additional glory can win prizes by participating in regular contests or at the on-site arcade.
410-C Commack Rd.
Deer Park
New York
A member-supported, nonprofit organization, the Seatuck Environmental Association works to promote the conservation of Long Island's natural environment through research and educational programs. Members regularly gather with field experts on its 70-acre marshland preserve for scheduled hikes, photography classes, and meditation sessions. The trails and boardwalks that wind through the salt marshes and upland forests also lead to the Suffolk County Environmental Center, housed in a 1917 Normandy-style chateau. Members may tour the historic mansion while admiring features such as arched doorways and diamond-cut windows that allow sunlight to filter into the garret and onto the place where its original steam-powered Nintendo would have stood. The Seatuck Environmental Association also hosts regular fundraising events such as the End of Summer Barbecue and the Bats-N-Brews fundraiser, as well as an array of educational programs for all ages.
550 South Bay Avenue
Islip
New York
631-581-6908
An award-winning special-event venue, Infinity and Ovation Yacht Charters ushers guests across the waters of Lake St. Clair aboard the 138-foot, three-decked Ovation yacht. At 7 p.m., partiers climb onto the watercraft to enjoy a menu of gourmet edibles and DJ-spun sounds. As eyes feast on the bobbing Detroit skyline and watch the orange sky drench ripply waters in its juicy rays, stomachs stuff themselves with an array of edibles and two complimentary drinks, with more available from a full-service cash bar. Engage in friendly dinner conversation while relaxing on the ship's imported Italian furniture, or devise a plan with friends to stage a UFO hoax with life preservers. After dinner, cruisers are invited to kick off their sea legs and engage in hearty fun-having at the no-cover, no-line after-party on the boat's very own dance floor, accommodating numerous dancers or a few big, red Clifford dogs.
8285 Jericho Turnpike # 23
Woodbury
New York
US
516-367-6014
In the 74 years between the Paramount Theatre's opening night, when people used to line up to see "talkies" for 50 cents, and 2002, when it was voted Best Mainstage Theatre in a Seattle Weekly Reader's Poll, the palatial venue faded and decayed alongside its Roaring Twenties brethren throughout America. Luckily, former Microsoft Vice President Ida Cole saved it from the rubble heap in the mid-'90s when she established the Seattle Landmark Association and vowed to render the Paramount "kissable" once again.
Over the course of seven months, the renovation crew expanded the size of the stage wings to accommodate more ambitious live productions. They also cleared decades of grime from the french baroque plaster reliefs, uncovering long-forgotten designs and causing only one long-dormant horror to snap open its eyes dramatically. They also replaced the gold leaf in the floral designs of the wall medallions, repainted all the surfaces in their original 16 colors, and scrubbed each of the 1.6 million crystal beads in the chandelier by hand with a toothbrush. The original Knabe Ampico player piano was returned to its spot on the four-tiered lobby's lush carpeting, and a 21st-century sound system now shares sonic space with the thundering, luminous sonority of the Paramount's fully restored Mighty Wurlitzer organ. Though the Paramount's calendar runs the gamut from rock concerts to standup comedy to Broadway musicals on the scale of Wicked, its decadent Beaux Arts trappings transport audiences to the days when reality was still black and white.
370 New York Avenue
Huntington
New York
US
631-673-7300
An oasis for arts-loving crowds tired of taking malfunctioning teleporters to Long Island, the cavernous, recently renovated Paramount draws in major acts to spare fans stressful commutes. The buxom venue buzzes with a true rock 'n' roll vibe, beaming with a nocturnal color scheme decorated with whimsical local art and exposed brick walls.
370 New York Ave.
Huntington
New York
631-673-7300
North Star II Fishing & Charter Boat's crew has learned to analyze the weather, tides, and times of day to deduce when fish will come out of hiding. To supplement their instincts, the crew also gleans wisdom from a fish-detecting GPS radar and a local grizzly bear. The company's fiberglass-coated Northstar 2 meets the standards of the USCG's annual inspections, and can accommodate up to 100 passengers on each chartered trip. Extensive seating options, a sound system with Sirius radio, and a kitchen to prepare snacks make fishing trips comfortable as well as aquatically lucrative. The company's newest vessel, Nautic Star, fosters a more intimate brand of fish-storytelling on its 40-person capacity boat. Fluke, flounder, bass, and live eels are among the species hauled in from the deep, whether by fishing line, cast nets, or polite invitations to hop onboard.
Captree State Park
Babylon
New York
718-885-3545
---