Restaurants in East Lake-Orient Park
---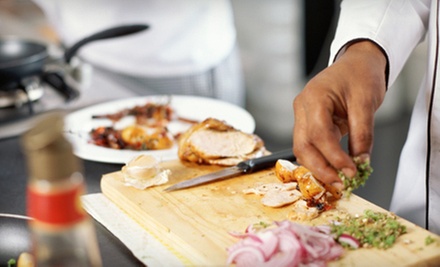 ---
Recommended Restaurants by Groupon Customers
---
Grounded by Chef Michael Von Burg's northern Italian recipes, the menu at Armani's is full of possibilities for any discerning palate. Refresh mouths with the temperatures and flavors of the calamari fritti ($15), which pairs crispy squid bites with a tangy key-lime aioli, or elevate a home-style staple with pollo con carciofi alla asparagi, sautéed chicken breast accompanied by asparagus, artichokes, pine nuts, and a garlicy white-wine butter sauce ($28). Armani's is famed for its veal, showcased in a variety of dishes, such as filetto del vitello, grilled veal tenderloin with lobster-crab gratin and angel-hair pasta, ($37), or osso bucco—braised veal shank and saffron risotto ($39)—which translates to oh-so veal filled.
2900 Bayport Dr.
Tampa
Florida
US
Before the invention of your friend Dave's totally rad rec room, Tampa hipsters of every ethnicity (except Nerdy-Americans) flocked to Ybor City's social clubs to party all night, smoke in black and white, and take Latin lovers. Today's Groupon gives you a delicious taste of what once was: for $25, you get $60 of international fusion cuisine at Teatro on Seventh in Ybor City. Beautifully restored to reflect its heyday as the ballroom and theater for Ybor City during the late 1800s and early 1900s, Teatro's elegant columns, exposed brick, and ornate floor-to-ceiling windows recall a more elegant time when men wore hats and seldom checked their Blackberries during dinner.
1600 E 8th Ave
Tampa
Florida
US
Chef Will Greenwood's dishes have graced many important meals, from Julia Child's and Robert Mondavi's 80th birthday parties to the Head of State luncheons at NATO's 50th-anniversary celebration. In the '90s, he was even asked by the Clintons to audition to be the White House chef. Today, Greenwood's Caribbean-Latin fusion recipes inform festive meals at Catch Twenty-Three. Certified fresh seafood and aged steaks cook over a pecan-wood grill while elsewhere in the kitchen, chefs prepare signature dishes such as macadamia-crusted Chilean sea bass and Cuban-style ribs basted in guava barbecue sauce. In private cooking classes, Catch Twenty-Three's team members gladly share their culinary techniques and anecdotes about that time they heroically wrested a spatula from the grip of an angry lobster.
10103 Montague St.
Tampa
Florida
The menu has pasta, chicken, veal, and seafood entrees made from fresh ingredients with homemade sauces. Traditional pastas, such as three-cheese meat lasagna ($12), spaghetti and meatballs ($9), and chicken penne alfredo ($13), are ascents to celestial peaks of skillfully cooked and superbly seasoned tomato, noodle, and cheese mountains. Try veal, mushrooms, onions, and a hint of tomato in a Marsala wine reduction ($18), and add a house salad and two garlic knots for $2.50. Specialty dishes include salmon piccata (pan-seared, sautéed in a lemon wine sauce, topped with capers, and served on a bed of spinach, $15) and seafood pescatore (shrimp, mussels, calamari, and fresh clams sautéed in either marinara or fra diavolo sauce on top of linguine, $19). Bellisimo also serves New York–style pizza ($10.75 for a medium cheese) and hot/cold sub sandwiches ($7 for a meatball parmigiana sub, up to $9.25 for a veal parm or Philly cheesesteak).
10102 Montague St.
Tampa
Florida
House of Brews pours 38 draft ales, lagers, and stouts at its Oldsmar location, while its Lutz venue stockpiles more than 50 domestic and imported bottle beers. Down a strong pint of Cigar City Jai Alai IPA ($6), or sample House of Brews' rotating beer of the month ($3). Brew's drunken cheesy garlic bread slurs its toppings with tomatoes, olives, fragrant garlic, and a cocktail of melted provolone, cheddar, and blue cheese crumbles ($8.99). House-made sloppy joes ($7.99), jumbo hot dogs ($6.99), and platters of baked-to-order wings ($7.99) chaperone pints to tables, ensuring that they reach their destinations with undisturbed heads.
17683 N Dale Mabry Hwy.
Lutz
Florida
813-265-0300
Located in the Sherwood Forest Shopping Center, Old World Cheese Shop, a longtime staple of the area, forges freshly sliced feasts from food and folklore. The Robin Hood cold sandwich ($6.75) robs from the kitchen and gives to the stomach with delicious ham and turkey, crisp bacon, cheese, and golden dressing stacked between three slices of pumpernickel bread, while the Sir Galahad steamed sandwich ($6.75) is a gallant warrior of roast pork, cheese, and sweet-pepper jelly served hot on an onion roll. Those hungry for tie-dye-tinted trips into the subconscious may opt for the Pita Fhonda pita ($5.95), featuring Old World Cheese Shop's acclaimed tuna salad.
11001 North 56th St.
Tampa
Florida
---