Beauty & Spas in East Lansing
---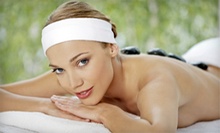 Essential oils add a soothing scent to one-hour bodywork sessions that incorporate various modalities
---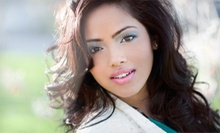 Aestheticians demystify makeup application and blending during 45-minute lessons
---
Recommended Beauty & Spas by Groupon Customers
---
At Zoë Life Spa and Salon, guests are greeted by a "worry tree" that encourages them to symbolically hang their troubles on its serene branches. Once they've cast off these outside cares, they're free to focus on some well-deserved "me time," soaking up the spa's soothing, earthy ambiance as they await pampering in the form of everything from massages and manicures to haircuts and facials bolstered by Primavera, Esente, and Doctor's Approach products. The spa's staff helps clients make the most of their brief reprieve from the outside world and its constant barrage of deadlines, traffic jams, and attacks by reanimated mummies, indulging them with light snacks, herb-infused teas, and fresh juices during each relaxing service.
6452 Millennium Dr., Suite 170
Lansing
Michigan
517-323-4331
For the past 30 years, Another Look Hair Institute's scalp experts have been rejuvenating thinning manes and receding hairlines with a range of preventive measures and synthetic hair restoration. The crux of their regimen is the synthetic Cyberhair, a fiber that mimics the texture, appearance, and styling properties of human hair. The Micro Point Link process ties four of these Cyberhair strands to your existing individual hairs, creating the appearance of a full head of hair by adding up to 600 additional strands. The team also helps mitigate hair loss naturally with their Hair Support program, which cleanses clogged follicles to encourage new growth.
1020 E Saginaw St.
Lansing
Michigan
517-484-5062
Inside Salon Soteria, dedicated stylists spoil hair with products from Aveda, Schwarzkopf, and Redken while crafting new styles and amplifying beauty. The collection of services extends to include mani-pedis, makeup artistry, waxing, and ear piercing. Staff members can perform full makeovers on individuals and tend to the beauty needs of entire bridal parties or Civil War reenactors readying for battle.
2962 Towne Center Blvd.
Lansing
Michigan
517-371-8800
The scent of shampoo lather fills the air at Changes Hair Design, winner of the Lansing Community Newspapers's peoples' choice for Best Hair Salon in 2009 and 2010. Stylists cut, color, and condition the hair of their male and female clients with products from Redken, Tigi, and Paul Mitchell and combat frizz with Brazilian blowout treatments. At a nail station complete with pedicure baths and soft cushions, technicians coat digits with long-lasting CND polishes. Inside the private massage and skincare suite, aestheticians cleanse pores with Bioelements and Aveda formulas and soften skin with salt scrubs. The massage therapist takes over the space to knead muscles with Swedish, prenatal, and geriatric modalities, skillfully releasing tension accumulated while working or planning a surprise party for a high-strung skunk.
1640 Haslett Rd., Suite 6
Haslett
Michigan
517-339-2275
Like a successful quarterback who got his start tossing a football on the back lawn, owner Kian Edmonds unknowingly began his career by giving massages to family members. Emboldened by the positive feedback, he decided to embark on formal training and soon found work in hospitals administering massages to exhausted EKG machines. Now the head of Heaven's Door, Kian mollifies aches and relaxes tense bodies with deft aromatherapeutic massage.
4660 S Hagadorn Rd.
East Lansing
Michigan
877-615-6672
Doctor of Chiropractic Randy Randhawa, a nationally board-certified chiropractor whose office is located within Wycoff Wellness Center, has been fighting spinal misalignments for more than 10 years. He also attempts to alleviate other health problems, such as shoulder pain, headaches, sports injuries, and uncontrollable whistling, with chiropractic care for men, women, children, athletes, and expectant mothers. No matter what form his treatments take, his goal is to provide patients with education, nutritional guidance, and preventive or rehabilitative exercises as needed.
1226 Michigan Ave.
East Lansing
Michigan
517-333-7270
---