Restaurants in East Lansing
---
Recommended Restaurants by Groupon Customers
---
Tian Chu's eclectic menu of pan-Asian cuisine represents its founders' rich past. The Korean Cui family originally opened the restaurant in the Jilin province of China in 1983 before relocating to Budapest, Hungary, and rapidly expanding to five locations. Their beloved recipes followed them to Ann Arbor, where they opened a restaurant in 2010.
The family embraces their roots by filling the menu with a spread of familiar Korean, Sichuan, and Cantonese dishes. Marinated short ribs, lo mein, and bibimbap served in traditional hot stone pots all help to lend a storied, multiregional appeal to the expansive selection while giving bodies the nourishment they need for unpremeditated participation in Ironman triathlons.
613 E William St.
Ann Arbor
Michigan
734-769-1368
The chefs at Wrought Iron Grill design dishes that are artfully executed down to the last detail. Take, for example, the housemade barbecue sauce that complements the grilled pineapple and black forest ham on the Maui Wowie pizza, or the veal demi-glace they make to flavor hand-cut, marrow-encrusted filet mignon. They also take care to incorporate local ingredients, coating wild-caught scallops with Michigan morel mushrooms and flash-frying fillets of Michigan perch.
Housed in the five-story brick structure that once held Woodard Furniture Company, Wrought Iron Grill's decor harks back to the building's industrial past. Flooring reclaimed from a welding room tops the bar, and 110-year-old windows hang over the heads of bartenders as they pour Michigan beers and mix drinks such as signature bloody marys garnished with spicy Mandingo pickles, 45th Parallel asparagus, and jumbo shrimp. Live bands often play atop the building's loading dock, allowing singers to be conveniently wheeled away after they've finished performing.
317 S Elm St.
Owosso
Michigan
Located within Kensington Court Ann Arbor, Graham's Restaurant draws inspiration from American and global cuisine in equal measure. Its chefs might be spotted sprinkling Mediterranean herbs on meatloaf or whipping up a dip for yucca fries from Peruvian aji peppers. The lunch menu strikes a balance between casual and upscale with cubano sandwiches and spinach-duck breast salads, and so do the eggs benedict and cinnamon french toast at brunch. Prime rib specials are available on weekend nights, and house-made desserts end meals on a high note before the busboy removes plates with a vaudeville hook.
610 Hilton Blvd.
Ann Arbor
Michigan
734-761-7800
When Eagles Nest owner Sarah Sowles says her restaurant is filled with smiling faces, she means it—the grins of well-fed customers brighten the first page of her lunch-and-breakfast menu. She aims to keep her morning patrons happy with favorites such as wet breakfast burritos that glisten beneath a ladleful of sausage gravy and custom three-egg omelets that can be filled with corned beef or veggies. And since her café serves breakfast all day, guests can stop in anytime for a stack of blueberry pancakes or some biscuits and gravy. Diners have plenty of options for lunch, too. They can customize burgers, capping prime-steak patties with a choice of three toppings before having their name branded into the bun. Also on the menu are wraps that envelop buffalo chicken and ranch dressing and baja citrus chicken salads that layer pecans and cranberries beneath a raspberry vinaigrette.
110 N Main St.
Olivet
Michigan
269-749-3030
Mélange's chefs merge European and Asian flavors and presentation techniques to construct a menu of elegant entrees flecked with contemporary American influences. Dishes unite high-quality proteins including Scottish Atlantic salmon and meats marinated with continent-crossing ingredients such as soy, yuzu, and miso, forging a gastronomic alliance as unique as a snowflake-flavored lollipop. A fleet of sushi rolls totes fresh seafood and umami-packed garnishes, and a cellar with more than 1,500 bottles of wine from France, Italy, and California accessorize any mouthful. Mélange's dining area draws inspiration from old Parisian restaurants, with bamboo furnishings bolstering the multicultural ambiance and 10-foot-tall booths fostering intimate conversing and adrenaline-fueled rappelling.
312 South Main Street
Ann Arbor
Michigan
734-222-0202
Jet's Pizza—ranked among the best-selling pizza franchises in 2010 by PMQ Pizza Magazine—has exploded with more than 200 locations since brothers Eugene and John Jetts opened their first shop in 1978. The menu teems with customizable pies, each built on traditional hand-tossed crust, New York style thin crust, or deep-dish crust, available in eight flavors such as poppy seed, Cajun, and garlic. Chefs fling dough disks into the air while Olympic shooters blast the flying, red-sauced rectangles with one of 18 available toppings. Before digging into a main dish, share an order of bubbly, triple-cheese Turbo Stix, which come topped with mozzarella, cheddar, romano, garlic, and butter and are served with pizza sauce perfect for dipping or drawing designs on crisp dress shirts.
5151 Gull Rd.
Kalamazoo
Michigan
269-488-2000
---
---
Restaurant Deals - Recently Expired
---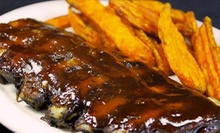 Hand-battered fish and chips, tuna melts on grilled rye, multi-grain buckwheat pancakes, and more
---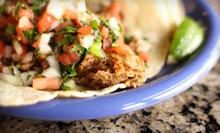 Recipes from Argentina, Brazil, El Salvador, Puerto Rico, and other Latin American countries fill menu with distinctive flavors
---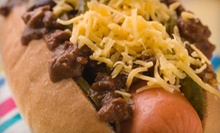 Nineteen beef dogs topped with gourmet fixings such as peanut butter, pickles, and chili and veggie dogs alongside lemonade and iced tea
---
---