Things to Do in East Lansing
---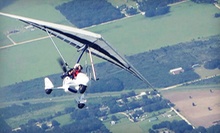 A certified flight instructor pilots a lightweight two-person aircraft on a soaring flight above fields and rolling terrain
---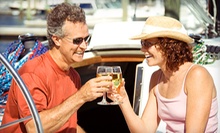 Captains pilot a MasterCraft ski boat across Lake Ponemah's tree-lined waters; up to 10 passengers sip drinks brought from home on a pontoon
---
Recommended Things to Do by Groupon Customers
---
After six years of working in Chicago, Kasey Shoemaker returned to Lansing to raise her family. Fusing her dedication to her children with her entrepreneurial aspirations, Kasey set out to assemble natural, local, and organic materials and to transform them into a space where kids aged 6 or younger could frolic while parents relaxed with other adults. Her vision came to fruition with play., a 2,600-square-foot space with play areas where kids shop at a pretend farmers' market or cavort across a stage in elaborate costumes and props. Tykes who wish to check in with Clifford, Dora the Explorer, or Hamlet can nestle into the reading nook with a favorite book. Beside permanent play spots, constantly evolving interest areas accommodate new attractions, such as a chalk wall and a basketball hoop, that enthrall drop-in visitors and birthday-party guests alike. Along with unstructured play, classes led by experienced educators engage tykes with art activities and interactive projects. During the warmer months, play. also offers summer camps that run for two-week sessions and let children explore and create while accompanied by staff and guest instructors.
4972 Northwind Dr.
East Lansing
Michigan
Unpainted figurines and pottery pieces stand in single-file lines on the pine shelves of Haze Ceramics and More, patiently waiting for guests to brandish paint-dipped brushes and embellish their blank surfaces with artistry. The studio's instructors lead classes and special events throughout the week, demonstrating techniques for mixing colors and achieving a variety of smooth or grainy textures. Aside from giving children and adults the chance to select a ceramic coffee mug, coin tray, or spiked mace from the studio's expansive collection, classes include all glazes, paints, and firing fees. Special events, such as ladies' night, fuel outbursts of creativity with wine and snacks, and private parties clear out the room so that birthday boys and girls can gleefully bash away at terra-cotta piñatas.
304 E Grand River Ave.
Lansing
Michigan
517-372-3266
In addition to sharing a first name, brothers-in-law Rick Crandall and Rick Lange share a passion for bow hunting. Together, the pair opened Country Woods Archery and designed its 23-acre range, where bow hunters and target archers mosey along trails and aim at 30 Rinehart targets, sending arrows into multidimensional simulacra of animals such as buffalo, turkeys, and pigs. Bow wielders can ascend to three elevated platforms, lurk in blinds, and hone their aim with unique challenges such as shooting across water or through a corn roll. The Ricks have paid attention to every detail along the course, spraying to ward off mosquitoes and graveling the trails so hunters can wear stilettos instead of boots.
Inside, the Country Woods Archery pro shop outfits hunters and archers with all the equipment they need to nab a deer or bear. The shop's knowledgeable staff happily recommends targets, repairs and adjusts bows, or gives lessons in hitting the 10 ring or taking down flying saucers.
7360 S Forest Hill Rd.
St Johns
Michigan
---