East Longmeadow Automotive
---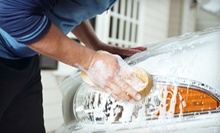 Spray shine and brake-dust removal augments a hand wash and dry; interior window cleaning and vacuuming spruce up the insides of rides
---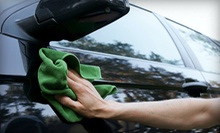 Thorough cleanings to vehicle exteriors include hand washing, bug and tar removal, rim and tire cleaning, and buff wax
---
Recommended Automotive by Groupon Customers
---
Wet Willy's Car Wash whips vehicles into sparkling shape thanks to advanced, touchless laser equipment that dispenses EPA-certified soaps and cleaning products. Drivers pilot their autos into the car-wash bay, where an underbody flush can expunge dirt and rebellious tattoos from metallic tummies. A double pass of hot-foaming presoak solution helps loosen up stubborn grime, after which a laser wash, spot-free rinse, and laser dry imbue auto exoskeletons with a like-new shine. Drivers can also opt for add-on services such as the application of Lustra triple-foaming polish and total-surface gloss.
701 New Louden Rd.
Latham
New York
518-618-1424
With the body of a machine and the vanity of an advanced robot, automobiles need a professional to keep them looking as good as the day they rolled off the factory floor. So, BG Window Tint's technicians apply protective films and perform restorative procedures to keep cars camera ready. They coat windows with American-made SunTek films, which block 99% of UV rays and the stares of passing drivers who noticed your Celebrity on Board sign. To protect exteriors, computer-cut Scotchgard film fits snugly over painted surfaces, deflecting scratches and nicks. Patrons can also opt for headlight restoration or remote starters that allow drivers to start cars from a distance or enter without a key.
29 First St.
Springfield
Massachusetts
413-246-0043
For more than 10 years, the electronic experts at Can You Hear It Car Audio, Inc. have been outfitting vehicles with premium audio, video, and security products, as well as beautifying them with detailing and customizations. They keep drivers shrouded in comfort during chilly months with remote starters and help to deter thefts by installing alarms or CD players that play only "It's a Small World (After All)." Whether selling Kenwood, Pioneer, or JVC equipment, the staff gives customers peace of mind by replacing defective items that fall under the full manufacturer's warranty.
203 Shaker Rd.
East Longmeadow
Massachusetts
us
413-525-0355
Northampton native John Richi practices the same hands-on approach when working with his customers that he has honed since opening Pro Lube Auto Center in 1990. He draws from more than 20 years of experience and intensive training in diagnostics from a number of car companies, including Chrysler, Ford, and General Motors, and shares his expertise with a team of certified technicians. Together, they perform tune-ups and oil changes in addition to part replacement and transmission work, all in an effort to keep vehicles safe and in working order. As part of a nationwide network, the shop allows out-of-state work under the business's 12-month, 12,000-mile warranty should breakdowns occur while driving through the mountains of Pennsylvania or the saloon of an Arizona ghost town.
480 Pleasant St.
Northampton
Massachusetts
413-586-5640
The highly trained technicians at Jiffy Lube tend to about 24 million customers each year with services such as the Signature Service oil-change package, which promotes the longevity of each vehicle. Staffers acknowledge that oil plays a crucial role in maximizing the lifespan of each car—it cools the motor and prevents moving parts from deteriorating. More than 20,000 technicians who have completed an extensive training program certified by the National Institute Automotive Service Excellence (ASE) nurse vehicles at Jiffy Lube.
In addition to performing oil changes, Jiffy Lube's savants perform air-filtration, electricity, and windshield services, among others. The technicians' quality pledge includes a commitment to transparency, which stipulates that they will inform car owners of any necessary services, complete a service only after it has been approved, and refuse to replace windshields with Saran wrap.
90A S Maple St.
Westfield
Massachusetts
413-642-9111
Tyre Track Automotive Center's six-bay garage bustles with ASE-certified technicians rescuing ailing rides, shuttles running to and from local college campuses, and owner Tim Andrew amicably assisting both staffers and patrons. The hands-on owner has spent years in the auto industry, first manufacturing and selling tires before setting up his own wholesale supply shop more than two decades ago. Since then, Tyre Track Automotive Center has morphed into a full-service auto outfit that doles out routine maintenance services and repair work in addition to its ample stock of rubber wheels. During service appointments, Tim and his crew pull quality automotive products from the shelves, retooling vehicles with Valvoline motor oil, tires from Michelin, and Bosch wiper blades before sealing repair work with a kiss.
175 Chestnut St.
Springfield
Massachusetts
413-734-1746
---