Yoga in East Los Angeles
---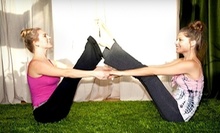 Yogis with international experience lead small groups in hands-on Vinyasa & Capoeira classes that focus on Brazilian spirit & better body
Use Thursday 2:00pm - 5:00pm
---
Recommended Yoga by Groupon Customers
---
Mission Street's impassioned instructors remix pliable poses from the Anusara tradition into a variety of specialized classes. Options include prenatal, youth, core strengthening, and restorative yoga, among others. With multiple classes every day of the week, the ample schedule prevents prospective flexi-folks from having to contort their day to make a class.
1017 Mission St.
South Pasadena
California
Yoga Madre is a yoga studio, boutique, and wellness center offering classes for thirsty fitness-seekers and perpetually pretzel-posed veterans alike. A wide range of yoga skills is taught, ranging from gentle stretching exercises and breath work to Vinyasa flow and meditation techniques. All Madre teachers are deeply educated in various styles of yoga. Each brings his or her own style to the mat work of downward-facing dobsons and sideways-sauntering salamanders, each with equal competence and grace. Consult the schedule to find the class times and levels that suit you. Both new and returning clients can use this Groupon.
300 East Foothill Blvd.
Arcadia
California
Over its 13 years of friendly and professional service, Mark Blanchard's Power Yoga has developed a loyal base of students who are known to the staff by name, even without nametags or name tattoos. The motivating instructors teach a form of Vinyasa yoga, a style defined by flowing, powerful movements in combination with strategic breathing patterns and techniques. Power yoga beefs up the traditional by increasing the athleticism like a post-spinach Popeye. Sessions stretch muscles and relax the mind, while providing an excellent fat-burning cardio workout—preparing participants mentally and physically for the rise of cloned dinosaurs. With an unlimited class pass, you will be able to sweat, stretch, and strengthen to your limbs' content for one entire month. Students of all skill levels are welcome to join the classes, which are conveniently scheduled at multiple times throughout each day.
4344 Tujunga Ave.
Studio City
California
The Jade Apple's extensive lineup of instructors leads a schedule brimming with rejuvenating yoga and dance styles for all levels and interests. Classes include introspective restoration sessions, which buoy soothing postures with pillows, blankets, and a studio pumped full of helium, affording students time to reflect on the day. On early mornings, Rise to Shine jolts drowsy ligaments awake with classic Hatha asanas and periodic traffic updates, while hips twist in energetic belly dance classes. The studio also hosts events to promote participation in the ancient art such as a family workshop. There is also a boutique that accessorizes students' ever-expanding range of postures with goods ranging from yoga mats ($30) to Jade Apple T-shirts ($22).
10502 Magnolia Blvd.
North Hollywood
California
818-508-9434
During a video feature for Warp Factor 2, Vanessa Giorgio summed up the problem that led to her studio's creation: "I couldn't get my spinners to calm down, and I couldn't get my yoga students to hype up." The personal trainer founded Lotus Kitty Yoga and Power Cycling to hybridize the two workouts, thereby creating a rounded fitness regimen for the body and mind.
Inside the studio, her power-cycling instructors contribute vigorous cardio work during their 45-minute classes. They prompt riders to pedal at varying resistances, which mimic outdoor conditions such as hills and fields full of prairie-dog holes, then end each lesson with sit-ups and pushups. Yoga teachers lead posing sequences that change weekly to prevent muscle boredom. They are often designed to address the tightness and stress that accompany power cycling.
Students can merge 30-minute stretches of the two routines into power cycling/yoga classes or learn Pilates and barre techniques in the second half of power cycling/total body. In addition to its group curriculum, the studio hosts private training sessions and six-week Kat Camps.
12080 Ventura Pl., Suite 3
Studio City
California
InYoga Center's owner, Julie Buckner, has a head for business and a heart for yoga. When not working on political campaigns on state and national levels or appearing on CNN to share her opinions, Julie can be found stretching her limbs in the comfort of her spacious, sunny yoga studio. Her team of certified yoga instructors works with students of all ages, abilities, and experience levels, leading both physically rigorous classes and gentle stretch sessions. After class, students carry the peaceful vibes with them into the studio's spa-like changing facilities, into the boutique stocked with yoga gear and accessories, or into the lobby where fresh water and hot tea close the circle on InYoga's offerings of self care.
5142 Laurel Canyon Blvd.
Valley Village
California
818-508-8040
---