East New York Drs and Health Practioners
---
Drs & Health Practitioners Deals
---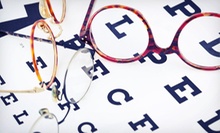 General spend toward eye examinations or products such as designer eyeglass frames, sunglasses, and clear or colored contacts
Use Sunday 12:00pm - 5:00pm
---
Recommended Drs & Health Practitioners by Groupon Customers
---
Where there's Chinese smoke, there's a fiery acupuncture Groupon. For $30, today's deal gets you a 30-minute stress-busting acupuncture treatment at Gotham Wellness, normally $65. Gotham provides people with "The Health You Deserve"—a philosophy built on the belief that health is complete physical, mental, and social well-being. Located at 15 W. 26th St., it's an oasis for the city's stress-ridden residents.
15 W 26th St.
New York
New York
US
Tree of Life Acupuncture was established in 1993. We specialize in Pain Management, Infertility and Immune System.
32 Union Square E, Suite 804
New York
New York
US
212-533-1192
If your eyes are the windows to your soul, your teeth are the white-picket fence that protects the soul from oversized pieces of taffy. Strengthen your defenses against windpipe-sized food with today's Groupon for clean and healthy teeth. For $59, get a full dental exam, any necessary x-rays, and teeth cleaning from LLM Dental Associates, a $325 value.
1 Rockefeller Plaza #2223
New York
New York
US
Tribeca Dental Studio unites the talents of six different doctors whose specialties range from cosmetic dentistry to gum health to the tooth's inner workings. The team's varied skills ensure patients' needs are tended to. No matter what treatment they need—whether a routine checkup or a more intensive surgical or cosmetic procedure—clients are catered to with amenities that were designed with comfort and efficiency in mind. While patients recline in massage chairs, the staff employs technology such as WaterLase dentistry, which reduces the discomfort and sudden gold rushes often caused by standard drills.
While tending to patients' comfort, the studio—itself made from nontoxic caulks and hypoallergenic paints—looks out for the environment. They have replaced mercury and silver amalgam fillings with nontoxic, composite resin and use digital x-rays to minimize radiation exposure. Also, paperless systems limit waste while keeping records secure, and purifiers clear the air of molds and mildew.
54 Warren St
New York
New York
US
Licensed acupuncturist and herbologist Nicholas C. Steadman uses the tools of traditional Chinese medicine to combat stress. With sterile, superfine one-use needles applied at key points across the body, he aims to relax muscles and ease anxiety, headaches, and insomnia. Though the precise mechanism behind acupuncture's effects is not yet known, doctors have begun drawing on new technologies to apply the same basic principles—notably, by replacing needles with lasers. Considered especially effective in correcting painful muscle spasms, cold-laser acupuncture does away with even the mild tingling sensation of traditional needles while reaching myofascial trigger points beneath the skin via beams of carefully calibrated light energy. Steadman combines the traditional and the high-tech within a secluded, zen-inspired suite a block from the vast qi reservoirs of Central Park.
57 W 57th St., Suite 1003
Manhattan
New York
US
646-509-8963
NYC Dental Associates calms canines and mellows molars with its gentle and effective cleaning services. Get mouth-soldiers in line with an exam from one of NYC Dental Associates' experienced dentists. Chompers are examined for hygiene and alignment, and then scraped and hosed down during a rigorous cleaning. To ensure that no dental lice are hiding under the bedsheets of your enamel, NYC Dental Associates will conduct a full-mouth x-ray exam, as well as a cosmetic consultation to determine if your bite-bullets would benefit from cosmetic bonding, implants, fillings, veneers, whitening, inlays, or onlays. At the end of your visit, you and your teeth will be left refreshed, revitalized, and ready to take on whatever hard candy life throws at you.
155 Spring St. , 4th Floor
New York
New York
---