Restaurants in East New York
---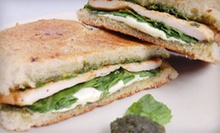 Mediterranean salads, classic & global takes on pita & Panini sandwiches & gyro platters sate health-focused stomachs
Use Friday 2:00pm - 11:00pm
---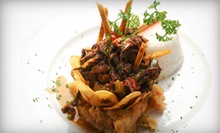 Pressed Cuban sandwiches & Adobo pork chops disappear down hatches as guests dance to live music & watch cigars hand-roll each other
Use Friday 4:00pm - 8:30pm
---
Recommended Restaurants by Groupon Customers
---
Danny Boys Pub & Restaurant welcomes a variety of patrons, from diners looking to dig into shepherd's pies to football fans sidling up to stools to watch the game in the company of friends and expertly poured pints. The chefs bake traditional and whole-wheat Irish soda breads onsite daily—serving the sliced results as complimentary sides—simmer soups in homemade stock, and prepare specialty entrees that include fresh calf's liver sautéed with bacon and onions. Behind the bar, Giants flags flutter between flat-screen TVs and stained-glass installations in the ceiling bathe mixologists in a colorful glow, energizing a lineup of taps that houses brews from Stella Artois to Chicago-import Goose Island Honker's Ale. A separate dining room cushions patrons with tufted booths as they scan the walls for vintage-style Guinness posters and a rare glimpse of the ghost of Arthur Guinness.
64-56 Dry Harbor Road
Middle Village
New York
US
718-894-3488
Brooklyn Exposure Inc's chefs combine local bakery bread, fresh produce, and quality meats to craft homestyle meals for diners snugly ensconced in cozy booths or at tables. The restaurant's menu ranges from hearty burgers to steaks to salads, which diners can wash down with a domestic or imported beer, a glass of wine, or a mixed drink from the full bar. Brooklyn Exposure Inc's live jazz band spices up nighttime dining and gives patrons a chance to show off their advanced one-handed-clapping techniques without missing a bite.
1401 Bedford Ave.
Brooklyn
New York
US
The chefs at Stella Manhattan Bistro serve a medley of international comfort foods as bartenders pour beers and cocktails from around the globe. Argentinean empanadas pave the way for croque-monsieur sandwiches, and nearby Trappist brews bow their foamy heads to signature cocktails made with fresh fruit juices. Weekend brunches supply morning standards, such as waffles and omelets, as well as selections from abbreviated lunch and dinner menus.
213 Front St.
Manhattan
New York
US
212-233-2417
At first glance, shrimp pappardelle and fried Oreos don't seem like they belong on the same menu. But executive chef Jonathan Lemon specializes in these culinary surprises, building The Linc's menu from a variety of unexpected combinations.
"The Linc is contemporary, modern American," said Lemon in an interview with CBS 2's Tony Tantillo. "It's comfort food, diner food, fine dining all rolled into one." For his part, Tantillo praised the tuna tartare's spice and called the buttermilk fried chicken with red-velvet waffles "a great twist on a southern classic." Upscale components, such as lamb and smoked tomato chutney, transform into American staples such as meatloaf, winning over palates with updated but homestyle flavors.
In addition to dinner entrees, The Linc dishes up a variety of sandwiches, and brunch is served every day of the week. Even dinnertime diners have a few all-day breakfast specialties to choose from as they squint at the bejeweled chandelier (ensconced in modern, wrought-iron hoops) and pretend it's the sunrise outside their window or an early-morning fire in the building next door.
650 West 42nd Street
Manhattan
New York
646-449-0668
For more than a decade, Vegetarian's Paradise 2 has lavished vegetarians, vegans, and curious carnivores alike with a meatless mélange of Asian-soul-food specialties. Tapping an eclectic range of culinary traditions, skilled chefs transform soy protein into kung pao chicken, textured bean curd into zesty paella, and broccoli into treehouses for frolicking rice grains. The eatery also treats vegan sweet teeth to a flavorful array of nondairy ice cream, banana splits, and soymilk shakes.
144 W 4th St.
Manhattan
New York
US
212-260-7130
Inside Mélange Green & Gourmet's sunny storefront, chefs stock glass cases with dozens of deli meats, cheeses, and cold salads. Though the tiny shop champions classic American deli fare such as from-scratch soups and sandwiches, they also pepper the menu with Mediterranean accents such as gyro lamb or naan. Mélange Green & Gourmet specializes in catering orders and strives to suit time-crunched patrons by taking orders by phone and whisking meals to apartment buildings or submarine portholes free of charge.
158 E 39th St.
New York
New York
US
212-682-1292
---