Restaurants in East New York
---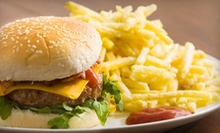 Hearty lunches of whiskey barbecue, crocks of chili, burgers & wraps in traditional Irish pub with quaint décor & large-screen televisions
Use Monday 11:00am - 2:00pm
---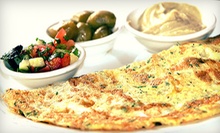 Druze culture snags the spotlight as tongues delight in feasts of hummus tahini, grape leaves, and lamb kebab concluded with baklava.
Use Monday 4:00pm - 11:00pm
---
Recommended Restaurants by Groupon Customers
---
Inside Mélange Green & Gourmet's sunny storefront, chefs stock glass cases with dozens of deli meats, cheeses, and cold salads. Though the tiny shop champions classic American deli fare such as from-scratch soups and sandwiches, they also pepper the menu with Mediterranean accents such as gyro lamb or naan. Mélange Green & Gourmet specializes in catering orders and strives to suit time-crunched patrons by taking orders by phone and whisking meals to apartment buildings or submarine portholes free of charge.
158 E 39th St.
New York
New York
US
212-682-1292
Seen from afar, the food crossing the counter at New York Pão de Queijo might convince you that the bright, tiny storefront is a typical burger-and-shake shack. It's the details that tell you something else is going on—namely, Brazil's wildly creative, colorful take on the American burger and its accessories.
More than 10 beef, veggie, and turkey patties come gussied up with a kitchen sink's worth of fixings, including corn, potato sticks, sausage, house-made Brazilian cheese, banana, and pineapple. Smoothies attempt to balance out the towering feats of indulgence with nutrient-dense combos of papaya, passion fruit, peach, açai, and oats. The kitchen's commitment to snackery is also evident in the signature pão de queijo, a yuca-based bread puff filled with deliquescent cheese. Among other treats, The Daily Meal has praised its traditional bauru ham sandwich and its "great quick snacks" that can easily be downed while playing a typical soccer match.
31-90 30th St
Astoria
New York
718-204-1979
East of Eighth takes diners on a tour of New York City's diverse cultural heritage with a selection of authentically prepared dishes representing more than 10 distinct communities, including the French, Cajun, and Spanish. Binding the disparate culinary traditions together is a focus on contemporary bistro fare, from matzo-ball soup to pâté-topped breads to chorizo quesadillas. After dinner, the delectable oral history continues with crème caramel and strawberry shortcake that compete for diners' attention with the restaurant's bounty of eye candy—an illuminated fountain, an aqua garden teeming with multi-colored foliage, and the always lively West 23rd Street in Chelsea bustling below wall-size windows. Theatergoers on their way to catch a show or impersonate an understudy can feed their inner critics by selecting dishes from a special pre-theater menu.
254 W 23rd St.
Manhattan
New York
US
212-352-0075
With a name that aptly describes its layout, The Long Room hosts scores of dining denizens intent on tucking into Irish-infused pub fare. The menu spans multiple genres, from burgers and sandwiches to flatbread pizza whose square shape stops it from rolling off the table. Stews, shepherd pies, and fried cod round out the menu with a Celtic lilt. Diners disperse themselves amid plush booths, high tables, and couches by a fireplace that complements a décor reminiscent of old libraries.
120 W 44th St.
Manhattan
New York
US
212-997-3933
The atmosphere at Gizzi's hums with a perfectly calibrated balance of lively music and intimate conversation fueled by eclectic, upscale American dishes and expertly mixed cocktails. High-backed booths, brick walls, and a flat-screen television surround guests as they chat over lemon-and-lime-marinated shrimp ceviche and delicate but filling salads that toss beds of mixed greens or arugula with pears, walnuts, or fried shrimp. Flame-kissed skirt steaks mingle with Achuk Chuchuk salade, as well as lamb chops that just leapt off the sizzling grill like a spooked spatula. While socializing over the mixologist's painstakingly shaken and stirred libations, guests can get toes tapping to live music performances scheduled throughout the week, or hone their critic's eye during independent-film screenings held every other Sunday.
16 W 8th St.
Manhattan
New York
US
212-353-0099
Just as the surrounding Theater District transports audiences to faraway places, Brazil Grill's dining room immerses guests in the rich culinary traditions of Brazil. Though it boasts a substantial selection of entrees, the eatery's specialty is radizio, a traditional Brazilian dining style where passadores, or meat servers, present diners with an endless rotation of skewered morsels. Patrons can nosh to their hearts' content on beef, pork, lamb, duck, and the other meats that continually appear tableside during the course of the night. To complement the authentic dishes, servers can also recommend options from the restaurant's selection of wines culled from Chile, Italy, and New Zealand. Most nights, guests eat as they absorb the sounds of live Brazilian music, the play-by-play of Brazilian League soccer matches, or napkins practicing their Portuguese accents.
787 8th Ave.
Manhattan
New York
US
212-307-9449
---