Stores & Markets in East New York
---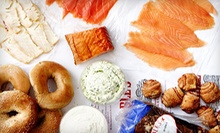 Foodie-friendly shop founded by Zabar's managers boasts smoked salmon, sturgeon, and caviar
---
Recommended Stores & Markets by Groupon Customers
---
The chefs of Mardi Gras Fine Foods reach for pure olive oil and MSG-free recipes to create their Mediterranean-, Cajun-, and German-style deli foods. Freshly made main dishes, such as beef brisket and hot-pepper-jelly tortas, sit in a refrigerated deli case, ready to be packaged up and taken home. Meanwhile, bakers whip up brownies, scones, and muffins, and stack platters high with mini-croissant sandwiches and paninis.
Bent on accommodating guests' desires, the courteous staff also takes special orders to meet specific dietary needs. In addition, custom-designed catering menus feed parties from 5 to 500 atop white table linens or the backs of volunteer ghosts.
150 Bloomfield Ave.
Verona
New Jersey
US
973-857-3777
A self-proclaimed pickle lover, Pete Starr started Pickle Me Pete as a solution to his ever-growing problem of not being able to find authentic pickles. Instead of sticking to one style, Pete has thought up more than 12, which he barrel cures the traditional way in a pickle kitchen in Brooklyn. Flavors include super spicy, kosher dill, and Pete's favorite—half sour, which he cures in a salty brine for two days or less to achieve a vibrant-green color and crunchy texture indicative of a great pickle or a freshly caught popsicle. The Pickle Me Pete booth is located at The Holiday Shops at Bryant Park, tucked away next to the fountain just off of Sixth Avenue where 41st Street intersects the park.
40th - 42nd St. between 5th and 6th Ave., Booth #C7
New York
New York
The family at Zingone Brothers stocks their neighborhood grocery store with a rainbow of fresh, colorful produce and other sundry necessaries neatly arranged inside an unassuming storefront. A fish-adorned sign inside announces that they've been "bringing you Old World quality" since the Jazz Age, which means that select employees remember the days when moon landings were considered authentic.
471 Columbus Avenue
New York
New York
212-877-7525
Every day of the summer, the backdoor of Anner's Pantry swings open to accept boxes of fresh, fragrant vegetables from organic farms. Out front, an herb garden has overtaken the lawn. Inside, the staff sorts organic produce, meats, poultry, fish, and dairy products. To help their members streamline shopping trips, they organize products into market bags. Available in produce and meat options, the bags' contents change based on what's in season. Fruit and veggie sacks may include watermelon, corn, bananas, broccoli, avocados, and pamphlets from the Tomato is a Vegetable League. The Meat and Stuff bag brims with refrigerator staples such as organic butter and free range, antibiotic- and hormone-free eggs and meats. Alongside the bags, staffers include simple, wholesome recipes and tips on washing, cutting, and preparing more eclectic items.
500 Horizon Dr, 503
Chalfont
Pennsylvania
US
---