Restaurants in East Orange
---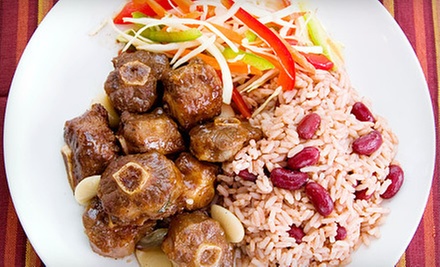 ---
Recommended Restaurants by Groupon Customers
---
An intricate forest design etched in black-and-white glass spans the dimly lit rooms of The West Five Supper Club, whose spacious, modern venue transforms into a vivacious dance club upon nightfall. In the dining room, plush, high-backed booths surround wooden tables illuminated by flickering candles and a blazing stone fireplace. Modern-looking birch branches divide the booths, lending an intimate feel to diners as small plates of smoked salmon, short-rib sliders, or smoked-gouda mac 'n' cheese emerge from the kitchen in steady intervals during the early evening. As guests dine, they sip glasses brimming with one of 12 specialty cocktails crafted from exotic ingredients, such as elderflower, white-peach purée, and cranberry-thyme honey.
The restaurant transforms into a massive dance floor in the later hours where top DJs spin hits, mash-ups, and '90s favorites as an LED lighting systems floods rooms in a wash of vibrant rays. When not hosting thumping dance parties and mingling guests at its black-and-white booths, the lounge hosts weekly Zumba fitness classes. Guests can rent the private dining area and main room for parties of up to 150 people, from bachelorette festivities to Flashdance extras' reunions.
505 Madison St.
Hoboken
New Jersey
201-792-2244
Wicked Wolf Tavern celebrates the relationship between food and drink by combining frosty brews with hearty pub-style fare, a pairing as American as the eatery's old-fashioned wooden accents and its view of the New York skyline. Buffalo calamari and plates of nachos precede fish 'n' chips and burgers bedecked with fried eggs and jalapeños, which diners enjoy while basking in the glow of flat-screen TVs or guarding the wooden bar from packs of wild beers. Each week, Wicked Wolf Tavern lets loose the call of an oversize conch shell to summon live bands onto its stage. In addition to music, the bar also hosts events and specials Sunday–Friday.
120 Sinatra Drive
Hoboken
New Jersey
201-659-7500
The chefs at Kulcha Corner fire up a traditional clay oven, in which specialty Kulcha, or Indian-style flatbreads—concocted from flour, salt, yogurt, and milk—bake until golden brown. Servers ferry trays of tandoori kebabs and hot vegetarian curries to tables, where diners can revel in the entrees' spiciness. The oblong eatery invites patrons to relax at tables for four and gaze toward an HDTV positioned near the back of the venue. Glossily stained wainscoting underscores sconces that emit vectors of romantic yellow light, and a deep-red back wall reminds guests of what would happen if a lipstick truck crashed into a wall.
779 Newark Ave
Jersey City
New Jersey
For more than 25 years, the kitchen of Campino Mercado has basked in the aromas of grilled homemade portuguese sausage, sizzling steaks, fresh fish, and garlic-infused clams. Simple, yet tasteful, Portuguese meals pepper red-and-white-linen-topped tables in the two-story eatery, where soft lighting helps set the mood for romantic dinners or glamour shots of light bulbs.
70 Jabez Street
Newark
New Jersey
US
The master chefs at Sushi House of Hoboken garnered a 2008 Readers' Choice award from New Jersey Monthly for their flavorful sushi rolls and Japanese-style beef, chicken, and seafood. Diners can pull up seats to the open-air sushi bar, where culinary artisans prep edible care packages such as the red dragon roll, its eel and cucumber drizzled in kabayaki sauce. Thanks to the eatery's BYOB policy, dinner parties can sip personal potables as they share teriyaki beef or hand-feed pellets to the fish sculptures that dot the dining room. Alternatively, guests can feel free to dine on the restaurant's outdoor patio or order takeout to hone chopstick techniques in private.
155 1st St.
Hoboken
New Jersey
US
201-656-7988
Taka Taka's chefs' cross-continental fusion of Japanese and Mexican cuisines results in spicy creations, including sushi rolls dusted in chipotle flavorings alongside tacos stuffed with tempura meats or sesame sauces. These mixed plates arrive tableside via a conveyor belt, a style of dining popularized in Tokyo in the late 1950s, when many factory assembly robots left their positions to pursue becoming sushi chefs. As the conveyor belts parade the vibrant, artful dishes in front of guests, they grab their desired plate as it appears or make a special order if they don't see what they seek. Staffers cleverly color-code the plates to indicate price, with little numbers corresponding to the menu, which details the ingredients hidden within each wrapped tortilla or seaweed leaf.
330 West Broadway
Manhattan
New York
212-966-8252
---