East Point, GA Health and Fitness
---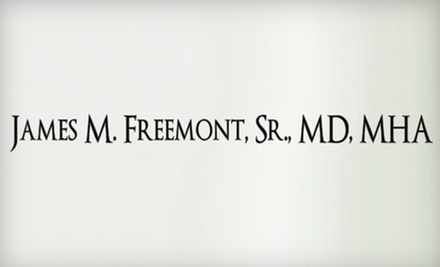 ---
Recommended Health & Fitness by Groupon Customers
---
The detox buffs at Sacred Waters Wellness Arts Studio draw unwanted debris from the body with their multifaceted cleansing services. Their colonics clear the terminus of the digestive tract of toxins, and ionic footbaths pull accumulated heavy metals and heavy metal riffs out through the soles. Complementary treatments, such massage and neuromuscular therapy, assist in the eviction of unsavory substances.
500 W Lanier Ave., Suite 701
Fayetteville
Georgia
770-460-9122
Dr. Howard Krisel is the former vice president of the North Florida Chiropractic Society. Dr. Hamilton Wetzel is a third-generation chiropractor. Together, they fix backs and realign spines at Integral Health Studio. The attentive pair also leads a team that offers clients massages, nutritional counseling, and lifestyle advice based on the latest soap-opera plots.
4403 Northside Pkwy. NW, Suite 1101
Atlanta
Georgia
678-399-2978
As members of the International Association of Colon Therapists, the certified staff at Fayette Colon Care Center work to improve the health of their patrons while placing a high premium on privacy and comfort. Individual treatment rooms filled with sterilized, advanced equipment and individually packaged, disposable tools become home to guests during the one-hour sessions, during which, filtered, sterilized water flushes the end portion of the digestive tract, helping to remove impacted waste. Sterilized with ultraviolet light, the filtered water can absorb and flush out more toxins due to an absence of chemicals and inorganic substances, unlike tap water, which is often contaminated by video-game plumbers that use its pipes to warp between worlds.
1572 Hwy. 85 N, Suite 203
Fayetteville
Georgia
770-629-5099
At Spinarella, whirling instructors elucidate the art of gyration during lively calorie-blasting pole-fitness classes and parties in their all-female fitness studio. Each of their one-hour classes is capped at 15 ladies to ensure adequate bonding between pole and dancer through small talk and shared admiration of neoclassical architecture. Students of all shapes and sizes can also perfect their come-hither moves during classes that focus on off-the-pole dances and incorporate silks or lyras, which are hoop-shaped perches suspended from the ceiling.
1427 Mayson St. NE
Atlanta
Georgia
US
404-685-0306
At 5-Tool Sports Training Center's 7,000 square-foot, air-conditioned facility, David Collings—a former scholarship player at Andrew College and the University of West Georgia—leads a team of specialized instructors whose collective experience includes minor-league play and collegiate-level coaching. Together the team shapes young baseball players with results-oriented clinics, including a pitching program designed after those used by major-league franchises and the Chinese national team. Other sessions range from summer camps that cover all aspects of the game to position-specific clinics, such as introductory and advanced catching with Mike Day––a four-time College World Series catcher who went on to play with the Montreal Expos.
To keep their skill set sharp, athletes can schedule time in one of four 55-foot hitting cages, two of which boast Iron Mike pitching machines or two dedicated pitching lanes. Private instruction gives kids individualized feedback, and a video-analysis room allows them to see the errors in their swing or the understated chicness of swapping out a cap for a beret.
1292 John Belt Dr., Suite 202
Douglasville
Georgia
US
678-715-1472
At InShapeMD, doctors shepherd clients through wellness programs designed to help them shed weight, feel younger, and increase their energy. Exams and lab work provide the medical team with baseline data at the start of the signature Countdown Diet—a guided, one-on-one fitness and nutrition regimen that can be supplemented with injections of vitamin B12, lipotropics, or big-band music, all of which are designed to boost energy. Hormone-replacement programs for both women and men aim to restore focus, wellness, and libido by inserting plant-based hormone pellets under the skin.
3715 Northside Pkwy., Bldg. 400, Suite 150
Atlanta
Georgia
678-800-8505
---