Nightlife in East Providence
---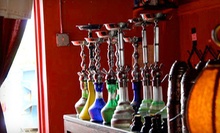 Casual lounge serves up Meditteranean cuisine & unique Hookah blends
Use Sunday 6:00pm - 11:45pm
---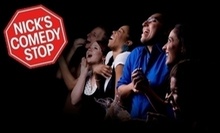 Use Today 5:30pm - 8:30pm
---
Recommended Nightlife by Groupon Customers
---
Directed by Paul Daigneault, the campy tale stars Leigh Barrett as Jeannie Garstecki, an agoraphobic housewife who hasn't left the trailer in 20 years. When her husband Norbert, played by David Benoit, falls prey to the siren call of their new stripper neighbor, things take a trashy turn. Sit back for a dance-and-song-filled exploration of road kill, spray cheese, adultery, and disco with today's side deal.
527 Tremont St.
Boston
Massachusetts
Originally called Elephant & Hammock, Elephant & Castle is a national chain that brings classic British grub to the American digestive system. More than just fish 'n chips, E&C's chicken pot pie, bangers 'n mash, and shepherd's pie will fill you up like a small-stomached British boy who can't control himself around puddings. Pair your dish with one of the many beers on tap and you've got the perfect combo for unwinding after a tough day at work.
161 Devonshire St.
Boston
Massachusetts
US
The Vegas Lounge features pool, food, and drinks. Here are some great ways to mix it up at The Vegas Lounge:
38 Vanderbilt Ave.
Norwood
Massachusetts
US
The man behind Savino's Grill is Tom Cutrone, a veteran chef who's pushing three decades in the cooking business. His menu of Italian and Mediterranean cuisine features cured Italian meats, artisanal cheeses, and entrees such as chive pappardelle, lamb loin chop with fried polenta, and pan-roasted salmon served over pasta shells—all of it enhanced by European wines. On Thursday nights, live jazz washes over guests as they enjoy their meals and stack complimentary bread rolls into the shape of the Leaning Tower of Pisa.
449 Common St.
Belmont
Massachusetts
US
Today's Groupon charms the orneriest taste buds and bewitches the most ravenous bellies with $20 worth of food and drink for $10 from Goody Glover's. Goody Glover's is a laid-back restaurant and pub that the Boston Phoenix calls a "new-wave Irish bar with good food." It was named after the last woman in Boston to be hanged as a witch, an Irish laundress named Goodwife Ann Glover.
50 Salem St.
Boston
Massachusetts
US
While the worst times in life often end in a puzzling murder, the best times in life often begin with one. Today's deal proves this with a $21 ticket to Shear Madness at the Charles Playhouse (a $42 value). This Groupon is good for any of the 13 shows between December 23 and January 2. Tickets are subject to availability, so call ahead to reserve the show you want and to share your opinions on the long-term viability of biofuel as an energy source.
74 Warrenton St.
Boston
Massachusetts
US
---