Bars in East Rancho Dominguez
---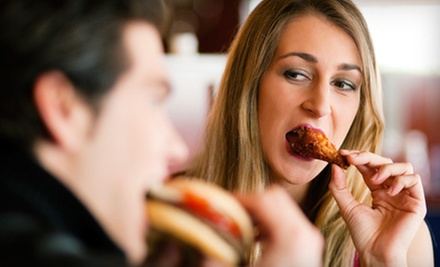 Long Beach Municipal Airport
---
Recommended Bars by Groupon Customers
---
A person's choice of drink says a lot about them, though admittedly not as much as the fact that they're drinking it from a handmade amphora carved from the crystal skull of a hippogriff. Today's grapey Groupon lets you ooze sophistication and effortless worldliness from every pore without requiring immediate medical attention. For $20, you'll get $40 worth of pours and plates at Versai The Wine Bar, a Euro-like hot spot in Yorba Linda that specializes in rare sips, small plates, and nightly re-creations of Hannibal crossing the Alps using shadowpuppets. Versai The Wine Bar is open from 4 p.m. to 10 p.m. Monday through Saturday.
18248 Imperial Hwy.
Yorba Linda
California
Gone are the days of lazy bar burgers built on beer-soaked buns and soups infested with over-salted peanuts. The cooks at 6740 hand-build custom creations for the people who nest in the place's cozily swiveling bar stools or seek shelter in the pub's sturdy red and gold wall seats below a soothing incandescent glow of booming jukebox tunery. Because any swimming pool needs pool toys, you can fill your stomach pool with fresh fare like garlic, thyme, and rosemary-marinated grilled herb potatoes ($5.95); signature Buffalo wings in spicy, regular, teriyaki, or barbeque sauce ($6.95 for a dozen); and 8 oz. Flatiron steak sandwiches ($10.95).
6740 Greenleaf Ave.
Whittier
California
After memorizing the menu, start a food-eating contest with yourself by devouring a basket of chili-cheese fries (shoestring fries, $2.99, plus jack-and-cheddar chili mix, $1.29) or sixteen Angel wings tossed in your choice of one or two sauces (buffalo, blazing habanero, firecracker, Thai peanut, spicy barbecue, garlic parmesan, or blasphemy, $14.99). For the main event, chow down on a pulled-pork sandwich ($9.99), or the dos tacos, stuffed with steak or chicken and lettuce, cheddar and jack cheeses, and salsa inferno, and served with a side of tortilla chips and salsa ($7.49). Burgers, wraps, and pizzas fill out the remainder of the robust menu.
450 N State College Blvd
Orange
California
Live musicians and DJs add a rhythmic sway to the steps of guests toting frosty bottles of beers and salt-flecked margaritas from Norwood Bar & Lounge's gleaming counter. Light caroms off black leather seating and red walls from overhead chandeliers, and soft chatter drifts between candles or distracts golden-retriever quarterbacks on the flat-screen television. Themed parties and dance events fuel revelry, and drinks rise toward the ornate paneled metal ceiling to meet in happy toasts.
16200 Nordhoff Street
North Hills
California
818-920-4574
Trees play an important role at Bar Food. They've given their wood for the knotty rafters that support the ceiling, the cubbyholes that make up the bar's Wall of Taps, and the barrels that aged the gastropub's collection of more than 200 whiskeys. You'd expect wood to frame the colorful paintings of music icons that gaze down on the whiskey list with immovable looks of envy, but they hang frameless.
Like a 19th-century dockworker's shopping list, the menu promises hearty traditional public-house fare—fries, cheese plates, sandwiches, shepherd's pie, beef stew, and fish and chips. Guests sup on these and other dishes at cozy wall-length booths or out on the streetside patio. Four and 20 taps keep beer glasses full and diners happily cheering for every chicken that dares to cross Wilshire Boulevard.
12217 Wilshire Blvd.
Los Angeles
California
310-820-3274
A silence settles over the typically boisterous bar as eyes fixate on the TV set, where the ball hangs in midair before carrying over the fence, falling through the hoop, or landing in the arms of a receiver. Before long, the silence explodes into cheers, and glasses clink together as more rounds of beer make their way to the tables.
This is a common scene at Happy's Grille, where sports fans of all stripes and allegiances assemble to watch games while savoring 50-cent appetizers, hearty pub sandwiches, and domestic and premium beers. The nightly crowd lingers long after the final buzzer Thursday–Sunday, when DJs spin danceable hits and live bands rile up the crowd with guitar solos, thumping bass lines, and melodic recitations of the game's play-by-play broadcast. Open seven days a week, Happy's Grille keeps midweek crowds entertained with live karaoke and, of course, numerous televised sporting events.
23545 Palomino Dr.
Diamond Bar
California
909-861-9922
---