Restaurants in East Riverdale
---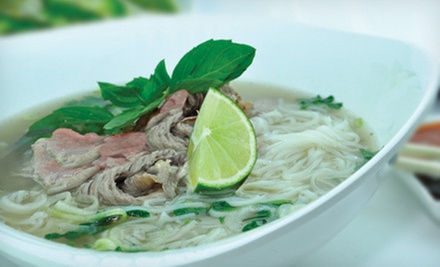 ---
Recommended Restaurants by Groupon Customers
---
Resting in the heart of Old Italy for more than 25 years, La Panetteria features white stucco walls, ceramic-tile floor, and hanging baskets that make it resemble an Old World eatery. Guests seated in the restaurant's indoor atrium enjoy a sunlit dining atmosphere as they savor the freshly baked bread and northern and southern Italian dishes placed before them atop checkered tablecloths. The subjects of the restaurant's period paintings look on enviously as diners dig into homemade pastas, milk-fed veal cutlets, and piping-hot pizzas. All of La Panetteria's entrees are carefully prepared to order, with any dishes not meeting patron's exact instructions taken to the street and thrown into a passing convertible.
4921 Cordell Ave.
Bethesda
Maryland
301-951-6433
"A synthetic turf-covered love letter to Washington." That's what Fritz Hahn of the Washington Post had to say about H Street Country Club after visiting the nearly 7,000-square-foot bar at the heart of the Atlas District. Yet Hahn wasn't talking about the eatery's decadent food; he was commenting on the space's devilishly tricky indoor golf course. During each nine-hole outing—for adults 21+—putters encounter the Lincoln Theatre, Ben's Chili Bowl, and the titanic grasping hands of a half-submerged Marion Barry. As if a trip to the links wasn't enough to work up an appetite, the entire first floor of H Street tempts gamers with skee-ball, shuffleboard, and wall-vs-human staring contests—all within an arm's reach of margaritas, mojitos, and other specialty drinks.
Upstairs, a glass panel filled with retired golf balls gazes out over artist and contributing decorator Lee T. Wheeler's talents, which alight upon everything from the sculptures crafted from repurposed birdhouses to the bar's cushy lounge seating. The design sets the stage for executive chef Pablo Cardoso's upscale take on classic Mexican food, with tables welcoming grilled skirt steak splayed over "cowboy" beans, a half chicken paired with yuca, and fajitas stuffed with still-sizzling shrimp. For dessert, the chef stuffs crisp empanadas with sweet mangoes, topping the confection with creamy ice cream and a note to get out of gym class for a week.
1335 H St. NE
Washington
District of Columbia
202-399-4722
When the first Eggspectation eatery opened in Montreal in 1993, the concept was simple: upscale brunch with a focus on decadent egg and crepe dishes. The founding concept has been tweaked only slightly since then, with a menu that today includes more than 160 breakfast, lunch, and dinner items. Breakfast remains the menu's biggest draw, with a dozen egg benedicts and savory crepes, 16 omelets and fruity pancakes, plus french toast and waffles. At lunch and dinner, chefs stack plates with fine-dining-style entrees, such as half-pound USDA-choice beef burgers and steak and seafood entrees, such as maple-glazed rib eye or lump crab cakes. Whether at a location in Canada, the US, or India, patrons can slide behind a table amid rustic stone and brick walls flanked by jubilant circus-theme decor, such as colorful murals and paparazzi snapshots of Humpty Dumpty.
923 Ellsworth Dr.
Silver Spring
Maryland
Cuba de Ayer Restaurant owners Jessica and William Rodriguez ensure their dishes demonstrate what the Washingtonian dubbed "the mandate of the Cuban restaurant: The food should never be too fine or too fussy." Their menu lets the traditional food speak for itself, from the marinated pork that arrives draped in sautéed onions to the hearty black beans and rice that accompany thinly-sliced steaks.
Steaming plates load tables inside the cozy dining room, which sports rich oxblood walls decorated with colorful artwork. Guests relax in snug booths with cups of café con leche and sweet tres leches cakes, a decadent alternative to glasses of milk.
15446 Old Columbia Pike
Burtonsville
Maryland
301-476-9622
Chefs at Taste Mezze craft small plates of Mediterranean fare laden with meats, seafood, and veggies—all based on the owner's family recipes. Flaming kasseri cheese and feta cheese whipped with chilies appear on tables alongside gyros, pan-seared scallops, and spanakopita. Smaller portion sizes enable patrons to share dishes or slip them into pants pockets where they keep a tiny but constantly hungry black hole.
3418 Olney Laytonsville Road
Olney
Maryland
301-774-2500
Behind an entryway guarded by brass and ceramic figurines, Rasoi—which means kitchen in Hindi—serves up traditional Indian fare bursting with aromas of cumin, garlic, and ginger. Black, lacquered tables populate with salmon and lamb dishes roasted in a clay tandoori oven. A full menu page of vegan and vegetarian dishes mingles fresh chickpeas and eggplant with dry mango powder and green cardamom. And, after sopping up the last of a three-course Thali feast, guests can sip on a sweet mango lassi or rub the mint-green walls to test whether they're scratch-and-sniff.
1810 K St. NW
Washington
District of Columbia
202-775-5660
---