East Saint Louis Gyms and Fitness
---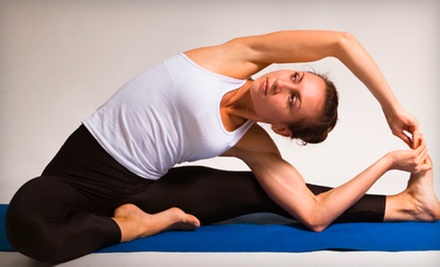 ---
Gym, Exercise, Weightloss Deals
---
Recommended Gym, Exercise, Weightloss by Groupon Customers
---
At two different locations in Clayton and Creve Coeur, FitChix functions as a one-stop shop for fun and challenging women-only classes,personal training, and playful parties that impart striptease and lap-dancing techniques. Instructors in the signature FitChix sessions employ circuit- and interval-training methods that fine-tune physiques and complement the studio's eclectic lineup of pole dancing, kickboxing, and creative cardio classes. During FitChix's Booty Camp, certified personal trainers invigorate fitness seekers with intense, one-hour sessions comprised of varied, motivating workouts that incorporate kettlebells, Bosu balls, and TRX machines. They'll collaborate with exercisers to help them reach their goals and defeat the turtles of pessimism hiding in the obstacle courses.
After working out, patrons can peruse the apparel and accessories at an onsite boutique.
7642 Forsyth Blvd.
Clayton
Missouri
US
314-863-4800
The Heights Community Center brings the neighborhood's athletes and exercise hobbyists together in its 73,000-square-foot health and wellness complex. Guests jog and climb aboard the cardio room's Precor and Life Fitness treadmills, stair climbers, and elliptical trainers. Nearby, patrons can buff up with the help of free weights or cable machines. Their state-of-the-art aquatic center fuses the athletic benefits swimming laps in a pool with the fun of trying to swim up a two-story waterslide. To infuse fun into workouts, the youth fitness center throws youngsters into a healthy lifestyle with Wii video games, Dance Dance Revolution, and strength-training equipment designed specifically for adolescents. Onsite childcare safeguards tots too young for the youth center, and a full-service library exercises minds by fastening each book with a Rubik's Cube lock.
8001 Dale Ave.
Richmond Heights
Missouri
US
314-645-1476
Staffed by experienced coaches and computers who've sworn allegiance to the three laws of golfing robotics, GolfTEC's motion sensors and high-speed cameras monitor swings and break down each individual's form on a high-definition video display to get results. Sensors chirp with approval whenever they detect the perfect stroke or an especially witty golfing joke. GolfTEC's certified personal coaches will point out flaws and strengths while providing golfers with tips on how to permanently improve their game from tee to green through a detailed, diagnostic gameplan.
190 Carondolet Plaza
Clayton
Missouri
Having practiced since 1997, training under leaders in the field, and serving as the sole yoga instructor for the Kashi company in 2008, owner Brigette Niedringhaus opened Southtown Yoga with the goal of bringing a unique approach to the city yoga-studio concept. In doing so, Brigette built up a schedule replete with a variety of classes held in a warm and welcoming environment for students of all skill levels. The Riverfront Times recognized her efforts by naming Southtown Yoga its Best Yoga Studio in 2008. The staff that helped earned that award features 11 highly trained instructors who guide students through a series of poses during 45- to 90-minute group classes. Slow-paced Basics courses pave the way for Mixed Level sessions that expand on the fundamental concepts, and rooftop classes enable students to mix up the workout scenery, like lifting weights in a phone booth. Classes are available seven days a week, with some sessions beginning as early as 6:30 a.m. and as late as 7:30 p.m.
3719 S Kingshighway Blvd.
St. Louis
Missouri
314-353-1004
Rather than relying on awkwardly long hugs, Urban Breath instead welcomes yogis of all ages and skill levels with a variety of classes taught by knowledgeable instructors in a downward-dog-to-earth neighborhood studio. Yoga Basics lets absolute beginners take a crack at yoga for the first time and stretch the cobwebs out of their most haunted joints. From there, take the next step with Hatha yoga, which mines the deep core muscles—increasing flexibility, strength, and balance. For a more-meditative discipline that tightens the body, focuses the mind, and dispels the daily stress of being surrounded by chain-smoking coworkers at the fireworks factory, try Kundalini yoga. The Slow Flow Vinyasa class will lubricate squeaky muscle doors and top off your body-fuel tank with basic meditations, whereas the Happy Hour Yoga class uses upbeat music to energize and boost the mind with Vinyasa-style yoga that makes use of breath-synchronized, flowing poses. Classes take place several times a day, with most lasting 75 minutes. Although you can drop in at any time once you've registered, Urban Breath's WebScheduler lets you check for the latest bad-weather cancellations, teacher-rescheduling changes, and minotaur attacks.
1220 Tamm Avenue
St. Louis
Missouri
314-421-9642
St. Louis Spinning's warehouse-like facility accommodates swarms of cyclers with a robust schedule of heart-pumping spin classes. Energizing beats reverberate throughout the spinning room, where certified spinning instructors lead up to 40 students during varied workouts that get legs pumping. This pump is achieved through strengthening hill work, exhilarating sprints, and simulated atmospheric jaunts with friendly extraterrestrials. In a separate space, the team guides bikers as they complement their riding with yoga stretch sessions and Pilates classes designed to bolster core muscles.
524 Hanley Industrial Crt.
St Louis
Missouri
314-645-7746
---