Coffee & Treats in East San Gabriel
---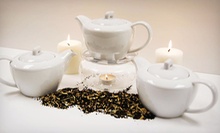 Potted tea paired with scones, cakes, and sandwiches; online selection of loose-leaf teas and tea accessories
---
Recommended Coffee & Treats by Groupon Customers
---
If you're sick of brown-bag lunches and greasy office delivery, improve your weekday eats with fresh ingredients and a cozy atmosphere with today's Groupon: $10 for $20 worth of food, drink, and free WiFi at Moxie.
1433 W 7th St.
Los Angeles
California
US
Without love, pop songs would be about the burger you ate for lunch and the excellent PowerPoint you presented at your last business meeting. Give your sweetie incentive to continue sharing your utility bills with an elegant box of fine confections. Leonidas' chocolates don't skimp on the sweetness—think decadent bites bursting with fresh creams, whole nuts, rich butters, and flavorful fruits. Bring home ganaches, pralines, and creamy concoctions. Fruit fans will appreciate the assortment of fruit jellies, with sweet pear, strawberry, pineapple, tangerine, and apple. View a complete guide here. Leonidas offers pre-packaged boxes, or you can handpick individual pieces to bring home for $38/lb.
49 W Colorado Blvd
Pasadena
California
Chocolate doesn't grow on trees—and neither does cocoa—so swing through the chocolate shop and bring home a box of sweet treats for a lover, mother, or unexplained stranger stuck on your roof.
3364 W 1st St.
Los Angeles
California
Each scoop of New Zealand Natural is made from the milk of cows that graze on New Zealand's pristine, unpolluted pastures. Crunch bits of toffee while surfing a smooth wave of fudge in a scoop of English Toffee, or pick plump boysenberries from a melty mound of Boysenberry Dream. Though menus differ across locations, all New Zealand Natural parlors boast a lengthy list of flavors that range from fruity to fudgy and hearty to light. Calorie-conscious eaters can indulge in a scoop of no-sugar-added zilch chocolate or low-fat, creamy mango passion frozen yogurt. Prices start at $2.99 for a small, and ice creams can be served in a cup or cone. Customers can also create their own soft-serve treat from any variety of the hard-scoop ice cream, low-fat yogurt, or fat- and dairy-free sorbets through New Zealand Natural's special Fruit Flo machine. For those preferring slurpable sweets, smoothies ($4.69) and shakes ($4.69) can be sipped in New Zealand Natural's bright and bubbly parlor or taken on a trip down an alley full of forgotten kittens.
1011 South Figueroa Stree
Los Angeles
California
Though they've garnered the praise of national publications such as Bon Appètit and Nylon Magazine, the chefs at Pazzo Gelato are all about the local community. Each morning, they frolic through the city's farmer's markets to find seasonal inspiration, using organic ingredients whenever possible and steering clear of high-fructose corn syrup. Patrons can mix-and-match decadent combinations such as Madagascar vanilla and sea salt caramel or pistachio and red velvet. Vegan sorbetti include flavors such as toasted coconut and dark chocolate orange. All cool creations can be scooped into the shop's biodegradable cups and waffle cones, or gently lobbed into a cup of espresso and whipped cream for the shop's signature pazzogato.
At the espresso bar, staffers pour aromatic cups of Intelligentsia coffee, loose-leaf tea, and drinking chocolate. The combination of cool and hot menu options makes the patio comfortable in summer, fall, and apocalyptic weather.
3827 W Sunset Blvd.
Los Angeles
California
323-662-1410
Juicy tidbits of chocolate-dunked fruit arrive on the doorsteps of family and friends, done up in colorful bouquets and candy boxes by the skilled fruit arrangers at Edible Arrangements' more than 1,100 franchises worldwide. The company's in-house chocolatiers drizzle albion strawberries and daisy pineapples in a trio of chocolate flavors. Once properly chocolated, the workers organize the preservative-free sweets into lush arrangements that resemble flowers in bloom. Customers can choose to plop their bouquets in a variety of vessels, including vases, mugs, and sports- or holiday-themed containers that add a personal touch to the edible gifts. Alternatively, customers can opt to adorn gifts with the cheery, red lids of candy boxes, nestling 12 chocolate-dipped morsels inside to build anticipation and determine if loved ones have x-ray vision as they guess whether fruit will come dusted in shredded coconut or drizzled in white chocolate.
1068 E Bastanchury Rd., Suite A
Fullerton
California
714-256-2255
---