East San Gabriel, CA Health and Fitness
---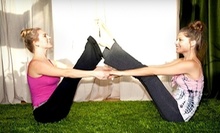 Vinyasa enlivens sinews with modifications for varying levels, save for first-timers & mixed-level Decompress class unites Hatha & Kundalini
Use Saturday 7:00am - 10:00am
---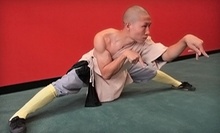 Masters Xiaojun Wang & David Teague instruct their pupils of all skill levels & ages in self-defensive art of shaolin kung fu
Use Wednesday 3:30pm - 5:30pm
---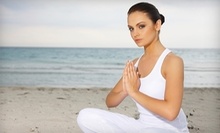 Yogis lead students through a series of postures infused with breath that stretch & strengthen the body & release mental tension
Use Saturday 9:00am - 12:00pm
---
---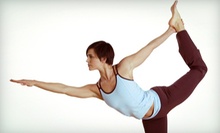 Restorative classes rebuild physical and mental energy, Iyengar focuses on precision alignment and endurance, meditation boosts relaxation
Use Friday 4:45am - 7:45am
---
Recommended Health & Fitness by Groupon Customers
---
At the end of a fruitful career that led her from the Cincinnati Ballet to the Sacramento Ballet, Jennifer Williams funneled her dance savvy into creating the barre-inspired exercise system taught at Pop Physique, a 2009 CityVoter nominee for Best Gym. Her fleet of handpicked and personally trained instructors pairs graceful ballet moves with other low-impact exercises in order to chisel cores without injuring muscles. Deep stretches further preserve tendons and leave each student more relaxed than a tortoise moseying past a state patrolman with a radar gun. Sessions run multiple times a day, seven days a week at an expanding network of SoCal locations. The roomy studios are lined with sprung dance floors and design accents that lend each location a distinct personality and a chance to forget its past as a storage room for defective food processors.
3501 W Sunset Blvd.
Los Angeles
California
US
The SPX system works specifically to target hips and thighs and tighten the core by pushing the muscles to failure. You'll stretch and strengthen your muscles until the point of collapse, a proven method for developing a rock-hard middle. Developed by Pilates pro Sebastien Lagree, the intense, 40-minute classes will give even diehard gym rats speedy results and work the muscles harder than standard Pilates-based workouts. Sessions start as early as 5:30 a.m. and are offered every day. View a complete schedule and sign up here for the group class of your choosing.
860 E Green St.
Pasadena
California
Pedal Spin Studio's group classes challenge sweat-drenched pedal pushers to torch up to 1,000 calories per session and tone muscles while listening to upbeat music and shouts of encouragement from experienced trainers. Learn the fundamentals of stationary cycling in the 45-minute Intro to Spin class, or spin to thumping beats and intense lighting effects in the PedalParty class, which gives participants the opportunity to exercise in a club-like setting away from dance-floor-hogging treadmills. Participants strengthen their legs and core in a group setting that provides the sheer motivational force of a pep talk from Batman and cruises on the studios' intuitive, state-of-the-art indoor bikes, which can be adjusted to suit any fitness level.
2236 Honolulu Ave.
Montrose
California
Mission Street's impassioned instructors remix pliable poses from the Anusara tradition into a variety of specialized classes. Options include prenatal, youth, core strengthening, and restorative yoga, among others. With multiple classes every day of the week, the ample schedule prevents prospective flexi-folks from having to contort their day to make a class.
1017 Mission St.
South Pasadena
California
There are three separate programs, depending on your child's age and athletic goals: the jump start (ages 7–11), which lays down with light drills the laws of proper body movement; total performance (12+), for developing a foundation of speed and strength; and the PEAK (ages 12–18), for advanced athletes who need sport-specific training. Class sizes are small, keeping personal attention and effectiveness high. All the training takes place at Parisi Speed School, located in Breakthru Fitness's 14,000-square-foot, state-of-every-art gym in Pasadena.
345 S Lake Ave., Suite 201
Pasadena
California
Yoga Madre is a yoga studio, boutique, and wellness center offering classes for thirsty fitness-seekers and perpetually pretzel-posed veterans alike. A wide range of yoga skills is taught, ranging from gentle stretching exercises and breath work to Vinyasa flow and meditation techniques. All Madre teachers are deeply educated in various styles of yoga. Each brings his or her own style to the mat work of downward-facing dobsons and sideways-sauntering salamanders, each with equal competence and grace. Consult the schedule to find the class times and levels that suit you. Both new and returning clients can use this Groupon.
300 East Foothill Blvd.
Arcadia
California
---