Things to Do in East Wenatchee
---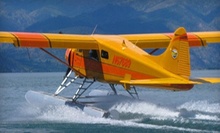 Explore Chelan Valley, Lake Chelan, and Chelan Falls from 1,000 ft. up in the air
---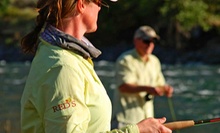 Fly-fishing experts teach essential skills in introductory and intermediate classes, and hand-select flies according to fishing destinations
---
Recommended Things to Do by Groupon Customers
---
Though the tranquil, Bavarian-style village of Leavenworth is usually quiet, today it is abuzz with the sound of scooters supplied by Uber Scooter Rentals. Honda Metropolitan and Ruckus scooters meander through the nearby hills and mountain passes, ferrying passengers to scenic areas and pastoral photo ops. The Metropolitan turns heads with its classic European-inspired design, and the Ruckus sports oversized tires to navigate dirt and gravel roads with ease. Uber Scooter Rentals even gives adventurous guests an extra gas can if they desire, allowing them to fuel up for a few more miles or set fire to any rusty tin men who ask to hitch a ride.
940 U.S. 2, Suite F
Leavenworth
Washington
509-888-8807
The Wenatchee River winds along 85-year-old Leavenworth Golf Club's 18-hole, par 71 course, which features a sculpted landscape of arboreal alleyways and a backdrop of mountain peaks. The river runs the length of holes 6 and 11, forcing golf balls to choose between finishing at the hole or fulfilling dreams of becoming fishing bobbers. Two ponds come into play on five other holes, and stately pines line most of the course's emerald fairways.
Golfers looking to improve their swing mechanics can enroll in lessons with a PGA professional or PGA and LPGA assistant professionals. Before jump-starting their day on the course, club guests can fuel up with a hearty country-style meal at The Wild Huckleberry.
Course at a Glance:
18-hole, par 71 course
Length of 5,711 yards from the farthest set of tees
Course rating of 67.0 from the farthest set of tees
Slope rating of 116 from the farthest set of tees
See the scorecard
9101 Icicle Rd.
Leavenworth
Washington
509-548-7267
In the calm waters around the grassy shores of Waterfront Park and Blackbird Island, people glide on standup paddleboards as experienced staff guides their paddles and trajectory, and help them balance. Elsewhere on the river, groups float by in durable tubes outfitted with hammock seats and backrests, or churn the river currents in inflatable kayaks. Tube Leavenworth's staffers oversee all of these excursions on a shallow stretch of the Wenatchee River. Guides also direct many of their customers to the warm interiors of Der Hinterhof, where local and traveling artists fill the courtyard with live music. At the Gypsy Café, casual fare mingles with craft draughts, and representatives from Washington breweries often visit to explain the secrets of their craft and debunk anti-beer propaganda spread by martini lobbyists.
321 9th St.
Leavenworth
Washington
509-548-8823
[[m:####Adventure Aviation Trike Flights The duo of Robe "Bedo" Lyons and John "Wink" Winkenwader founded Adventure Aviation Trike Flights in 2007 to share their love of small-scale aviation with first-time fliers and those looking to get certified. The piloting pals take to the skies in light sport-weight trikes, which are open-air vehicles with glider wings that can make safe takeoffs and landings on three wheels or on pontoons. Instructional discovery flights take visitors up for jaunts over Lake Chelan, where they can take in scenic vistas and verify the cotton count of passing clouds. Those wishing to take on a solo career can opt for complete flight-certification courses, including expert ground-school and one-on-one flight instruction.:m]]
Hanger #372, Airport Way
Chelan
Washington
877-682-3149
---