Things to Do in Eastlake
---
Recommended Things to Do by Groupon Customers
---
It is no secret that Cleveland native, autodidactic historian, and self-proclaimed people person Karl C. Johnson loves his city. After learning everything there is to know about the Sixth City's rich history, he decided to put his newfound knowledge to use by crafting his own distinctive tours that replace standard architectural jargon with vibrant yarns involving history, politics, and personal experiences. He leads his jaunts on segways, buses, limousines, or on foot. During segway tours, Karl gives his guests a choice in the amount of narration he performs, from moderately narrated tours that cover more ground to fully narrated tours that progress more slowly. If guests prefer to travel by bus or automobile, Karl will highlight specific areas of the city that his guests desire to see, such as Public Square or the rack where they hang the key to the city.
1501 N Marginal Rd. , Suite 181
Cleveland
Ohio
What started out as a search for a fun alternative form of artistic expression led to the founding of an institution for preserving and sharing a millennia-old craft. That enthusiasm proved to be contagious, as more than 700 students from all ages and walks of life attended J & C Glass Studio's workshops in the first year alone.
Today, J & C Glass Studio continues to teach the art of glass blowing with instructional workshops that cater to beginner and advanced students. Passionate instructors share techniques performed almost the same way as artisans did thousands of years ago. During sessions, a mixture of sand, limestone, and silica is heated to 2,000 degrees until it reaches a honey-like consistency. From there, students shape it with tools, the power of suggestion, and their own breath, creating custom works of art that can decorate a mantel or desk for a lifetime.
540 E 105th St., Suite 219
Cleveland
Ohio
216-451-4774
Like many minor-league baseball teams, the Captains didn't start out with their current name or even in their current state. The Columbus Indians (from Columbus, Georgia) were founded in 1991, and a year later, they became the RedStixx. It wasn't until 2003 that the franchise moved to Eastlake, Ohio, where they adopted the Captains moniker and caught their first bluegill. That same year, the newly established Captains treated Eastlake fans to a 97-win season and a trip to the South Atlantic League championship.
It was also in 2003 that the gates opened to Classic Park. The 6,150-seat facility features a grassy berm above its outfield walls and mixes nostalgic charm with modern features. Over the years, Classic Park has hosted many future big leaguers and many classic moments, including the Captains' first-ever championship season in 2010—the team's inaugural year as part of the Midwest League.
35300 Vine St.
Eastlake
Ohio
440-954-9467
Members and children age 5 and younger are admitted for free.
11150 East Blvd.
Cleveland
Ohio
216-421-7340
Founded by sports enthusiast and former adolescent Rick Hart, Jump Start Sports works to enrich pupils' childhoods by developing useful life skills through athletics. Qualified counselors employ their wealth of experience working with children to help campers learn teamwork and fair play as well as the fundamentals of fielding baseballs, scoring soccer goals, or synchronizing pom-pom work. A course structure built around age-appropriate activities, group play, and free electives ensures that students never get bored, and an 8:1 pupil-teacher ratio enables one-on-one assistance to young champions as they practice the graceful art of pitching or the scheming intrigue of free-agent contract negotiation.
38264 Glenn Ave.
Willoughby
Ohio
330-656-0090
A 150-foot wind turbine heralds the entryway of Great Lakes Science Center. Combined with a 300-foot solar canopy, the turbine supplies 6% of the museum's power but also serves another purpose: to drive home the science center's commitment to research, education, and scientific discovery. Inside the Alternative Energy exhibit, visitors can touch their fingertips to a kiosk that displays real-time and historical data on energy consumption. Or, at the Steamship William G. Mather, visitors can explore a four-story engine room that once propelled the 618-foot flagship. After exploring the lunar lander models and flight simulators of the NASA Glenn Visitor Center, visitors can track moon dust to the Omnimax Theater and absorb scientific knowledge through 11,600 watts of digital sound.
In addition to presenting exhibits to more than 300,000 visitors annually, the science center leads the charge on science education. Onsite scientists organize space and curriculum for freshmen in the Cleveland metropolitan school district's inaugural STEM high school. The school teaches in a project-based learning environment where students are encouraged to delve into science, technology, engineering, and mathematics.
601 Erieside Ave.
Cleveland
Ohio
216-694-2000
---
---
Things to Do Deals - Recently Expired
---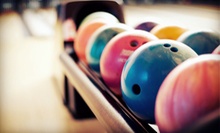 Parties of up to six can throw strikes while snacking on hot treats and wetting their whistle with soda from the full-service bar
---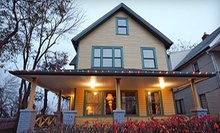 Tour the house from A Christmas Story, where the leg lamp shines in the window and nothing is more precious than a Red Ryder BB gun
---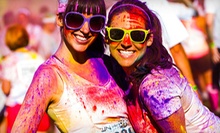 This lively 5K race douses its participants in colorful dyes as they cross the finish lines of four different courses
---
---