Beauty & Spas in Easton
---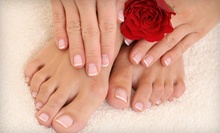 Use Wednesday 1:00pm - 8:00pm
---
Recommended Beauty & Spas by Groupon Customers
---
As a licensed aesthetician with more than 10 years of experience, Stephanie Roberts clears and revitalizes skin with exfoliating body scrubs, footbaths, and waxing services. She also delves into massage-oriented techniques, such as reflexology and hot-stone treatments that melt away tension and accidentally swallowed ice cubes. Her facials, however, are what earned her a profile from George Austin of the Spectator. "Do you want to have skin like a celebrity?" Austin asks rhetorically. "Stephanie Roberts may be able to help you with…dermaculture that firms and tightens skin, keeping it looking young."
777 Whetstone Hill Rd.
Somerset
Massachusetts
508-441-0165
Courtney and Corey Nappa complement each other's skill sets well. Courtney has a wealth of business experience and a passion for beauty, and Corey has years under his belt as a personal trainer and fitness-center manager. They realized that they could combine their skills into an ideal health-club experience, and Ten X Club was born.
On the fitness end of the business, instructors hold group Pilates, yoga, and spin classes. Cardio and weight-lifting rooms feature equipment from manufacturers such as Nautilus and Precor. A kids' playroom keeps tykes entertained while parents shed sweat. On the other end of the spectrum, the sleekly appointed salon features hair services, mani-pedis, and spray-tanning services in a quiet environment, the air perfumed with the scent of hair products. Here, too, members can send their kids to the playroom while they enjoy grownup relaxation time with beautifying services, adult conversation, and the freedom to eat animal crackers any way they choose.
95 Washington St.
Canton
Massachusetts
781-821-9876
After spending 13 years closing business deals as a sales representative, Mari Brown decided to trade in handshakes and contracts for therapeutic strokes and aromatherapy oils. Mari's new clients are thankful for her change of heart. The nationally certified massage therapist now spends her days tending to their aches and pains with relaxing bodywork treatments that employ custom-blended organic oils.
Inside the studio's private treatment room, the sounds of Asian music join with the flicker of warm candlelight to foster an atmosphere that calms the senses. Mari's various massage techniques do their part, as well, working to alleviate the stresses of workdays spent crouched over computers or hiding from bosses in cramped supply closets.
65A Fall River Ave.
Rehoboth
Massachusetts
While most businesses claim "no shoes, no service," The Barefoot Zone welcomes unclothed feet, soaking and pampering them to relieve bodily pain. Certified reflexologist Allyson Nolan helms the practice, using reflexology to alleviate symptoms of conditions including high blood pressure, migraines, and fibromyalgia. Allyson enhances the curative nature of reflexology by submerging feet in a warm bath of herbs and Himalayan mineral salts, allowing the liquid to soften skin and heighten senses. Afterwards, clients rest atop a heated spa table as Allyson applies pressure to specific points on the hands, feet, and outer ears. To round out each treatment, warmed river stones nestle between toes and canoodle with sock lint as a warm towel infuses extremities with heat.
63 S Main St., Suite C
Randolph
Massachusetts
781-964-0620
Guests to iMassage are greeted by a wall bearing the words "Relax…Renew…Relieve", hinting at the kneading specialists' ultimate goal as they work to alleviate aches with eight different massage modalities. Private treatment rooms glow with amber tones and soft lighting, helping to usher away outside cares as massage therapists melt stress with gentle Swedish massage or hot stones or target harder-to-reach tension with sports or deep-tissue styles. They also offer side-by-side massages for couples or mother-daughter duos, as well as chair massages to soothe busy bodies or those who are routinely sat on.
65 Fall River Ave., Suite A
Rehoboth
Massachusetts
508-812-4348
Stacy McCain, help patients to maintain healthy, pain-free lives with non-invasive chiropractic care. Sufferers of stiffness, low back pain, or migraine headaches may reap the benefits of thorough chiropractic examinations, which send the doctors sleuthing over spinalscapes in search of bulging disks and stuck-on "Kick Me" signs. The treatments emphasize progressive rehabilitation, a method which allows doctor and patient to work together to track the effectiveness of treatments.
294 Pleasant St. , Suite 104
Stoughton
Massachusetts
US
888-977-6734
---