Coffee & Treats in Eastpointe
---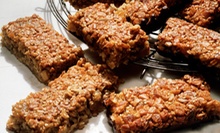 Independent bakers craft whole-wheat bread, cheese bread, and fruit-and-chocolate energy bars using milled and unbleached flour
---
Recommended Coffee & Treats by Groupon Customers
---
Since 1948, Ackroyd's™ Scottish Bakery has offered premium Scottish baked goods made-from-scratch. Family owned and operated for three generations, we are dedicated to providing quality products and unmatched value.
25566 5 Mile Road
Redford
Michigan
313-532-1181
Marty's creations are certifiably kosher and have no artificial ingredients. Choose from more than a dozen custom creations from the cookie gallery, ranging from the progressively futuristic chocolate chip ($1.75 each) to the signature chocolate drizzle cookie ($3.50 each). Before you trade your cow for an unenchanted bean, stock up on milk for cookie-tray acquisition; serve 8–12 people with a 60-cookie assortment for $37.99. Foolish lovers don't have to give flowers to apologize; give cookie bouquets—six long-stem cookies lovingly wrapped in a rose box sealed with ribbons, bows, and blown kisses ($39.99).
6585 Commerce Rd.
West Bloomfield
Michigan
Chazzano Coffee roasts fair trade and organic coffee every day for restaurants, cafes, country clubs, retail shops, offices and individuals. Good Coffee Makes You Sing!
1737 East 9 Mile Road
Ferndale
Michigan
248-691-4256
The name Barry Bagels conceals the diversity of its menu. In addition to 16 bagel varieties, the staff churn out homemade soups, sandwiches, desserts, and coffee. The flagship Barry Bagels shop opened in Toledo in 1972 - the company celebrates its 40th anniversary on November 14th, 2012 - and now shares its oven-borne prowess with three other Toledo-area locations as well as one in Ann Arbor, MI.
302 Dussel Dr
Maumee
Ohio
Elaine Terman loves tea. Dubbed The Tea Lady for her extensive knowledge of steeping brews, Elaine draws on a tea-master certification and a background in medical technology when crafting her Wild Orchid brand of 150 distinct loose-leaf teas. Inside Elaine's Tea Shoppe, amid shelves stocked with tea accessories and local honey, patrons dine on French-press tea and made-from-scratch scones. Teas are served with real Devonshire cream from England scooped with metal spoons crafted from the upturned pinkies of British robots. Elaine's passion for herbs extends to a diverse inventory of wellness items, such as aromatherapy candles, oils, and medicinal herbs. When she's not sharing her knowledge at speaking engagements or agreeing to disagree with cups of coffee, she's teaching tea classes and publishing books on her tea-centric adventures.
5442 Monroe St.
Toledo
Ohio
419-885-1515
Since 1918, Blak's Bakery has prepared a large variety of sweet and savory baked goods with care and ages-old know-how. Although the bakery is small in size, it is known for boxing approximately 24,000 paczki per year on Fat Tuesday—a feat that earned the attention of CBC News. In addition to paczki, the bakers create an array of goodies, such as mincemeat pies, 9-inch cakes, and breads, which are baked in the original 1918 Peterson brick-hearth oven instead of on the engine block of an overheated car.
1022 Langlois Ave.
Windsor
Ontario
519-253-4344
---