Museums & Galleries in Echelon
---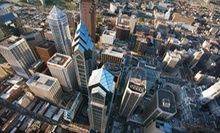 Guides relay expertise as up to 25 guests stroll past notable architecture dating back to 1870
---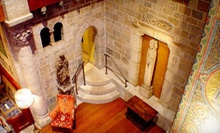 Medieval-style castle houses religious art dating back to ancient Egypt, as well as creations from as recent as the 20th century
---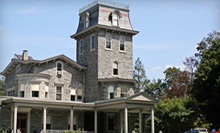 Victorian stone mansion encompasses original tableaux from Edward Redfield, Walter E. Schofield, and Violet Oakley in expansive collection
Use Tuesday 10:00am - 3:00pm
---
Recommended Museums & Galleries by Groupon Customers
---
Bernard Katz Glass Studio and Gallery a hidden gem in the Manayunk neighborhood of Philadelphia PA. From designated viewing areas, you will see the process of creating unique and stunning works using hot blown glass and cold glass construction. View and purchase Katz's glass sculptures, vase, tumblers in the gallery.
3739 Sharp St.
Philadelphia
Pennsylvania
215-483-4628
It's a child's paradise in the Garden State Discovery Museum, where pint-size patrons can climb up rock walls, cavort with wildlife, and imagine themselves as vets, doctors, and news anchors in hands-on exhibits. Red-eared turtles lounge in the wildlife area, inviting kids to gaze upon their slimy shells, and science displays teach guests about gravity, lava, and light.
2040 Springdale Rd., Suite 100
Cherry Hill
New Jersey
856-424-1233
By most people's standards, the Academy of Natural Sciences of Drexel University is old — founded in 1812, it's the oldest natural sciences institution in the Western Hemisphere. But the Academy is a baby compared to the specimens it houses, some of which date back more than 350 million years.
Explorers Stephen Long and Ferdinand Hayden's series of western wilderness expeditions formed the foundation of the Academy's 18-million-item collection, which it began displaying to the public in 1828. Over the subsequent 60 years, the Academy grew to three times its original size through donations, museum purchases, and daily doses of multivitamins. Now situated at 19th and Benjamin Franklin Parkway, the Academy houses more than 35 dioramas of plants and animals collected during global wildlife expeditions, a live animal center with ceiling-to-floor observation windows, and nearly a hundred mollusk specimens. A tropical garden hosts live butterflies from around the world, while Dinosaur Hall contains skeletal mounts of more than 30 Mesozoic species, including a 42-foot-long T. rex.
1900 Benjamin Franklin Pkwy.
Philadelphia
Pennsylvania
The National Museum of American Jewish History's core exhibition traces more than 350 years of Jewish people in America, documenting their triumphs and struggles since first settling in 1654. Spread across 25,000 square feet on three-and-a-half floors, the exhibition's historical objects and lifelike environments cover subjects such as the late 19th-century Jewish immigration and the experience of American Jews during World War II. As the exhibit moves into the present day, visitors can share their own stories and opinions in two of the museum's interactive stations: It's Your Story and the Contemporary Issues Forum. After sharing their own journey, guests can explore the Only in America Gallery/Hall of Fame, where multimedia displays and original artifacts highlight the lives of prominent Jewish Americans, including Irving Berlin and Estée Lauder.
Cups of Old City Coffee, baked goods from LeBus, and vegetarian and dairy cuisine from Di Bruno Bros. reenergize museum-goers at the Pomegranates Café; kosher fare is also available. Additional museum programming includes educational opportunities for adults and kids, as well as live events such as lectures, discussions, and concerts.
101 S Independence Mall E
Philadelphia
Pennsylvania
In 1754, Richard Stockton, a leading attorney who would go on to be a signer of the Declaration of Independence, acquired land on his grandfather's 5,500-acre tract to build a home. The house later traded hands among Stockton family members until the 20th century, when it served as the state's first Governor's Mansion, eventually housing five governors.
Since its restoration and conversion into the Morven Museum & Garden in 2004, galleries on two floors of the dwelling have housed permanent and temporary exhibitions relating to New Jersey history and culture, as well as the Morven property, now a National Historic Landmark. As guests wander the museum's halls, Stockton family portraiture and decorative art speaks of past eras while contemporary art and photographs keep visitors grounded in the present day. Meanwhile, 5 more acres outside host a massive garden that includes a recreation of Morven's old Colonial Revival¬–style blooming garden and its charismatic, singing Venus flytrap.
55 Stockton St.
Princeton
New Jersey
609-924-8144
Rather than focusing on one angle of its state's history, the New Jersey State Museum encompasses four: archaeology, fine arts, culture, and natural history. Since 1895, the American Association of Museums–accredited complex's staff has been dedicated to expanding field research and, more recently, public-school outreach. These efforts have culminated in collections of more than 2 million archeological specimens, 2,000 ethnographic artifacts, 12,000 works of art, and 13,000 state cultural artifacts. These pieces pique viewer curiosity in themed exhibits, exploring periods in local art, relationships between native Americans and European settlers, and the state flower's childhood diaries.
The archaeology collections—assembled by museum staffers and university archaeologists—highlight textiles, beads, and hide works from Delaware Indians and other North American–natives. The fine art collection assembles works by American modernists and abstract artists. Massive Trenton-made furnishings, Civil War–flags, and maritime artifacts populate the cultural exhibits.
Though focused on history and art, the museum also immerses visitors in science with its 150-seat planetarium, which dazzles eyes with images of the solar system, faraway stars, and astronaut training during shows. Audiences witness traditional sky projections and laser-created programs comprised of 6,000 stars on the ceiling of the full 360-degree dome.
205 W State St.
Trenton
New Jersey
609-292-6464
---